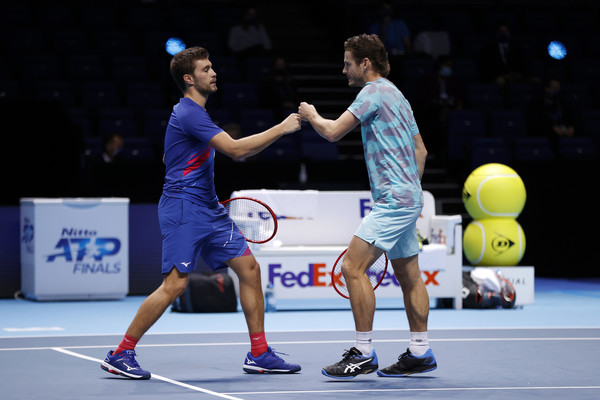 The only team with a Nitto ATP Finals debutant in it, Wesley Koolhof and Nikola Mektic qualified after their opening two wins over Krawietz/Mies and Ram/Salisbury before losing the dead rubber to Kubot/Melo. The pair then defeated Granollers/Zeballos in straight sets after Granollers retired from the match prior with a shoulder injury.
Wesley Koolhof is looking to be the first player to win the ATP Finals on his debut since Henri Kontinen in 2016, while Mektic is hoping to be the first Croat to win the event.
Jurgen Melzer and Edouard Roger-Vasselin provided one of the best stories of the tournament. They were probably the biggest underdogs as the last team to qualify, their appearance at the ATP Finals made sweeter by the fact that this is Melzer's final season before his upcoming retirement at the 2021 Australian Open.
Melzer/Roger-Vasselin lost their opening match to Pavic/Soares and won their second one over Peers/Venus in dramatic fashion 12-10 in the super tiebreak. Coming into the final day, all teams had a chance of qualifying, and Pavic/Soares looked to have wrapped it up after their win. Melzer/Roger-Vasselin needed a straight-sets win to advance. With a stroke of luck for them and a big pile of misfortune for their opponents, Granollers/Zeballos had to retire from the match in the first set, meaning that the veterans advanced. Melzer/Roger-Vasselin then defeated Ram/Salisbury in the semifinals, pulling off a comeback from 2-7 down in the super tiebreak to win it.
Set 1
Koolhof and Mektic were looking dangerous on the return right away, going up 15-40 on Roger-Vasselin's serve. The Frenchman pulled it back to deuce, but it was the returners that won the deciding points and the Dutch-Croat duo went up a break.
Three holds later, it was once again Roger-Vasselin serving and the scenario repeated. Melzer/Roger-Vasselin went down 15-40 and clawed it back to deuce, losing the deciding point once again.
Koolhof confirmed the double break, now going up 5-1 with Mektic. Melzer held to love when serving to stay in the first set. Nikola Mektic served the first set out, not dropping a single point on his serve in the first set, winning it 6-2.

Set 2
After getting broken twice in the first set, Roger-Vasselin started the second set with a hold to love. The first break came on Mektic's serve at 2-1, Melzer and Roger-Vasselin breaking after deuce.
It was all holds from there with Roger-Vasselin serving the second set out 6-3, taking the final to the deciding super tiebreak.
Super tiebreak
Koolhof/Mektic got a minibreak early and confirmed it, taking a 4-1 lead in the deciding set tiebreak after a great around the net forehand. Melzer/Roger-Vasselin rallied back to tie it at 5-5 with confidence but then went on to lose the next five points, losing the match on a Melzer double fault 2-6 6-3 5-10.
Koolhof and Mektic win!
Wesley Koolhof and Nikola Mektic win the ATP Finals on their debut there as a team and Koolhof's debut at the event overall. The No. 5 seeds were not seen as the favorites to win the event but after wins over Ram/Salisbury, Krawietz/Mies, Granollers/Zeballos, and now Melzer/Roger-Vasselin, they are the champions.
"[It is] a dream come true to have qualified here for this event," said Koolhof during the trophy ceremony. "[We] managed to play some very good tennis, made it through the group stage. Won yesterday, played a very good match yesterday. Played here the final today, which is always a dream, to play every final. But to play the final of the [Nitto ATP] Finals is very big and [we are] extremely happy to have won."
"I cannot express how I feel," said Mektic, the first Croat to win this event. "[I am] really, really happy. It's like a dream come true."
It has been reported that this will be the pair's last tournament together for now, Koolhof joining forces with Lukasz Kubot and Mektic teaming up with Mate Pavic, likely with the Olympics in mind for Croatia.
Melzer's last London hurrah
A few weeks ago, the 39-year-old Jurgen Melzer revealed that the 2021 Australian Open will be the last tournament of his professional tennis career.
The Austrian then went on to reach the ATP Finals for the third time in his career. This was the first time he made it out of the group (though with a stroke of luck) and Melzer took advantage alongside Roger-Vasselin after a stunning semifinal comeback over Ram/Salisbury.
"It was a hell of a ride. We have been fighting hard since Roland Garros, played almost every week to get here and then coming to the Nitto ATP Finals is a great achievement," said Melzer. "Of course it stings today, and it hurts, but in the end, we're going to look back at being runners-up here. The Nitto [ATP Finals] is the pinnacle of our sport. Every player wants to be part of this event. I was lucky enough to make it three times and I will always look back and cherish this moment."
Roger-Vasselin confirmed that this will be the pair's last match together and he is reported to be teaming up with Henri Kontinen. It is currently unclear as to who will Melzer play with in his last tournament.