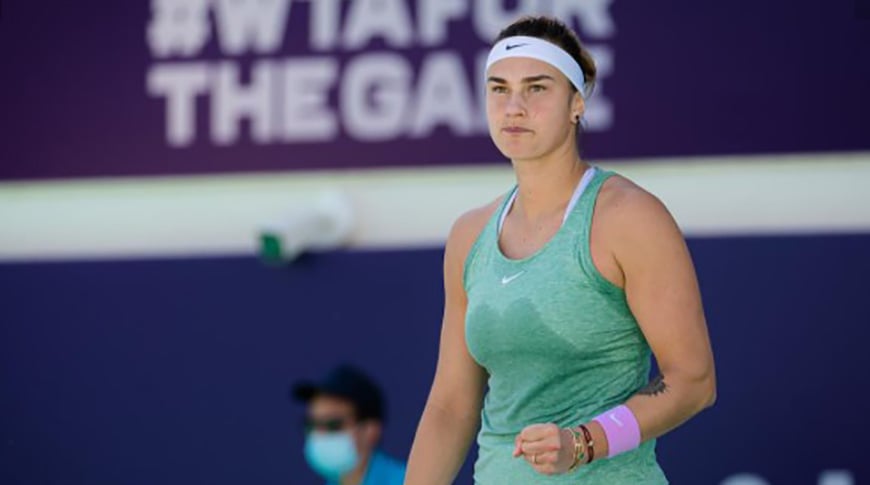 Aryna Sabalenka met with the media as she continues her perfect start to the 2021 WTA Tour season. The Belarussian defeated Maria Sakkari 6-3. 6-2 in the semifinals at the Abu Dhabi WTA Women's Open to run her winning streak to 14 straight matches.
The world number ten spoke about what she's been able to do so well this week as well as over the course of her incrdeible run that's seen her take titles in Ostrava and Linz at the end of last season leading into this event where she's dropped just one set so far.

"I'm really happy to win this one"
Sabalenka spoke about her performance and her satisfaction of another impressive victory as she looks ahead to the championship match on Wednesday against either Marta Kostyuk or Veronika Kudermetova.
"My serve was working better than yesterday, but overall I think this is the same as the match yesterday, the overall quality of the game. I'm really happy to win this one.
"Both aggressive players moving really well. I need to be really focused, as always and also (my) serve is really important tomorrow, so i'm really looking forward for this final."
"I think I put my focus in the right space"
Now having won 14 straight matches dating back to last season, the Belarussian talked about what she's been able to do to keep this impressive run of form going.
"I think I put my focus on the right space. Focus on the right things. First, this helped me not to think about all these wins and second to keep winning.
"I think I need to keep focusing on my game and movement on the court and try to do everything I can in the moment, so I think this works really well with me."
"I just want to improve everything in my game"
With Dieter Kindlmann having replaced Dmitry Tursunov as coach of Sabalenka, she discussed what she feels can get better in her game under his guidance.
"I want to move better and I feel there is still some things which I can do better. There is still a lot of things to work on and i'll keep working on them, so I want to have (a) better serve.
"I just want to improve everything in my game. I still think there is so many things to go to improve.
"This really helped me to stay focused on the match and to be calm on the court and not care about losing. I'm just keep improving myself. That's what makes me happy, to be on this level."
"I like to play against her"
With such an impressive streak, Sabalenka is in the right space and she showed that against Sakkari, who she is 4-1 lifetime against as she discussed why she's been so successful against the Greek.
"I would say focusing on the right things helped me to have fun on the court and it makes my life a little bit easier and i'm just focusing on the right things. I'm just enjoying the process and enjoying the game.
"I like to play against her and it's always (a) fight against her. I think i'm putting so much pressure on her every match we're playing against each other and this helped me win all those matches."