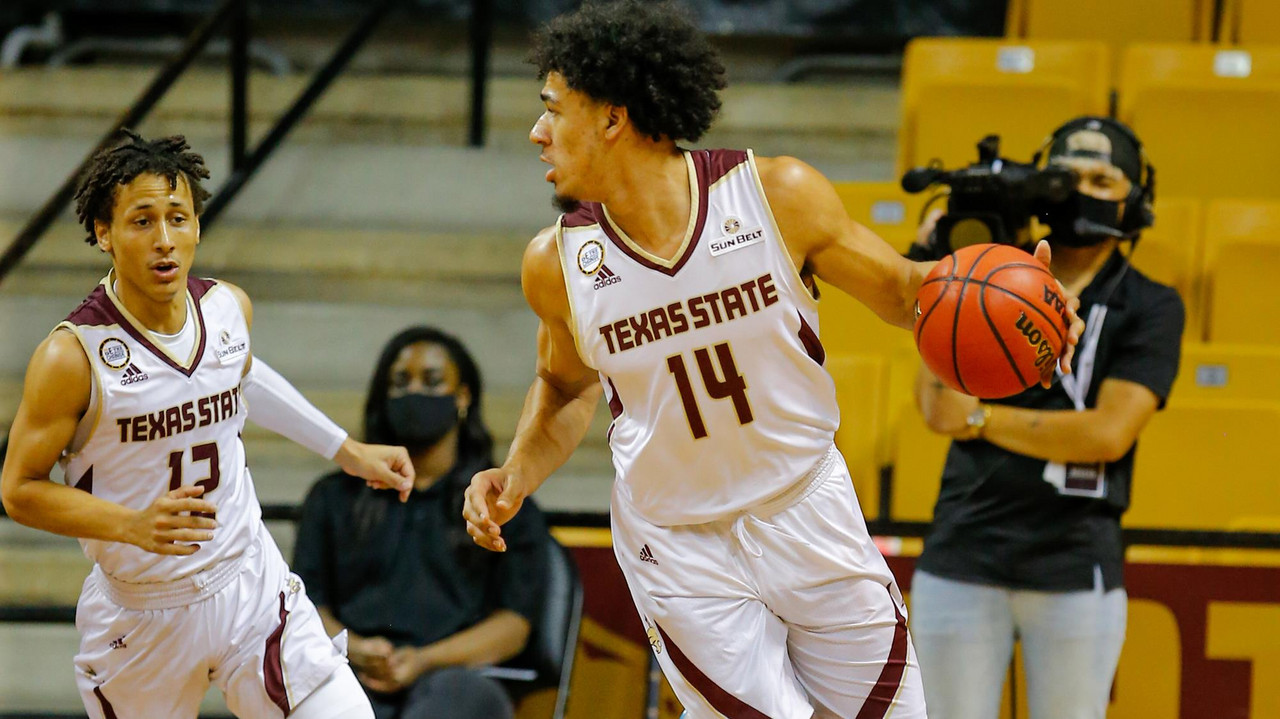 The Sun Belt conference tournament begins tonight in Pensacola with the theme being parity. The league ranked fourth in the country in close game percentage, so expect exciting action throughout the weekend in Florida.
Tournament schedule (all times Eastern)
March 5
First round
5E Georgia Southern vs 4W Arkansas State, 6pm, ESPN+
6W Louisiana-Monroe vs 3E South Alabama, 6:30pm, ESPN+
5W Little Rock vs 4E Appalachian State, 8:30pm, ESPN+
6E Troy vs 3W Texas-Arlington, 9pm, ESPN+
March 6
Louisiana-Monroe/South Alabama vs 2W Louisiana, 6pm, ESPN+
Georgia Southern/Arkansas State vs 1E Georgia State, 6:30pm, ESPN+
Troy/Texas-Arlington vs 2E Coastal Carolina, 8:30pm, ESPN+
Little Rock/Appalachian State vs 1W Texas State, 9pm, ESPN+
Game 5 winner vs Game 6 winner, 6:30pm, ESPN+
Game 7 winner vs Game 8 winner, 9pm, ESPN+
March 8
Final
Semifinal winners, 7pm, ESPN2
The favorites
Georgia State has won six games in a row and has experience with four upperclassmen. Corey Allen averages 14.9 points per game and shoots 46.4 percent from the floor while Eliel Nsoseme averages 11.7 points and 9.9 rebounds a contest.
The Panthers also have some stud underclassmen in Jalen Thomas and Evan Johnson. Georgia State beat Georgia Tech in quadruple overtime this year, a sign that should they reach the NCAA Tournament, they could be dangerous.
Texas State won their first regular-season conference championship since 1999 thanks in large part to guards Mason Harrell and Caleb Asberry, each averaging 13 points a game. The Bobcats have won 15 of 18 since losing to NAIA squad Our Lady of the Lake.
Coastal Carolina has the potential Sun Belt Player of the Year in Devante' Jones, averaging 20.2 points and 7.2 rebounds per game. JUCO transfer Deanthony Tipler compliments Jones nicely with 15.1 ppg and Essam Mostafa is a force down low, checking in at 11.4 points and 8.8 rebounds.
The challengers
South Alabama is led by one of the best-kept secrets in the country in Michael Flowers, who puts up 20.8 points per game, including three games of 30 points or more as well as John Pettway (10.8 ppg, 3.7 rpg, 55.8% FG).
Little Rock was the preseason favorite thanks to big man Ruot Monyyong, who averages a double-double (11.7 ppg, 11.0 ppg). The Trojans have lost six of seven games to end the season. Nikola Maric is a perimeter threat, sporting a 53.8 field goal percentage.
Who will win the tournament?
This will probably be the hardest tournament in the country to predict. With so many close games and a bunch of elite scorers, any number of teams can lay claim to having a legitimate case of winning the tournament.
There are teams that weren't even mentioned above, such as Arkansas State with star big man Norchad Omier (12.5 ppg, 11.7 rpg), Louisiana, boasting the talents of Cedric Russell (17.5 ppg) and Texas-Arlington with Shahada Wells (16.7 ppg) that could find themselves in the NCAA Tournament.
To show you how competitive this league really is, Georgia State leads the conference in scoring offense, field goal percentage and assists, Coastal Carolina in rebounding and steals, Appalachian State in free-throw shooting, Texas State and Arkansas State in three-point shooting and Louisiana in blocks per game.
All of this should make for a fun weekend in Pensacola with ultra-competitive games throughout. I'll take a stab with Texas State, the regular-season champions, to reach the NCAA's for the first time since their last title in 1999.
Prediction: Texas State def. Georgia State