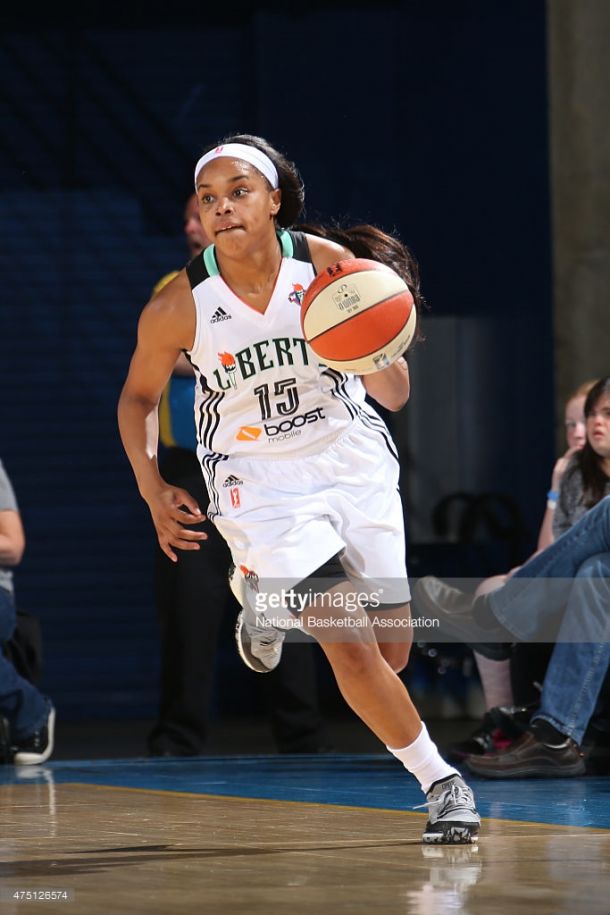 Coming up on the halfway point of the WNBA campaign, it's time to take a gander at some of the most outstanding rookies in an excellent draft class. The most logical place to begin is with...
Natalie Achonwa, C, Indiana Fever - Named the rookie of the month for June, Achonwa did not come out of this Draft. She was the ninth pick in the 2014 Draft, but missed all of that season due to an ACL injury suffered in the NCAA Tournament while playing for Notre Dame. She kept busy while sitting out, rehabbing her knee in Indianapolis and working for Notre Dame in Basketball Operations. The Fever knew she would not be able to contribute for a year, but made the choice knowing she would eventually be a contributor.
Achonwa started all but one game this season, and has gained confidence with each outing.as her averages and minutes have increased as the season has unfolded. She possesses a solid inside game, and plays hard on both ends of the floor. Her scoring average has improved to 9.5 PPG, and she is rebounding at a 4.2 RPG clip while playing under 21 minutes a night. All of these averages should go up as her playing time increases.
Dearica Hamby, G-F, San Antonio Stars - A surprise sixth pick in the 2015 Draft, Hamby didn't start playing basketball until her sophomore year in High School. As she grew, her game improved enough to the point where scholarship offers rolled in. Hamby chose Wake Forest where her improvement continued. She averaged a double-double in her senior year and left as the fifth highest scorer in school history.
Hamby has started every game for the Stars, adjusting to the professional game with ease. She can play multiple positions and fills many roles for San Antonio. Playing mostly up front, as she did in College was natural for her, but Stars Coach Dan Hughes has been working Hamby in at guard with more frequency. This is creating mismatches with her length and athleticism as well as showing off great footwork while taking guards down low. Hamby can space the floor, rebounds well and plays with great energy and intensity. Averaging 8.8 PPG and 5.7 RPG, she is among the rookie leaders in both categories.
Jewell Loyd, G, Seattle Storm - The number one overall pick in the 2015 Draft, Loyd decided that forgoing her senior year at Notre Dame and entering the Draft was the best option for her. So far she seems to be right. Loyd was a scoring machine in college, scoring over 1,900 points in her three seasons and setting numerous records for the Fighting Irish. She has also been involved with USA Basketball since 2009.
Despite getting off to a slow start this season (she shot 5 for 31 in her first three games), Loyd has really picked up the pace of late. Loyd can shoot, handle and pass the ball, and shoot on the move. Loyd has a complete offensive game and is active defensively with quick hands. She is scoring 8.9 PPG and has improved her shooting to 36.2% which is impressive considering she started off so poorly. She is averaging 3.2 RPG and is learning the floor game in the WNBA. As Loyd gets more comfortable her game will improve, and Sue Bird will work with her on that. Loyd is off to a good start, justifying the Storm's selection of her.
Kiah Stokes, C, New York Liberty - The eleventh pick in the 2015 Draft, Stokes is used to winning playing for Connecticut where she won three consecutive NCAA titles. Stokes was the defensive anchor at UConn, setting a blocked shot record in her senior year and was third all-time in blocked shots as well as being defensive player of the year in 2014-15.
This performance has continued in New York where she is among the leaders in blocked shots and rebounds. Crediting Head Coach Bill Laimbeer and veteran Tina Charles for teaching her the professional game, those numbers are only going to increase. Stokes is getting more minutes, averaging 25 per game and her numbers are going up. Stokes is averaging 6.8 RPG, and blocking shots at a 2.2 per game clip. These are very impressive numbers for a rookie and are sure to improve. She is also scoring 5.5 PPG, which is a bonus as she was not a scorer in College. This was an outstanding choice by the Liberty.
Brittany Boyd, G, New York Liberty – Boyd is this writer's personal choice for Rookie of the Year to date. Taken with the ninth pick of the 2015 Draft, Boyd had an excellent career at the University of California where she was an All-American as a senior and an All-Defensive player in the Pac 12 for three consecutive years.
Boyd is a bundle of energy who is hard not to notice when she entered the game. Creating mayhem on both ends of the court, she can do it all - handle the ball, pass, drive to the bucket and shoot from the outside. Her defense is solid as she gets her hands on a lot of loose balls. Her motor is non-stop and her productivity is impressive despite playing limited minutes. In under 18 minutes per game, Boyd is averaging 7.5 PPG, 3.2 RPG and 2.5 APG, her relentless play is a reason why she averages one steal per game as well. Already a Garden favorite, Boyd has a promising future in the league.