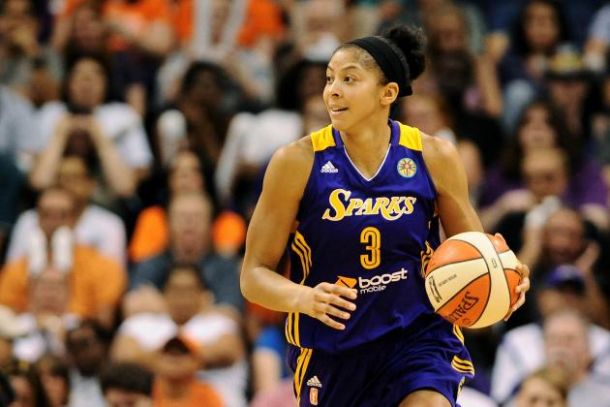 It wasn't supposed to be like this for the Los Angeles Sparks. Despite a loaded roster featuring Candace Parker, Nneka Ogwumike, Alana Beard, Jantel Lavender, and Kristi Toliver being coached by WNBA Champion Brian Agler, the Sparks opened the season losing their first seven games, and twelve of their first fourteen contests.
There were reasons: Every one of the key players on the roster (except for Jantel Lavender) missed some time for various issues. Candace Parker and Alana Beard missed sixteen and fifteen games respectively. Kristi Toliver missed six games and Nneka Ogwumike was out for four games.
Once players started coming back and getting used to each other, the outlook changed. With the lineup solidifying, the Sparks won five of their next nine games, although they have been on the losing end of the last two. Parker and Beard coming back has made much of the difference.
Beard has been a steadying influence, averaging 11 points, 4.0 rebounds, and 3.6 assists as well as running the offense efficiently in the eight games she has played. Candace Parker has been a stat sheet filler since her return, averaging 15.7 points, 10.0 rebounds, 6.3 assists, 1.6 steals, and 2.1 blocks per game as well as a pair of triple-doubles along the way. The return of Erin Philips gives the Sparks energy off the bench as well as a scoring touch that has been much needed.
As it stands at this writing, the Sparks have a half game lead over the San Antonio Stars and a one game lead over the Seattle Storm for the fourth and final playoff spot.
The Western Conference is not as strong as the East, and no one has been eliminated. The Sparks don't have an easy schedule the rest of the way, with two games each against the Phoenix Mercury, Tulsa Shock, and Indiana Fever. They are finished with the Storm for the season, but also have two games left against the Stars, on August 23 and August 30. Those games could go a long way in determining who gets that last playoff spot.