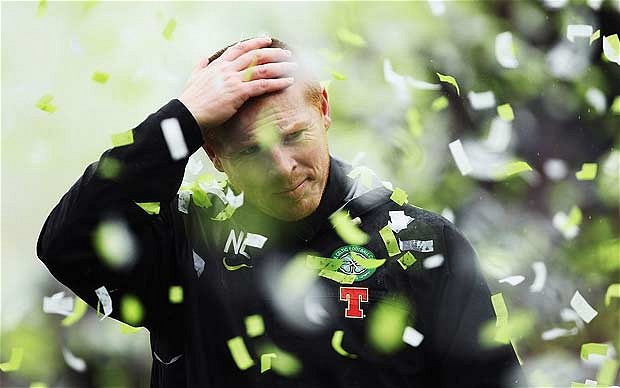 The connections between Barcelona and Celtic have been written about many times. When there is an El Classico then the Celtic family are all Catalans! They know that Barca is more than a club because that is exactly how they feel about Celtic. The reason for this deep affection was probably best summed up by Barca's current playmaker Xavi:
"Celtic, like Barcelona, are more than a football club. Our clubs are a symbol of a culture and community that has not always been made welcome in their respective countries."
Now I believe there is another similarity. Celtic may have found their Guardiola. Like Pep the Celtic manager played for the club he loves. This is his first managerial job and he has had to learn and win at the same time. He knows he has made errors and is man enough to say so publicly. He is building a team that, when it clicks into place, is easily the best team in Scotland.
I am sure that Neil Lennon, the green Guardiola, will be cheering on Barca tonight. What he will be watching is what he wants to create for Celtic.
Moreover earlier this season they matched Udinese on their own ground. The 1-1 draw flattered the Italian side who there then joint top of Serie A. The people who run Celtic have great faith in Lennon and his young backroom staff. Lennon believes in the "Number Ten" and he has been edging towards a formation that allows a playmaker. The young Irishman is no idealist though and he realises that football in Scotland is a physical battle. Too often his Celtic players do not get the protection from referees that one would normally expect. Lennon, of course, knows this from his time as a Celtic player and, indeed, as captain.
So when he first took over the club he tried to sign battle hardened veterans like Sol Campbell and Jimmy Bullard. This summer he will undoubtedly look to bring in a few tough hombres, veterans who relish a battle on Scotland's heavy pitches in winter. The players he now needs are both mentally and physically tough. He was that type of player himself.
He patrolled the area where the opposition playmakers like to drift into and create possibilities. His contest against kaka in the San Siro in 2007 was a classic of who Lennon was as a player and what he wants for his Celtic team.
I have already written on www.vavel.com of the extraordinary life that this young man has to live in being Celtic manager and how that shames Scotland. That he can live through that and still achieve so much in his first managerial job is remarkable. Of course the analogy also holds up when one compares the arch rivals of both Barcelona and Celtic.
Real Madrid and Rangers are both establishment clubs who have benefited from a cosy relationship with the authorities for generations to the detriment of their socially excluded rivals. Of course both the Madrilenas and the blue half of Glasgow have more than a passing acquaintance with extreme right wing politics.
It is no coincidence that left wing, progressive people all over the world love Barca to win El Classico and when it comes to the Glasgow derby the same people want the Hoops to triumph! Celtic, often called the Barcelona of Scotland, may have found what they need to Pep them up for a prolonged period of domestic dominance and European respectability.
I am sure that Neil Lennon, the green Guardiola, will be cheering on Barca tonight. What he will be watching is what he wants to create for Celtic.
I believe his vision is to have a young, mainly home grown, team which plays with skill, passion with and has an emotional connection to the fans who are the club. He knows he needs to bring in a couple of on field "body guards" for his young stars. Indeed he needs a body guard himself!
Both of these football clubs represent a people who have experienced cultural oppression. In their young managers there is now another reason to believe that they are both special.