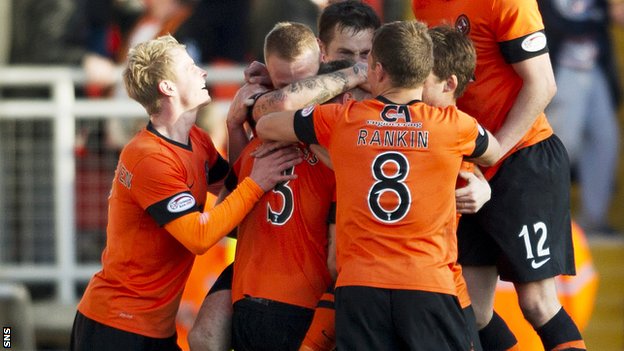 FINAL: Cruel final for Celtic after they took a 0-2 lead with 10 minutes to go. The 3 points looked on their way to Glasgow but Dundee United fought back to claim a point. Mackay-Steven and Efe Ambrose's own goal gave the home side a fine end of the game after a good second half where they dominated Celtic for long spells. Miku scored his first goal and Tony Watt fired the second, all went downhill since then, and that's why Celtic have finally lost two points in a game that looked done and dusted. The Bhoys will have to forget their last SPL results and up their game on Wednesday, let's see how they fare against the mighty Barcelona. Thanks for sharing this game's emotion with us. Stay tuned with Vavel. See you soon.
90+3' Final whistle.
90+2' Mark Millar replaces Johnny Russell.
90+1' GOAAAAAAAAAAAAAAAAAAL!!!! DOUGLAS CROSS IS HEADED BY EFE AMBROSE TO HIS OWN NEEET!! DISASTER FOR THE NIGERIAN, JOY FOR THE ARABS. 2-2
90' Added time: 3 minutes.
90' Russell shots from a clear position after another great recovery from the hosts. His shot went out right.
89' GOAAAAAAAAAAAAAAAAAAAAAALLL!!!! MACKAY-STEVEN SCOOOOOOORESSSS. Celtic fail to get the ball out of their area after a long throw-in. Skacel's shot was stopped by Wilson, Mackay-Steven striked from 10 yards and scored to give the game some emotion. 1-2.
88' McCourt loses a key ball and Dundee United start an attacking move. Ledley nearly concedes an own goal but his clearance went over Forster's bar. The Arabs didn't take nothig out of the corner.
86' Douglas delivery ends with Sean Dillon's attempt going off target, over the bar.
84' Celtic get a corner after Tony Watt was disposessed. McCourt takes a short corner, the play ends with Tony Watt failing to hit the ball after a good cross from Mulgrew.
82' McCourt replaces Commons.
81' Watt receives a yellow card after celebrating with the Celtic crowd. Lots of joy for the youngster after his goal, the goal that killed the game after a nervy second half.
80' WAAAAAAAAAAAAAAAAAAAAAAAATTTTTTT!!!!! WHAT A GOAAAAAAAALLLLLL!!! HORRIBLE MISTAKE FROM CIERZNIAK, poor clearance from the keeper, Watt goes past his defender and fires the ball past the Polish keeper. 0-2 and game on the bag for Celtic.
79' Brown gets a yellow card for a foul on Mackay-Steven. The Arabs take the foul and nearly give Celtic another chance to counterattack.
75' Willo Flood takes a corner, but there's no danger for Celtic, they start a counterattack that ends with a corner for Celtic. The game has great rhythm now.
74' Skacel is in to replace Armstrong. He scored against Celtic with Hearts and will look for a similar effect now.
The goal has brought the driving seat back to Celtic . Dundee United look shocked after Miku's opener. Houston will introduce Rudi Skacel soon.
70' Miku received a yellow card after celebrating the goal with the Celtic crowd.
69' GOOOOOOOOOOOOOOOOOOOOOOOOOOOAAAAAAL!!!! CELTIC SCOOOOOOOOREEEEEEE! IT'S MIKUUUUUUU'S FIRST. He receives a good ball from Watt and gets past two players before striking the ball past Cierzniak. 0-1 Celtic.
66' Johnny Russell looks in a great position to create danger after going past Wilson, but he slips and it's a goal kick for Celtic. Dundee United keep pressing Celtic with lots of energy. 23 minutes+ added time to go.
64' Corner for Celtic after Wanyama's strike is deflected.
63' Rankin hits the ball after a pinballesque play involving both teams. Mackay-Steven is on to replace Richie Ryan.
Gary Mackay-Steven looks ready now, he'll be another worrying element for the Celtic defence. His pace and his trickery might add more problems to Celtic, who have lost the driving seat during this second half.
57' Great cross from the costless kick and Gunning almost makes it 1-0. Celtic's defence needs to be more agressive in set pieces. It's United's best spell of the game.
56' Victor Wanyama receives a yellow card for a challenge on Rankin.
55' Daly misjudges a ball and avoids a clear chance for his team. He received it from a costless kick but miscontrolled it to allow Celtic's recovery. Dundee United are pressing Celtic up now.
52' Wanyama uses his strength to hit the byline and cross a good ball, Cierzniak sends it to corner. Commons takes it, and no danger again for United's defence.
50' Dundee United's best moment of the match. Willo Flood shoots from distance, Forster saves it, Russell gets the rebound 10 yards from goal... and shoots it over the bar. What a chance it was! Forster was nearly beaten on the floor and Russell had THE chance to put his team 1 up.
49' Izaguirre is out and will be an injury doubt for Wednesday surely. He is replaced by Miku. Celtic are being unlucky with their players fitness today.
47' Great play from Izaguirre, the Honduran plays a one-two with Watt and shots... only to see his attempt hit the outside part of the net. Izaguirre receives treatment after a injuring himself when he fell on the floor.
46' The second half starts! Celtic kick off and look for a win just before hosting Barcelona. Will they do it?
14:46. Celtic have been 0-0 at half time FOUR times this season (Helsinki, Aberdeen, Ross County and Benfica), they managed to get a win twice and drew twice (Ross County,1-1; Benfica, 0-0). Let's see how they start in the second half.
HALF TIME: Celtic and Dundee United have failed to set the lights on this game. The Bhoys have had some decent chances to be in front, but their headers haven't been really impressive. Dundee United's best chance came after Armstrong unleashed a shot from distance, his attempt went over the bar. Fraser Forster hasn't been tested while Cerzniak only had to work to save two weak shots. Celtic have balance and move the ball well, but need a cutting edge up front. Dundee United looked lively in the dying minutes and will look to change the game a bit with their substitutes (Skacel and Mackay-Steven were warming up during the first half). Hopefully both teams will offer us more of a show during the second 45 minutes.
45' Added time: 1 minute.
42' Brown is fouled at the right edge of the box. Mulgrew to take it... Cierzniak saves easily the Scotsman's effort. Good direction but he didn't give the ball enough pace.
40' Top chance!! Excellent cross from Mulgrew and Brown's at the end of it, he heads it in acrobatic fashion and the ball goes out left.
Celtic got two consecutive corners but failed to create any danger with them. Their deliveries today haven't been top class toda, and are usually cleared easily by United's defenders.
37' Rash challenge from Mulgrew. Good opportunity for Dundee United. Willo Flood takes it but Celtic head the ball out of their area. Tony Watt leads a counterattack and crosses the ball to Ambrose, the Nigerian's shot is deflected to a corner.
35' Izaguirre receives a yellow card after a challenge on Russell. The referee gave advantadge and Armstrong finished the play with a shot from distance that went over the bar.
Both teams don't look like being able of creating chances. Celtic are dominating the ball but they always fail when they have to penetrate through that United's defence.
28' Great first touch play by Celtic leaves Commons with Cierzniak between him and the goal, his shot is too weak and is easily saved. Douglas' pressure made Commons' position uncomfortable.
40-60 posession for Celtic, but they are failing to transform that domination on the ball into chances.
24' Watt makes his way through the left, he makes a good cross but Brown's "shot" isn't that great. Goal kick.
22' Dundee United's corner ends in a good counterattacking move by Celtic, Watt's at the end of it to head Commons' cross, over the bar. No keeper has been tested yet.
19' Ambrose, who was being rested for the Barça game, is in to replace Thomas Rogne. He'll be Wilson's partner in the center of the defence.
Rogne looks injured, Ambrose warms up and will replace him. Sad return for the Norwegian, who was having a good game and has to leave the game early due to another injury.
14' Celtic get two consecutive corners but fail to hit the target. They will have to improve their set pieces form to harm that United defence, as they look really organised on open play.
12' Commons takes a short corner and Brown floats it up, Rogne heads the ball in a great position, out right. What a chance for the Norwegian!
Celtic are so strong in the middle, Wanyama's presence can't be matched by any player in that Dundee United midfield. The visitors move the ball well but need to open United's defence. Decent start.
8' Commons delivers a cross from the right hand side of the pitch. Cierzniak catches the ball comfortably.
6' Wanyama shoots from distance but his attempt is off target. Celtic are pressing Dundee United well during this first minutes.
4' Celtic try to move the ball on the park, slowing down the rhythm of the game to make their mark on it.
1' We are underway at Tannadice! Dundee United get their first corner. No danger for the Celtic defence as they clear well Flood's delivery.
13:40. Celtic will be using their white kit today. The teams are out of the tunnel.
13:35. Back in May, Dundee United were the victors of the last game they played against Celtic (1-0). The SPL leaders were clearly a different side as they had already won the league weeks ago. They will be in a different mood today.
13:25. We have to remember that, after the results yesterday, Celtic are NOT the SPL leaders right now as Hibernian has now 21 points, one more than them. The Bhoys have two games in hand though, so a win today would see them climb back to the first spot. 8 points are the distance between the 11th team and the team sitting 2nd, two straight wins or two straight defeats can make you go up or down through the table.
13:20. Dundee United XI: Cierzniak, Watson, Dillon, Daly, Gunning, Flood, Ryan, Rankin, Armstrong, Douglas, Russell.
Jon Daly leads the line for the hosts, he'll be supported by a crowded midfield with 5 men, with Johnny Russell supporting him. Peter Houston knows the battle in the middle of the park will be one of the keys to get something positive out of this game.
13:15. Celtic XI: Forster; Matthews, Rogne, Wilson, Izaguirre; Brown, Wanyama, Ledley, Mulgrew; Commons, Watt.
Some surprises in this lineup, Rogne gets his first start after their wage demands nearly left him out of favour, Mulgrew starts as a left winger while Tony Watt leads the line up front. Hooper, Kayal and Lustig are rested, Samaras and Forrest were out due to their injuries, but will hope to be back to play against Barça.
13:10. Neil Lennon wants his team to be fully concentrated on Dundee United, leaving their Wednesday match against Barcelona apart:
"My whole focus is on Dundee United this weekend.
"Tannadice is a brilliant venue, normally we take plenty of supporters up there, it is a cracking atmosphere and usually it is a competitive game, so there will be no talk of Barcelona whatsoever.
"Hopefully the players who play will do well and we will see what's left after that for Barcelona on Wednesday, but the priority is Dundee United.
"It is important that we get back to winning ways and get back to consistency.
"If the players needed reminding about any complacency they got it in spades last weekend.
"We had a frank discussion on Sunday and they know what is required if they want to play at this club."
13:08. Peter Houston wants to see their side give Celtic a go, that's what he said in the BBC:
"These are always good games to be involved in.
"In many ways, it's probably the right kind of fixture for us in the wake of our cup defeat to Hearts.
"It's not as though we're coming up against a so-called smaller club when we're expected to win being at Tannadice.
"We know it will be very difficult against a really good Celtic side, but we've got to give it a go.
"I was more disappointed with the manner in which we lost to Hearts by not playing well like we know we can.
"But the players won't need motivation come Sunday as there will be a big crowd and a good atmosphere to get them going."
13:02. The Bhoys in Vavel predict a tight game, these are the tweets we've received in our twitter account at the moment:
@LaurenceMcBeth Celtic to win 2-1
@KeyserSoze1888: hooperman 1-0
@PLambie: an old school barn storming end to end pulsating belter of a match I think, 2-3 Celtic win.
Some other people don't agree with them and think it will be a trashing:
@tradhart: think it will be a tight game,,,for first 10 mins,,4-0 Celtic!
13:00. It's been a strange season for Dundee United, after nearly beating Dynamo Moscow in their Europa League's opening tie, they got trashed in Moscow (5-0), despite that, they started their SPL season in good mood with comfortable wins against Hibernian and Dundee, some people were discussing about their capacity to pose a challenge to Celtic's league aspirations, but then, they lost 3-1 against Kilmarnock and all went downhill for them, they only managed to get another win next win (0-1 against St Mirren). Anyway, they are a good side that, on their day, can do damage to any other team in the SPL, including Celtic.
12:55. Celtic lost their second game in the SPL this season after a disappointing performance against Kilmarnock (0-2). The visitors gained their first three points at Parkhead since 1955, a famous feat which they'll remember for a long, long time. In the other hand, Neil Lennon's men will look for the three points today to leave behind their below par display. They just didn't look like scoring for the whole match, even Tony Watt missed a sitter in the dying minutes of the game.
12:50. Good morning all! Ladies and gentlemen, Bhoys and girls, get ready for this exciting match involving Celtic today. They will be playing in a difficult pitch where getting the three points is usually difficult. Despite some players leaving the side, Dundee United still include exciting young talents like Mackay-Steven or Johnny Russell, whose pace and technique could cause problems to any defence in the Scottish Premier League. Stay tuned with us and enjoy the game!