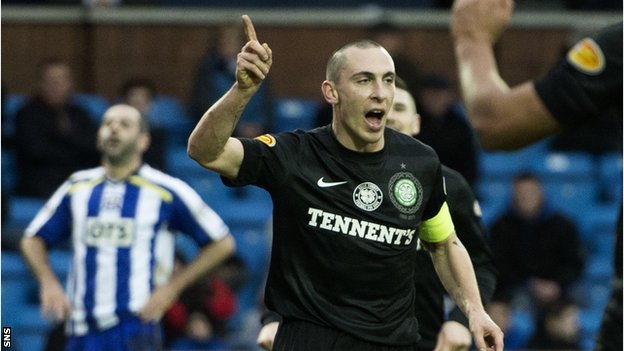 Celtic had a good test today at Rugby Park after their Champions League success on Wednesday. Neil Lennon's men have achieved the last 16 while they've recorded 10 points in the group phase, Scotland's best ever result at this stage. They've mixed themselves well with Europe's elite but they haven't been able to show the same form in domestic competitions. Killie won at Celtic Park the last time these two teams met, and under Kenny Shiels' management they've been one of the toughest rivals Celtic have had in Scotland.
The Bhoys are in top form in Europe, but the Scottish game keeps showing the same old problems. Rugby Park was half empty today to see their team host the champions. Despite the lack of support, Killie managed to match Celtic during large spells of the match. The visitors have the same problem than most teams in Europe have when they play them: their difficulties (and sometimes inability) to break down an organised defence. Celtic frustrated Barcelona with an excellent defensive performance and two great moves to score the winning goals. The SPL teams try to replicate that everytime they play against Neil Lennon's men, who sometimes lack a creative spark in midfield to open up a packed defensive line. Celtic have always had a difficult transition between Europe and Scotland: for years they've had problems to addapt themselves to a defensive formation in Europe when they were in the driving seat in Scotland, now it seems the situation has turned. They've found their feet in Europe using a conservative approach and fail to readdapt themselves to a new situation where they have to attack and show what they have to offer to the game. Overconfidence and complacency are the defining factors then, the keys that allow Celtic to beat Spartak twice and win against Barcelona while they are left embarassed at home by the likes of Kilmarnock, Inverness and Arbroath.
Usual start: lots of possession with no end product
For almost half an hour, the script was similar to those shown already during the domestic season. Celtic had more strength in midfield due to Wanyama's return but failed to create chances. In fact, they scored in the first clear attempt they had. A clever move in the right hand side, where Hooper assisted Matthews to make the run. The Welshman, a wing-back today, passed the ball back to Scott Brown, whose shot wasn't his most impressive feat, but was enough to beat Cammy Bell. Celtic had more calm with the goal and showed some good possession game while the hosts chased them.
Killie frightened Celtic with two great chances before the half time whistle. Former Celt Cillian Sheridan almost scored (again) against Celtic with a fierce left-footed shot from outside the area. Luckily for the visitors Fraser Forster appeared to rescue them, the Englishman parried the ball well to a corner. Seconds later, Liam Kelly's cross wasn't headed by anyone, but was inches away of Forster's goal.
Celtic had had lots of corners, but they failed to hit the target despite Mulgrew's good crossing. The second half would show us the final outcome. Celtic were dominating, but needed another goal to kill the match and avoid dropping points in the SPL again.
Celtic took the foot on the gas
The second half started at franctic pace. Both teams almost scored during the opening minute. Paul Heffernan looked on his way home until Charlie Mulgrew blocked him before he could shoot. Hooper was close to scoring but his attempt ended in a corner. Since then, Celtic dominated the whole second half and showed the gulf in class between the two sides. They created more chances but were always denied by different circumstances, either a defender's late challenge, a save from Cammy Bell, Gary Hooper failing to connect with the ball,etc. But the goal looked closer as the minutes passed. Killie were closing down trying to avoid the deciding goal… until Celtic's passing game was too much for them. Wanyama was in front of Killie's box and his deep pass allowed Brown to assist an unmarked Joe Ledley, who easily converted the tap-in. Up hill task for Kilmarnock after what they had shown in the second half, when they barely created danger to Fraser Forster. The chances kept coming for Celtic and the Hoops in the stands started to cheer their passes. Neil Lennon's men were moving the ball around for more than one minute until they opened Killie's defensive line. Brown was once again involved with another long pass to Matthews, very incisive today through the right flank. The quick move ended with a great cross towards Samaras. The Greek comfortably headed home to bring joy to the travelling supporters.
Celtic's display was one of the best away performance they've had during the whole season. They simply didn't leave Kilmarnock show their usually praised passing game. They defended well by not allowing the hosts to have the ball near their box, outstandingly occupied by Kelvin Wilson and Efe Ambrose, whose control of the ball and skills are something the Celtic fans had been looking for years. The Nigerian was adventourous in attack and created lots of spaces for the wingmen and central midfielders who wanted to come from behind to try their luck up front. He also left some holes behind, but those were easily covered by Wilson and the pacey Adam Matthews.
Sheridan, after a good assist from Jeroen Tesselaar, scored on added time to bring a bit of frustration to Fraser Forster, who was counting on another clean sheet, but nothing could hide nor deny that brilliant performance during the second half. Neil Lennon must be pleased to see their team back to their best, but will want them to show that form during their next home match, a holy place where no one could take points off that has seen too many slip ups already this season.
Kilmarnock remain eighth in the table while Celtic lead Hibernian by four points before the Edinburgh side play this afternoon. Top notch performance to end a great week for the Bhoys.
Photo: BBC Sport