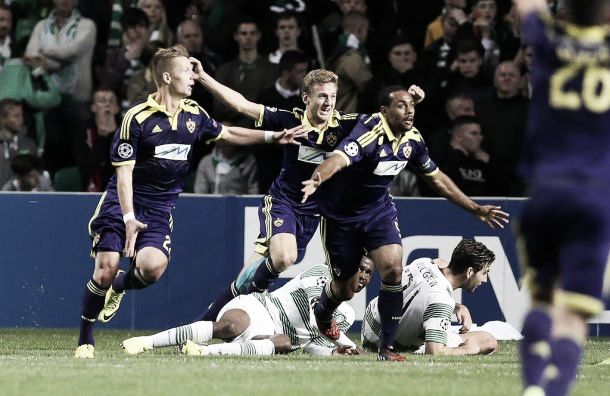 Celtic knew before the game that a scoreless draw would be enough to bring them into the Champions League. Ronny Deila made only one change to the line up, with Efie Ambrose replacing Denayer.
Celtic started the game off brightly, with Bergets cross just too high for Stokes. Maribor nearly then turned the ball into their own net. But, Celtic became complacent and were giving Maribor simple chances which they should have converted. A lapse in the concentration of Charlie Mulgrew left Tavares through. The Brazilian however failed to convert the simple chance.
Half Time(0-0)
After the introduction of last years player of the year, Chris Commons, Celtic looked a different team. Commons provided the spark the team needed. Maribor became scrappy, giving away silly fouls and getting unnecessary yellow cards. After Commons hit the crossbar from a Stokes cross, Parkhead was rocking. The Celtic fans knew something was coming. It was the Slovenian champions however that scored. Tavares capitalised on a fatal mistake from Ambrose and finished from 10 yards out. Ambrose was nearly at fault again for another goal but a great save from Gordon denied Mendy from scoring Maribors second.
Celtic didn't look threatening in the final 10 minutes. Tavares missed another great chance to put the game beyond Celtics grasp. As defeat loomed, Celtic went all out attack. Virgil Van Dijk had two great chances but missed both of them. When the referee blew the final whistle, Maribor were ecstatic.
Celtic only have themselves to blame. Efie Ambrose was an oblivious weak link in the side, making countless mistakes, including one which led up to the goal. As well as missing out on Europan football, Celtic will now miss out on a crucial £20 million. With winning the SPL almost guaranteed, Celtic will need to regroup, recover and come back stronger next year