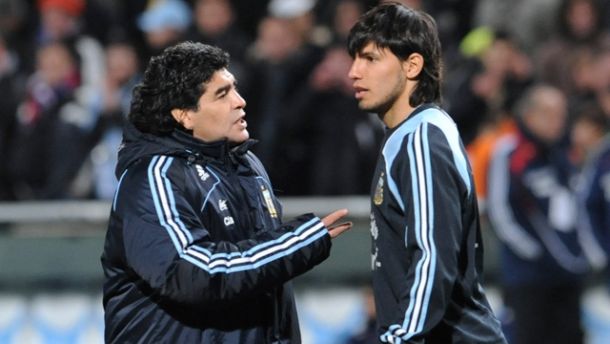 Diego Maradona has been filmed unleashing a torrent of insults toward Sergio Agüero on Sunday night.
The 53-year-old, intoxicated outside a nightclub in Dubrovnik, flew into a rage when a fellow reveller mentioned Agüero's name as he was leaving the club, Spanish newspaper Marca have revealed. The former Argentina and Napoli legend has endured a turbulent relationship with the Manchester City forward ever since he split with his daughter, Gianna, in 2013. Maradona is the grandfather of Agüero's son, Benjamin.
'El Pelusa' was heard repeatedly yelling "Motherf****ing Kun Agüero, you son of a *****" and even threw a glass bottle before friends calmed him down.
Maradona was in Croatia on holiday after taking part in the Match for Peace in Rome on 1st September.
Footage of Maradona's drunken outburst can be seen here: http://www.marca.com/en/2014/09/08/en/football/international_football/1410203043.html