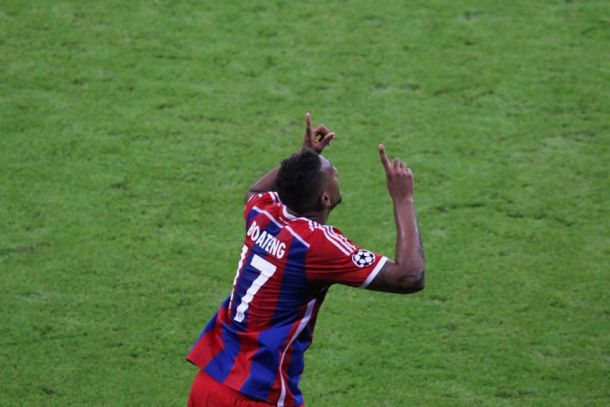 Former Manchester City defender Jerome Boateng unleashed a ferocious 90th minute strike to deny his former club a point in their Champions League Group E opener. Joe Hart produced a sequence of exquisite stops to deny the German champions throughout the tie, but the Englishman's efforts were cruelly dismissed by his former teammate.
And it could have been more for the 2013 Champions League winners. Thomas Müller took only five minutes to tap his side in front in last year's equivalent fixture, but the 25-year-old could only fire at the side netting as he rounded Joe Hart after just 40 seconds. The early scare coerced Manuel Pellegrini's side into a more composed style of play, and after an opening ten minutes of relentless pressure, the Chilean was able to look his side enjoy a healthy amount of possession, albeit from the stands.
(Joe Hart performed tremendously in between the sticks)
Bacary Sagna, Yaya Touré, Samir Nasri and Edin Džeko were all handed starts after sitting out of City's 2-2 draw with Arsenal on Saturday, but the latter's fresh right leg was unable to curl a wicked effort into the inside of Manuel Neuer's post. Moments earlier, point blank efforts from Müller and Götze had been acrobatically stopped by the brilliant Hart.
Despite Fernandinho's admirable endeavours to plug the fluidity of Bayern's midfield, he was abandoned by his partner Yaya Touré. The Ivorian was criminally allowed to aimlessly wander around the field for 90 minutes, offering nothing defensively and very little going forward. At 31-years-old, Touré's legs are bound to be enduring the repercussions of a tyrannic 2013/2014 campaign, but a rest on Saturday did little to energise the midfielder that Rubén Cousillas should have substituted.
(Touré was unable to impose his powerful presence on the game and was a passenger throughout)
But Touré's no-show was somewhat masked by the tenacity and enthusiasm of his fellow teammates. The blues were able to launch a number of promising counter attacks with the aid of Jesus Navas's pace on right flank, but David Silva was unable to meet a cross from his fellow Spaniard to head City into the lead mid-way through the second half.
With the match approaching its last legs, Guardiola introduced the speed and trickery of Arjen Robben in a bid to snatch a late winner. The Dutch winger felt he was fouled by Fernandinho in the penalty area, but the Spanish referee, for the third time in the match, waved away Bayern's protests.
An onslaught of Bavarian pressure in the last five minutes threatened to unlock a resolute Manchester City defence, and with just seconds of normal time left to play, a former blue finally got the better of Joe Hart. Jerome Boateng, signed by City in 2010, punished the club's decision to sell him after just one season with a sweet half-volley that struck the back of Mario Götze and flew into the roof of the net.
(Jerome Boateng celebrates his late winner)
Sergio Agüero got the better of Dante in the dying seconds to almost give the visitors a crucial equaliser, but the Argentine's prod trickled just wide of the post.
A loss in the Allianz Arena will never be considered a disaster, and Manchester City's effective counter attacking play emerged as one of many positives from their Champions League opener on Wednesday night. But Bayern Munich's hunger for goals outweighed that of their visitors, and although Boateng's winner dismissed a superb goalkeeping display from Joe Hart, it was nothing less than the German champions deserved.