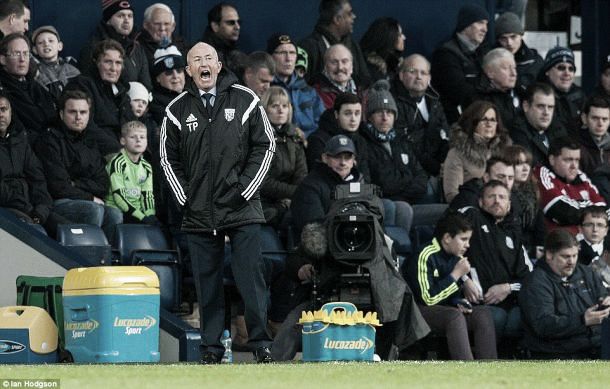 West Bromwich Albion fans have endured their side decline rather quickly in a short space of time, and in the pressure cooker of the Premier League many would say they sold their soul and then got desperate to not finish at the bottom of the food chain.
Whichever way you look at it the last 12-18 months have been painful for West Bromwich Albion fans. Tomorrow marks the beginning of yet another new era, this time under the leadership of Tony Pulis.
Keith Downing started 2014 in temporary charge of the baggies, a spell that last over a month leaving some WBA fans questioning the final appointment of Spaniard Pepe Mel who's tenure was filled with controversy and problems from the Anelka racism claim to Saido Berahino and James Morrison's punch-up, in this time Albion even ran out of socks. Reverting back to Mel players could not understand his methods or technical information, leaving senior players pleading with Downing and Dean Kiely to revert back a deeper defensive line. Something that, eventually, saw Albion finish 17th and safe.
After Pepe Mel came the uninspiring appointment of Alan Irvine; talks with former Spurs manager Tim Sherwood had broken down over the need for more staff and Irvine was given the head coach role and a huge job to overhaul a squad that was broken up over a summer with a number of players either released or going back to parent clubs following loan deals that simply never worked out.
In-between Irvine and Mel came the release of the new shirt, and this, created by Adidas, was one that created upset amongst many. It took away a part of the club many thought even the drive for money would never touch. The traditional shirt has broad stripes; this shirt was mainly white and blue pinstripes. If football is a god and a stadium is it's church then the shirt is part of it's bible and WBA didn't just change this: they decided to do it at a time when many were disenchanted with the club.
Irvine arrived with a huge job on his hands; he needed players to arrive quickly and many questioned how many players he actually saw and wanted. Some believe he actually got given these players and to get numbers in he simply had to say yes and work with what he had. West Brom totally deny such claims.
Whether Irvine had these players at his own will or not he didn't do well enough in the results, and that is ultimately what Jeremy Peace looks at. Just ask Steve Clarke and Roberto Di Matteo. Players like Ideye Brown, Sebastien Blanco, Christian Gamboa, Jason Davidson and Georgios Samaras haven't bedded in at The Hawthorns and struggled to make their presence felt under the Scot.
With the Scot binned it was over to Rob Kelly to take a short term charge at West Ham before Tony Pulis was revealed before the FA Cup clash against Gateshead which saw Albion emphatic 7-0 winners despite a disappointing first 40 minutes against the conference side.
So now it's over to Pulis to turn around the Baggies' confidence, 7 years after he was slated in the match day programme for his playing style at Stoke City, a side that always had the upper hand over West Brom. If anything, this shows the footballing identity that a side like Swansea have employed simply isn't mirrored in the West Midlands. They've gone from costless flowing Tony Mowbray into ridged Roy Hodgson, back to a quick pressing Pepe Mel idea and now back to a low defensive block with Pulis. It's understandably unknown how the Baggies board see their side playing; they're driven by results and don't care how they come as long as they maintain another 12 months in the greed league, at any cost.
Pulis starts in the league with a huge game against Hull tomorrow at home. He has spoken well to the media and has gone to great strides to get fans on board adding David Kemp and Paul Jewell to his coaching staff, while relieving Rob Kelly, Dean Kiely and Keith Downing of their duties. Kelly and Downing in particular had taken much abuse from the terraces.
The release of those, the desire to gain results at home matches, and the calibre of Tony Pulis, will give the Welshman time with West Brom fans and rightly so. His target is simply to keep the side in the division, and he has a month to sign new players and move on any players he doesn't wish to work with.
Albion fans have gone through the mill recently and the signing of Pulis could be the best bit of business in the month that the league does; he will give fans hope, his record is impeccable and Steve Bruce will know Hull are going to up against a different outfit with Pulis in charge. He'll know the addition of the former Palace man has given the Albion fans a lift and a huge fighting chance of survival.
So West Bromwich Albion FC fans, you've had a turbulent time of late but get back together, believe, re-group and make The Hawthorns a fortress once again because as Pulis says, home form is key to staying up.