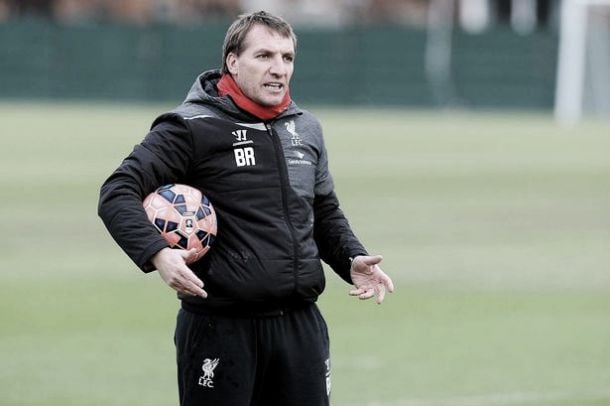 At the start of the January transfer window, Brendan Rodgers' Liverpool side looked like one in desperate need of some new additions. They had started their season bleakly, falling out of the UEFA Champions League after working hard to find themselves back in the competition and in danger of struggling to gain a top four place again this season.
However, after an impressive improvement in form, along with the return of Daniel Sturridge, Rodgers opted not to bring any new faces to Anfield - with the view that things are up and running at Anfield. The Liverpool boss insisted that he is happy with the squad at his disposal and would only rely on his own youngsters when it came to filling in the gaps. Recalling Jordon Ibe from his loan spell at Derby has been the only example of this so far, despite rumours of Divock Origi making a similar premature return when the window first opened. Liverpool are still competing for a top four spot in the league as well as in two cup competitions, meaning that Rodgers' squad may well be stretched between now and May. He'll therefore be hoping that his decision not to invest in January doesn't hinder his side's hopes of success in any way.

One of the areas that Liverpool seemed to be clearly in need of improvements in at the beginning of January was in goal. Brad Jones had taken short term responsibility whilst Simon Mignolet's form reached an ultimate low, however following Jones' injury - and the Belgian's return to the side - Mignolet has really raised the bar, not conceding in the league since New Year's Day. This has clearly saved him at least his short term career at Anfield, with Liverpool choosing not to dip into the market for a new number one quite yet. Whether Mignolet can continue his recent level of performance is still in question, but in a squad brimming with confidence at the moment, it would be surprising to see him drop back down to the disappointing form that made so many supporters desperate for a replacement.

Liverpool's other area of clear shortage has been up front. During Daniel Sturridge's five month absence from the side due to injury, Rodgers' other three natural strikers (Rickie Lambert, Fabio Borini and Mario Balotelli) only managed to net a combined three league goals. Sturridge, now fit again, is only one goal off of that total having only featured four times this season, and once since September. The return of The Reds' star man is very timely and would suggest that they don't need a new first team striker at this moment in time.
However, much like the Simon Mignolet dilemna, Liverpool cannot guarentee that Sturridge will stay fit between now and the end of this season, given the forward's awful injury record. Banking on Daniel's fitness is a huge risk, which could definitely prove costly, if Liverpool end up missing him again for another extensive period. Burnley forward Danny Ings was linked with a January move to Anfield in the past week, however nothing came of the specualtion. Perhaps bringing in a young, on-form striker with seven league goals already this season would've proved a good investment. Ings certainly would've offered more off the bench, and in any more unfortunate absences of Sturridge than what Rodgers has had at his disposal in the first half of the season. Of course, if all goes well and good, Sturridge will stay fit and fire Liverpool to a strong finish to the season and the lack of transfer activity will be completely forgiven.

Amongst all the early demands for new signings, Rodgers gave his squad a month to prove to him and the fans that any additions would simply be luxuries rather than necessities. Standing by his current crop of talent is bound to be a huge factor in the rejuvenation of confidence around Rodgers' side. In the past few weeks Liverpool have looked like a team in no desperate need for additions. If they can keep their star men fit and on form, then there is no reason why their decision not to bring in any new faces should prevent them from finishing the season on a high.