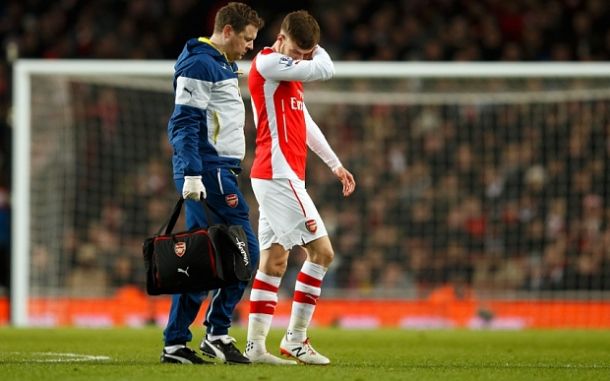 Arsenal midfielder Aaron Ramsey is set to be sidelined until March after suffering a hamstring injury during his side's 2-1 victory over Leicester on Tuesday.
The Welshman came on as a substitute against the struggling Foxes, replacing match-winner Theo Walcott, but Ramsey lasted just nine minutes before he limped off with the muscular problem.
Ramsey has been plagued by niggling injury issues throughout the campaign and Arsène Wenger admitted that the midfielder's latest setback is 'worrying'.
The Arsenal manager stated: "Last year was a thigh but this year it's a recurrence of hamstrings. You cannot say it's no worry because after the player doesn't play with the freedom in mind.
"He's not overplayed. Before I never looked at him, I just played him in every game but since he's had these problems I'm a bit more cautious with him," Wenger added.
The Frenchman will undoubtedly be concerned to lose one of his most influential midfield players; although the 24-year-old has struggled to replicate last season's sparkling form.
In the early stages of the season, he appeared overly preoccupied in the pursuit for goals, but he has gradually regained the defensive discipline and combative nature of his game that earned him so many plaudits last season. Whilst he has still lacked the edge he possessed 12 months ago, his energy and drive in the midfield is integral to Arsenal's balance and structure.
Fortunately for the North Londoners, they have an array of attacking midfield options at their disposal, with Tomas Rosicky, Mesut Ozil and Santi Cazorla all in fine form. Jack Wilshere is also poised to return from a long-lay off and could be in contention for Arsenal's fifth round FA Cup tie this Sunday.
However, it's certainly been a frustrating campaign for Ramsey, who was recognised as Arsenal's player of the year last season. He was beginning to establish confidence and consistency prior to his injury against Galatasaray in December; scoring an incredible goal on the half-volley from 35-yards out minutes before being substituted.
Ramsey will definitely miss Arsenal's FA Cup tie against Middlesbrough and looks certain to be absent for the first leg of their Champions League against Monaco; he may also be a doubt for Wales' Euro 2016 qualifier against Israel on March 28th. Whilst Wenger has indicated that the former Cardiff man may only be absent for a month, given his recent injury problems, the scepticism about the severity of the injury is inevitable.