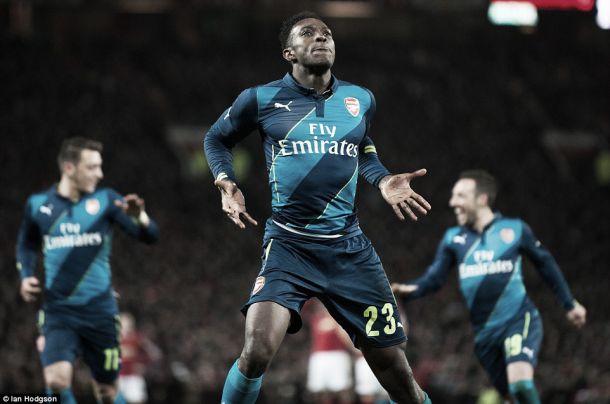 After tonight's astonishing and what seemed unlikely victory over Manchester United in the FA Cup quarter-final, Arsenal will move onto the next round to face either Reading or Bradford away from home. No game in this competition is easy so Arsenal will not find their next game an easy one or one to relax in after their hard fought triumph at Old Trafford.
In a game of sloppy mistakes and rued missed chances, Arsenal came out the victors against a Manchester United side, who were showing their grit and applying a lot of pressure to Arsenal's criticised defence. However, they stood much stronger tonight and managed to keep their chances limited whilst making the most of mistakes at the back from the Red Devils – who gifted former United striker Danny Welbeck the chance to win the game in the second half after a sloppy back pass by Valencia played in the England man to round De Gea and slot home. Certainly many United fans will be missing him now. Arsenal were also helped by great refereeing from Michael Oliver who noticed simulation from both Di Maria and Adnan Januzaj – leading to the Argentine's dismissal after a grab at the official. This gave Arsenal the boost they needed to march on in the FA Cup
The next tie will still be a fascinating one as the North Londoners have had recent entertaining clashes with both Bradford and Reading away from home, of which there was anything you could have asked for in a cup match including goals, own goals, penalty-shootouts and more. Arsenal fell to a shocking defeat against Bradford last time out on penalties but managed an unforgettable comeback against the team in blue and white coming back from 4-0 down to win 5-7. There is certainly much more action to come in this competition yet.
The other match drawn for the semi-final sees Tim Sherwood's new found Aston Villa team take on either Liverpool or Blackburn at home. This will be a chance for Aston Villa to shed light on their poor season so far.