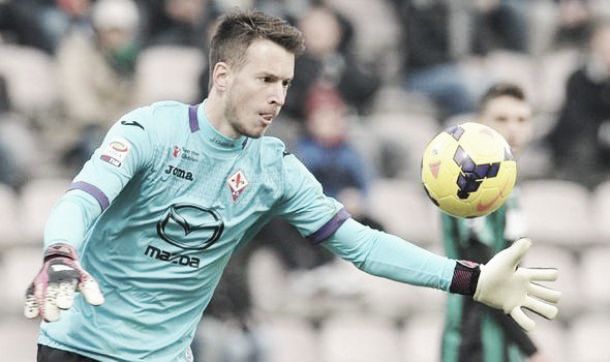 Liverpool are reportedly interested in signing the soon to be out-of-contract Brazilian goalkeeper Norberto Neto. They will have to go up against clubs from the top leagues all around Europe for the signing of the former Under-23 international.
The Fiorentina first-choice goalkeeper's current contract is expiring this year and the club have revealed that the player will be leaving the club after being there for four years.
Due to his contract expiring, he will be on a free transfer in the summer and clubs like Liverpool are ready to snap him up. His agent has confirmed that interest has come from many clubs from many different leagues.
"The only thing that is official is that Neto will not be staying in Florence," Stefano Castagna, Neto's agent, told Gazzetta TV. "Since 1 February, when it became possible to talk to other clubs, we've been evaluating offers that are interesting for the lad, in England, Germany and Spain in addition to Italy.
"One of those in England is Liverpool and then there is a top Spanish club interested in him. Right now, the lad has to make a well-pondered decision for his career. He's young and he's grown a great deal, but even when he was 18 he was one of the best in Brazil."
Liverpool's current first-choice goalkeeper Simon Mignolet is enjoying good form since he was recalled as the main keeper in the New Year due to Brad Jones getting a thigh injury.
Another big club after the shot-stopper is Viola's rivals Juventus. The club is hoping to sign the player and they are even offering to loan the player back to his current club for the rest of the season as they hope that Fiorentina will like the deal more than their competitors.
Castagna believes that the Juventus offer isn't what the player wants: "If you decide to join a top club then it's obvious you're competing with other good goalkeepers, but if you join one of the top 10 clubs in Europe, then it's an opportunity you've obviously got to fight for."