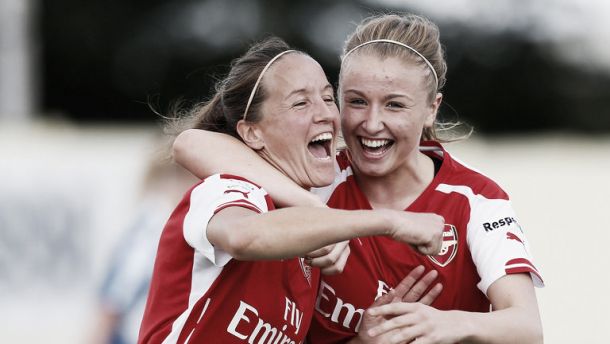 Arsenal's ladies have had a bright start to the 2015 WSL campaign, and remain unbeaten after winning three times and drawing twice. Among those results are a win over Manchester City and a 0-0 affair with current WSL leaders Chelsea.
It's no secret that Pedro Martinez Losa's side had a disappointing WSL season in 2014 but buoyed by an array of youth and experience this season, they'll be hoping for greater successes to add to their FA Women's Cup victory last season. That's despite being knocked out in the quarter-finals this season.
Arsenal's ladies have the experienced talents of Rachel Yankey and Kelly Smith in their armoury. Players that for a number of years have been particular stars for the English national team. Although injured at the moment, Smith is England's top scorer, whilst Yankey has won the second most appearances for the Ladies national team. Between them they've featured an incredible 246 times for their country. It's experience that proves valuable to the young rising stars in Arsenal's Ladies team. Their expertise will be a strong asset to this Ladies team which will only benefit youngsters such as Leah Williamson and Carla Humphrey.
Rachel Yankey is currently in her second spell with the club, having left in 2000 and then rejoined in 2005. Smith meanwhile is in her third spell after moving back again in 2012. Neither are benefitting from the same amount of game time as they once were but that's partly down to the magnitude of ever improving youngsters Martinez Losa has at his disposal.
It can't be forgotten that Arsenal's Ladies do have other heavily experienced players. Alex Scott is a permanent thorn in the Arsenal backline and is also captain whilst Casey Stoney has been a consistent performer in defence for a long time now. Goalkeeper Emma Byrne has meanwhile been at the club since 2000. Those types of players who have been around the club for a long time and know their surroundings will only aid the younger members of the Arsenal Ladies side.
Throughout the team there is an array of experience that can only benefit players who are already developing leadership skills despite their young age. Leah Williamson is one of those players and perhaps shows the biggest potential in the WSL at the moment. She recently won the PFA Young Player of the Year award and lead England's U19's to the European Championship finals. Both Williamson and young Scot Caroline Weir show particularly experienced heads for players so young and they're members of a squad that should continue to grow into a brilliant team.
It can be argued that the Arsenal Ladies team do indeed have the perfect mix of youth and experience. Among the others pushing for places is 18 year old Carla Humphrey who has had a very solid start to life in the first team after scoring a host of goals in the Development league in 2014. 19 year old Jade Bailey is meanwhile showing form in midfield alongside Jordan Nobbs who is still only 22 and developing into a fine player.
New Spanish signing from Bristol Academy, Natalia Pablos Sanchon hasn't taken long to adapt to Arsenal, scoring twice in a victory over Sunderland a few weeks ago. She is 29 and has added experience to a forward line that already contains some very experienced shoulders among its ranks. Kelly Smith has been a brilliant player in that striking role for a long time, as has Rachel Yankey. To add to that Lianne Sanderson is back for a second bite of the cherry after leaving the Gunners in 2008. The youngest member of the forward line is 21 year old Danielle Carter who has been an ever consistent performer in the past few seasons. It's safe to say that Arsenal Ladies' forward line won't be short in the goals department this season.
It can therefore be seen that Arsenal Ladies do have the perfect balance of youth and experience. Many of the younger players within the side have integrated quickly and have hit the ground running. They've started their Arsenal first team careers in fine fashion and alongside the more experienced heads in the team provide a platform for Arsenal to launch a successful WSL title bid in 2015. Many of these younger players are performing to an already high standard and along with those coming into their prime and those at the back end of their careers, they'll help to make Arsenal Ladies an exciting team to follow.