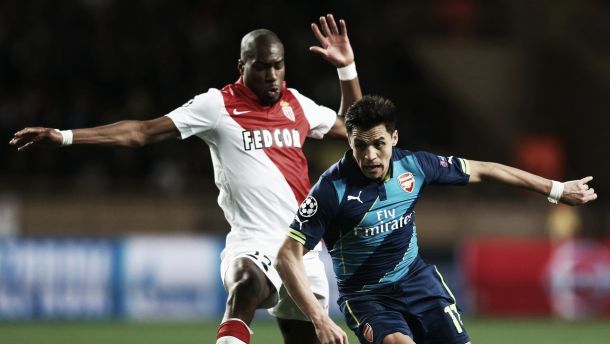 Arsenal target Geoffrey Kondogbia agreed his move to Inter Milan on Monday, ending speculation over a move to England. Arsenal have been crying out for a new defensive midfielder since the exits of Viera, and later Gilberto Silva, but could missing out on Kondogbia not be a huge loss for the Gunners?
Kondogbia proved that he was a top player since moving from Sevilla to Monaco less than a year ago. His Man of the Match winning performance at the Emirates in the Champions League in February showed to many of Europe's top clubs what a great player he is. He scored a great goal as Monaco beat Arsenal 3-1 to inflict another humbling in the Champions League round of 16.
His transfer was some what shocking as he moved to 2010 Champions League winners Inter Milan for €35 million. Inter are without European football next year, but the opportunity to take part in the exciting new project that Inter are creating may have been difficult to turn down. We can only speculate if Kondogbia would have moved to Arsenal over Inter, but he might not be a big loss for Arsenal anyway.
Arsenal have other targets, and other squad players, to fill the role
Surprisingly to some, there is currently an abundance of good defensive midfielders. This means tha,t even though Arsenal missed out on Kondogbia, there are still many top players they could get. Southampton's Morgan Schneiderlin looks to be available, and long term Arsenal target William Carvalho could also be an option. This softens the blow for Arsenal after losing out on Kondogbia. If there seemed to be no other available defensive midfielders available then losing out on Kondogbia could be an issue for Arsene Wenger if he is looking for a holding midfielder.
Apart from their being more options for Wenger if he chooses to move into the transfer market to sign a defensive midfielder, losing out on Kondogbia may also give chances for players currently in the squad. For the second half of last season, Francis Coquelin was exceptional in defensive midfield. Choosing not to go for Kondogbia could be a sign that Arsenal don't want to buy a defensive midfielder anyway, which will give Coquelin an even more extended run in the first team.
It may also give other players in the squad a chance to play in that role. Jack Wilshere has played many of his recent games for England in a holding midfield role and has shone. Whether he wants to play defensive midfielder is unknown, but he could mature into a good player in that position.
Price may have been an issue for Arsenal
Arsenal could have chosen to miss out on a move for Kondogbia because he just wasn't worth it. His deal was around £25 million, the same amount as Schniderlin may go for. The Southampton man has plenty of Premier League experience, meaning that it may look more like money well spent. There are cheaper options in Real Madrid's Asier Illarramendi and Marseille's Gianelli Imbula, who is reportedly also close to a move to Inter Milan.
Not buying a defensive midfielder could also have benefits in relation to other transfers, as it would allow money that could have been spent on a midfielder to be spent in other deals. Arsenal have the players in their squad currently to do this, but it may not please all fans.
Only time will tell whether Kondogbia will perform at Inter and make Arsenal regret missing out on him. What is for certain though is that there are plenty more players out there, both away and at home.