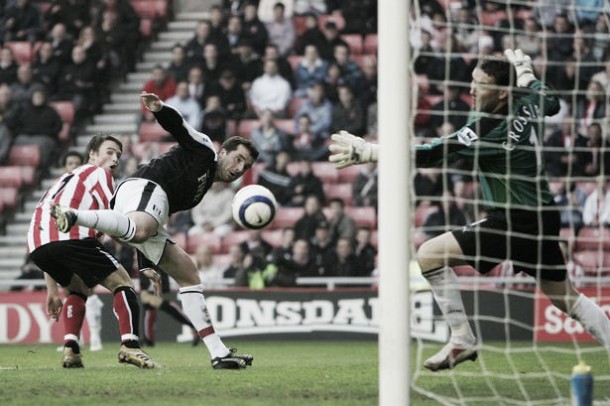 Sunderland haven't been rich in success in terms of trophies in the past few years, with their main priority being surviving in the top flight by the skin of their teeth.
Their last major trophy came way back in 1973 with their historic FA Cup victory, and they came within inches of glory in the 2014 League Cup final before it was eventually snatched away by Manchester City.
However, many people over-look their triumph in the second division way back in 2006-07 as they stormed away with the title to return to the Premier League on their first attempt with 88 points.
A number of individuals showed their best form this season but what has happened to that stellar side since that triumph? Here is a look back at Championship winning team of the 2006-07 season.
GK – Darren Ward
A team is only as good as it's defence and there was nobody in that season at the back better than Darren Ward.
Ward was one of the numerous signings that were brought in the summer, with him recruited from Norwich City after being released by the Canaries.
It took a while for the Welshman to establish himself too. He didn't make his first-team debut until October when he was brought in by new manager Roy Keane in place of Ben Alnwick, and he kept his place in the side from there.
He became a major influence in the team from there, playing in 30 matches and managing 11 clean sheets.
His influence ended once they made it back into the top flight when he was replaced by £9 million signing Craig Gordon and rejected a January offer from Rangers to fight for his place at the Stadium of Light.
He failed to regain his place and was loaned to Wolverhampton Wanderers, but returned after injury and was eventually released in the summer of 2009 before taking the goalkeeping coach role at Peterborough United from Andy Dibble.
DF – Jonny Evans
The second player in the squad is one that Keane will have been very familiar - Manchester United loanee Jonny Evans.
He only made his move to Wearside on loan in December, along with teammate Danny Simpson until the end of the season, but he made a huge impact on the side with 18 appearances and one goal, helping him win the Young Player of the Year award.
Keane was optimistic of bringing Evans back ahead of the Black Cats' return to the top flight, but it was decided that he would remain at Old Trafford.
It didn't last long as in the January of 2008 he re-joined the club with relative success as he made another 16 appearances in all competitions to help secure Sunderland's survival.
From there he began to establish himself in the United squad and managed to stay at the club for another seven seasons. However, he proved to be surplus to Louis Van Gaal's requirements and was sold to West Bromwich Albion this summer.
DF – Nyron Nosworthy
The next defender on the team sheet is considered by many of the Sunderland's as an unsung club hero - Nyron Nosworthy.
Nosworthy decided to stay in North-East after the club's relegation in his debut season and he was a big influence after the arrival of Keane, the manager moving him from full-back to the centre, which made a huge difference to his overall game.
These performances didn't go unnoticed as he was handed a new long-term contract and voted the Fans' Player of the Year despite stiff competition from his equally excellent teammates.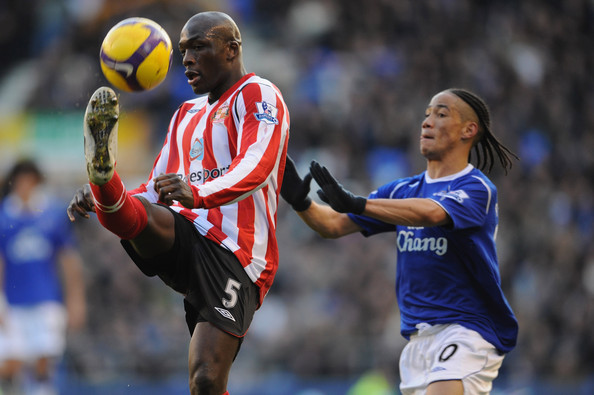 He played regularly throughout the next three years in the top flight but eventually fell out of favour and was subsequently loaned out for three seasons between 2009 and 2012, to Sheffield United and Watford respectively.
He then joined the Hornets on a permanent basis in the 2011-12 campaign, but after only three seasons he was off again with moves to Bristol City, Blackpool and Portsmouth.
You can still find Nosworthy still playing his trade at the grand old age of 35 in League Two with Dagenham & Redbridge and he is still going strong having made 17 appearances so far, scoring the one goal.
DF – Danny Collins
There were quite a few senior heads in the side throughout the campaign and one of them was defender Danny Collins.
Collins had already been at Stadium of Light for two seasons when they started their life back in the second division. He came into season as one of the first-choice defenders but was dropped four games in after gaining criticism from a section of fans.
Like with many players, the arrival of Keane rejuvenated his place and importance to the side and he would make 38 appearances throughout the season.
He went from strength to strength on his return to the top flight, with a combined total of 71 league appearances across the next two campaigns, and won the Fans' Player of the Year award in both 2008 and 2009.
He only lasted three appearances into the 2009-10 before been sold to Stoke City and continued his good form there, establishing himself in Tony Pulis's side with 25 league appearances in the next two seasons.
Pulis left him out of the 22-man squad in the 2011-12 season though which saw him move to Ipswich Town on loan before joining Nottingham Forest the following season, where he remained for three years.
Like his former defensive partner, Nosworthy he still plying his trade at the age of 35 as is currently with Championship side Rotherham United.
DF – Stanislav Varga
The 06-07 campaign saw the return of a former Black Cat as defender Stanislav Varga came back for a second bite of the apple.
The Slovakian had been on Wearside previously between 2000 and 2003 before making a move Scottish side Celtic, with a loan move to West Brom coming in between.
Three years in the far north proved enough before he was brought back by former teammate Keane and his strong and powerful presence made him a fan favourite throughout his 20 appearances that season.
The return to the Premier League didn't prove to be his ideal dream as he played second fiddle to Nosworthy which saw him join Burnley on a one-month loan deal before he was subsequently released at the end of the 07-08 season.
The 43-year-old is now dipping his toes into the managerial side of the game as he currently in charge of Slovakian side FC Tatran Presov.
MF – Dean Whitehead
Every side looking for promotion into the Premier League need a good captain to lead the other ten men and Sunderland couldn't have had anyone better for the job than Dean Whitehead.
Despite offers from Reading, Whitehead stayed in the North-East after relegation and was handed the armband. He proved why he deserved to lead the team too, consistently performing well throughout his 45 matches and scoring eight goals - which earned him a place in the PFA Championship Team of the Season.
A serious injury hampered his return to the Premier League and another it was only another season before his five year stint came to an end, with the midfielder making the move to Stoke.
He had a slow start to his Potters career but eventually his quality shone through and provided consistent performances across his four year at the Britannia Stadium. He was one the main men that helped Pulis's side to the 2011 FA Cup final before they were eventually defeated by Manchester City.
After being released by Stoke, he made the move back to the North East with Middlesbrough with manager Tony Mowbray bringing him to spearhead their promotion push. They came so close with new manager Aitor Karanka last season, but defeat to Norwich in the play-off final saw them fall at the last hurdle.
The 33-year-old was on the move again in the summer as Karanka could not guarantee him game time which saw him move to Huddersfield Town - where he has managed 18 appearances so far this year.
MF – Grant Leadbitter
Alongside Whitehead was another experienced midfielder in his right-hand man Grant Leadbitter.
He had been at the club since 2003 but only made a handful of appearances before the return to the Championship. This relegation led to his breakthrough under Keane as he took part in every game that season, contributing seven goal in the process.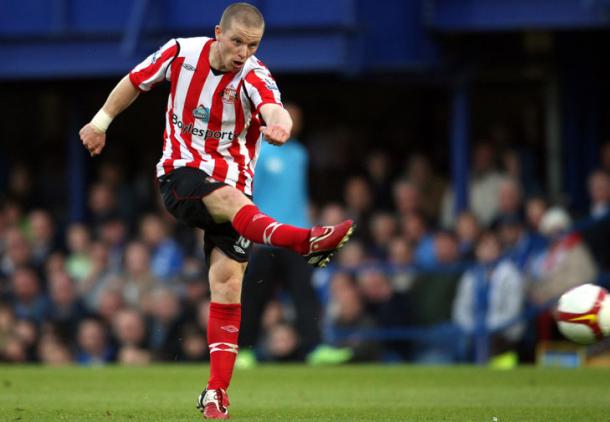 He played regularly throughout the next two campaigns in the top flight with 54 appearances before moving down to Ipswich with Carlos Edwards at the beginning of the 2009-10 season.
He had three solid years at Portman Road, making a total of 116 appearances with 12 goals, before he made a return to North East with Middlesbrough, where has remained since 2012.
MF - Liam Miller
The 05-06 season brought another former Manchester United man into Sunderland's ranks with forward Liam Miller.
His time in Manchester was brief as spent a season of two on loan at bitter rivals Leeds United before making his way across to the North-East.
He had successful first season, with 31 appearances and two goals, and he carried this form into his return to the top flight, but Keane couldn't see his potential and he was transfer listed.
Miller eventually moved to Queens Park Rangers at the beginning of the 2008-09 season, but 13 appearances later he was on the move again.
He had brief success for two years with Hibernian in Scotland but became a journeyman from there with three years in Australia with Perth Glory and Brisbane Roar respectively before joining hometown club Cork City of Ireland this year.
FW – Daryl Murphy
Every club knows that goals win matches in the lower leagues and help you fight for promotion, and that is what Sunderland got from Daryl Murphy.
After a poor second half to the 05-06 season, he had a point to prove and he delivered as his 10 goals in 38 games proved crucial, making him the league's second highest goal scorer. He couldn't carry it on, however, as he only scored three goals in the next two campaigns.
This poor form saw him leave for Ipswich on loan before a permanent move to Celtic where he only lasted one season before he was loaned back to Portman Road.
After another two seasons, he made the move permanent in 2013-14 and it was last year where he shined with 27 league goals seeing him claim the golden boot. Now, after a poor start to this season, he seems to be back on track with the club too.
FW – David Connolly
Murphy's partner in crime is the penultimate player in the side - David Connolly.
Connolly had been around the block for quite a while before moving to Wearside in 2006, playing for the likes of Watford, Feyenoord, Wimbledon, West Ham United, Leicester City and Wigan Athletic to name a few.
Sunderland proved to be another place where he made a significant mark as he finished the season as top scorer with 13 goals and was an integral part in the promotion push.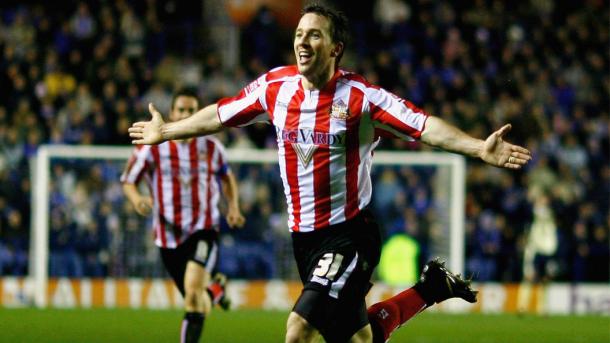 His shine wore off very quickly as he lasted only three more matches in the next two seasons before taking a step down to League One with Southampton - and he didn't improve much from there either with 14 goals in three years at the Saints.
He burned his bridges as he moved to bitter South Coast rivals Portsmouth in the 2012-13 season and once again didn't improve as he was loaned out to Oxford United. Despite showing promise in that spell with the U's, Connolly eventually returned to former club AFC Wimbledon and has managed eight goals so far.
FW – Dwight Yorke
Sunderland proved to be the final stop for the final player in this team, with legend Dwight Yorke leading the line for the final time.
Yorke proved to be one the deadliest strikers to grace our shores, especially in 1990s with Aston Villa before being an integral part of the treble-winning Manchester United side.
His career proved to be on a slow decline from there as he failed to find his previous form with Blackburn Rovers, Birmingham City and Sydney FC since leaving United in 2002.
He made England his final destination as he was brought in by former teammate Keane and since his debut he was beloved by the fans and repaid their faith with five goals in their promotion season.
He proved that he still had it but the departure of Keane proved to be the end as he was released at the end of the 2008-09 season.
Yorke has gone on to have a successful career after retirement, completing his UEFA B coaching badge and continuing to frequently appear as a pundit for Sky Sports.