 West Ham United have this evening announced that their star-man Dimitri Payet has signed a five and a half year contract extension with the club, meaning he'll be at the club until 2021.
Silencing the gossip
The announcement comes as the media were seemingly trying to rock the boat. with empty stories of bids coming in from Chinese clubs for fee's cited as '38million' and astronimical wages, Payet's agent demanding a huge pay-rise for his client, Pep Guardiola wanting him as his first Manchester City signing and even Chelsea being interested in acquiring his services.
Despite many of these stories not being substantiated and being viewed more as idle gossip rather than realistically possible, it was worrying for West Ham fans to read and hear about regardless. Especially considering Payet's worth to the team, and, the entertainment value of the player to the fans.
The love continues to blossom
These claims of wage demands, bids made and interest made known were bluntly refuted by West Ham, claiming they were currently negotiating a new contract for Payet and that he would not be leaving the club. Slaven Bilic had said of the rumours that no amount of money would be considered for Payet, no matter how big the transfer fee offered. The man himself also took to social media to state he wouldn't be leaving; something which comes as no surprise considering he dubs his relationship with the club and the fans as a "love affair".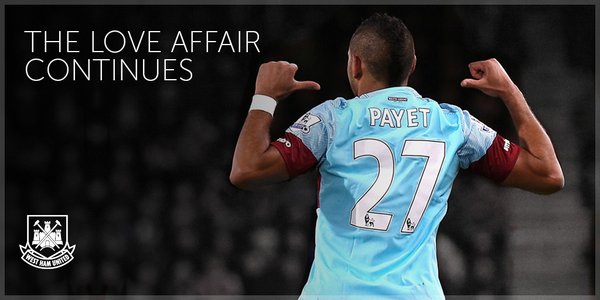 With six goals and four assists in 17 appearances thus far this season, it's easy to see why the Hammers were so eager to tie him down to a new contract after only eight months after signing for the club. The deal itself is presumed to take Payet to the top of the Hammer's wages list, meaning he will overtake Andy Carroll, who was the highest earner at the club beforehand. His basic wage is believed to be £68k per week, but will be boosted by numerous bonuses built into the new contract he has earned himself.
Having quashed talk in the media, and negotiating a dip in form which has proven he is indeed human, Payet will now personally be hoping to get back into his best form and help West Ham United maintain their form and secure a top five finish in the Premier League.