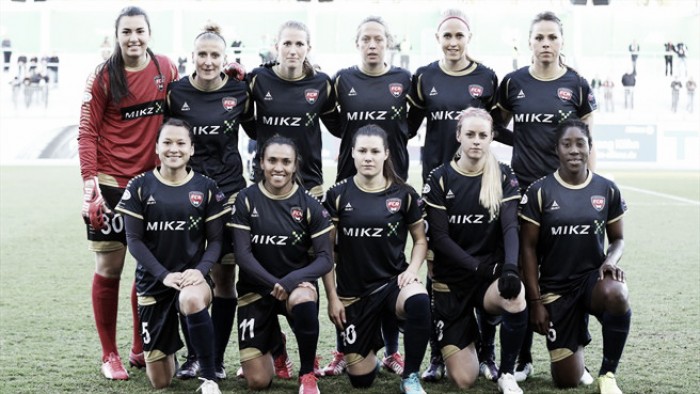 The reigning champions are favourites again, but a small squad and many injuries may hinder their fight for yet another title.
Last season
Finished first and regained the title after a thrilling end to the season. After losing Anja Mittag and Ramona Bachmann some questioned whether Rosengård could see off the challenge from Eskilstuna, but with a strong performance in the last round they settled it in their favour.
With a total of 60 goals scored, they scored a whopping 15 goals more than Linköping - who scored the second most goals last year - and with only 16 goals conceded, they had by far the best goal difference; something that was key in the end. Natasa Andonova especially shone for Rosengård last season and had, what many would call, her breakthrough season last year.
Team for 2016
Goalkeepers: Zecira Musovic, Erin McLeod (new signing), Sofia Lundgren (new signing).
Defenders: Lina Nilsson, Amanda Ilestedt, Ali Riley, Emma Berglund, Emma Pennsäter, Edina Filekovic, Linnea Svensson, Nina Frausing Pedersen (new signing).
Midfielders: Sara Björk Gunnarsdóttir, Sofie Junge Pedersen, Lina Salmi (new signing), Anita Asante, Lieke Martens (new signing), Ella Masar (new signing), Hanna Persson.
Forwards: Marta, Natasa Andonova, Gaëlle Enganamouit (new signing), Hanna Lundell, Andrea Celeste Thorisson, Rebecka Holm.
Players lost: Line Røddik Hansen (Olympique Lyonnais), Malin Gunnarsson (LB07), Kathrin Längert (USV Jena), Kirsten van de Ven (FC Twente), Josée Bélanger (Orlando Pride), Nathalie Persson (Kopparbergs/Göteborg FC), Sofia Hagman (Kristianstads DFF), Anja Mittag (PSG), Ramona Bachmann (VfL Wolfsburg).
Pre-season
FC Rosengård 4–2 Lilleström - FC Rosengård 2–0 Helsingborgs IF P15
Manchester City 3–1 FC Rosengård - FC Rosengård 3–3 Fortuna Hjörring
FC Rosengård 0–0 Malmö FF P16 - FC Rosengård 2–1 Linköpings FC (The Swedish Supercup)
FC Rosengård 0–1 FFC Frankfurt (Champions League) - FFC Frankfurt 1–0 FC Rosengård (1-1 on aggregate, Rosengård lost on penalties)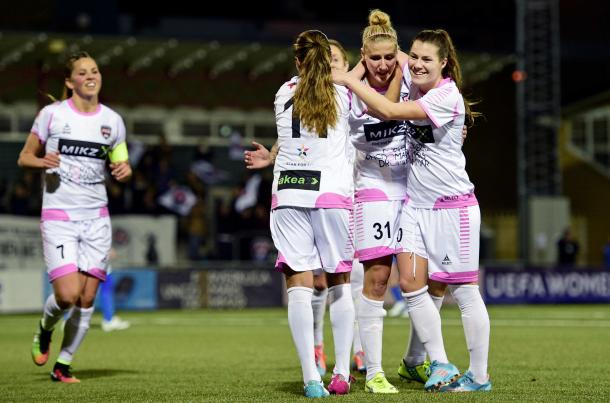 Profiles
The team isn't lacking in talent, and picking a few players to highlight is not an easy task. However, Natasa Andanova has picked up her form at Rosengård and has become a key link between midfield and attack. She was the club's leading goalscorer in the league last season, and with numerous impressive performances she was one of the reasons Rosengård won it in the end.
New additions Lieke Martens and Gäelle Enganamouit was recruited to make up for the loss of Anja Mittag and Ramona Bachmann, and while the latter has sustained a knee injury, the Dutch midfielder has shown during the pre-season that she will be one of the creative forces in this Rosengård side. With the injuries to Zecira Musovic and Erin Mcleod, Sofia Lundgren, who was an emergency signing, will play an important part. So far she has proven to be a solid signing.
Lastly, midfield enforcer Sara Björk Gunnarsdottir is one of those players every team wants to have. She never backs down, goes into every challenge with everything she got and she is a danger on every corner with her ability to head a ball. Her contract runs out in the summer, and it is unsure whether or not she will continue with Rosengård.
Expectations for this season
Anything less than the title will be a disappointment, but they are not as big a favourite as in previous seasons. There is no doubt that Rosengård has the players to regain the title, but an already small squad has been plagued with injuries. Both goalkeepers are out with injuries, with Erin McLeod being out for the season, and Musovic facing weeks on the sideline. Lundgren is a solid replacement, but losing two goalkeepers in the span of only a few weeks is tough on any side.
Rosengård are also without centre-backs Amanda Ilestedt and Nina Frausing Pedersen and in the last game against Djurgården, defensive rock Emma Berglund had to be substituted with an injury. Sofie Junge, a box to box midfielder, has sustained several injuries since moving to Rosengård, and they will be hoping to keep her healthy, but currently she is also on the team's ever growing injury list.
However, most critical is it that of Enganamouit. She is Rosengård's main striker and sustained a serious knee injury in the opening game, ruling her out for an unknown period.
Even with this many injuries, Rosengård will be favourites. They have a strong team with penty of leaders and they have always had the grit to see out a league and get the necessary wins. They might not always win pretty, but they get the job done, and that's where their strength lies. But Linköpings FC look strong this season, and Rosengård will have to be at their very best to win the league.