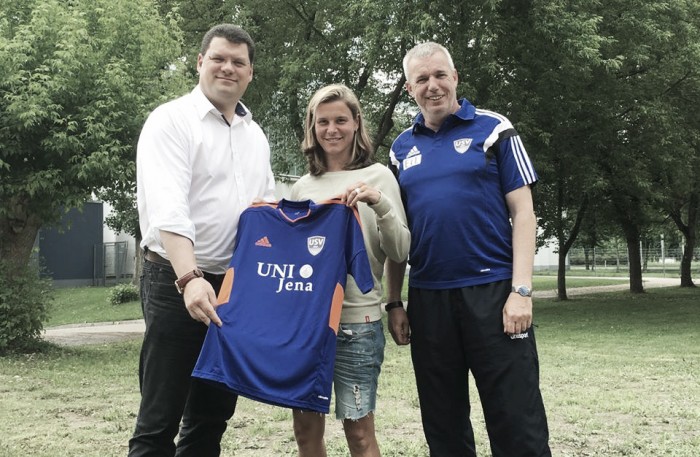 Patricia Hanebeck, the experienced 30-year-old midfielder, was announced today as the second signing of the off-season for USV Jena; the club that finished sixth in last year's Frauen Bundesliga. The other player who joined the club was young German striker, Annalena Rieke, who was at FSV Gutersloh in second division.
Experience in Germany
Her career began at ASV Sankt Augustin and stayed there from 1991 to 2001, when she eventually signed a contract with SC 07 Bad Neuenahr. After two years, she moved to FCR 2001 Duisburg and enjoyed relative success there. For the 2008-09 season, Hanebeck left Duisburg and moved to Hamburger SV.
A year later, she joined 1. FC Köln and had a stint with FFC Brauweiler Pulheim 2000 before heading for 1. FFC Turbine Potsdam five years ago; she won the German championship right away.
On April 16, 2013, she returned to Bad Neuenahr, but insolvency followed and she joined SC Sand. In March 2015 she announced - together with teammate Allison Scurich - the move to Turbine Potsdam for the 2015/16 season. After only one year, her contract was terminated by mutual consent.
She was in Germany's youth team that won the World Championship in Thailand in 2004. One year later, she reached the semi-finals of the U-19 European Championship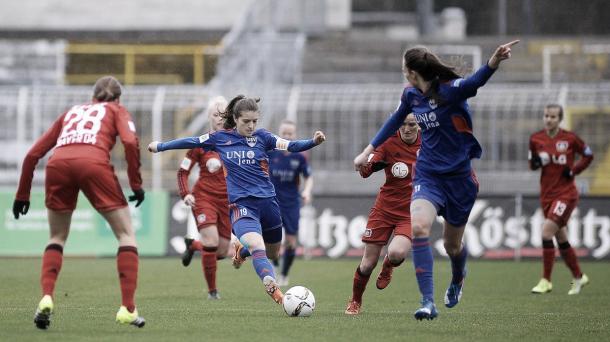 Croatian international Iva Landeka leaves Jena
The Bosnian-born Croatian midfielder featured for USV Jena in the Frauen-Bundesliga since 2012. She previously played for Dinamo Maksimir in the Croatian 1st Division, FC Kärnten in the Austrian Frauenliga and Unia Racibórz in the Polish Ekstraliga, also playing the UEFA Women's Champions League with Dinamo and Unia.
She has been a member of the Croatian national team since 2006, and has not yet announced her destination for next season.