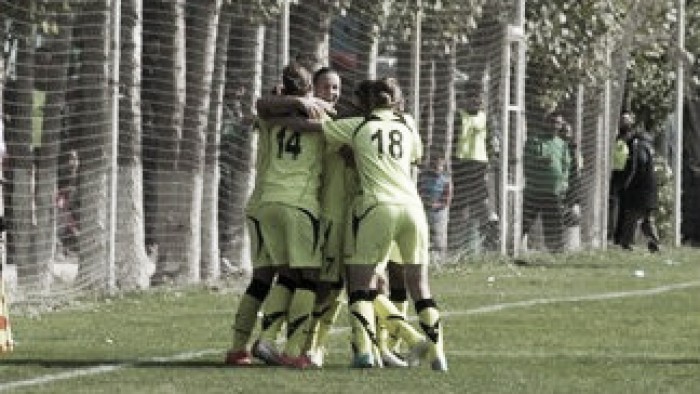 With qualifying officially over for the 2016 UEFA Women's Champions League, teams will now look forward to facing the best clubs in Europe during the knock-out stages. Most of the group winners were a foregone conclusion by the time the teams faced off on Sunday but a few battles played out in other group before an eventual winner was decided.
Group 1 sees Apollon book their place
There was not much doubt on whether Apollon Ladies FC would win their group as they were four points ahead of second placed FC PAOK Thessaloniki before kick-off. That did not stop PAOK from trying play spoiler and the match between the two top teams ended in a three-all draw with Apollon finishing as group winners on seven points. The other two teams, WFC Hajvalia and Klaksvíkar ĺtrottarfelag got their first points of the qualifying round as they ended their European journeys with a one-all draw.
Minsk march on from Group 2
ZFK Minsk finished their qualifying tournament with an emphatic 9-0 win over ŽFK Dragon 2014. The Belarussian outfit needed at least a point to ensure that they finished as group winners and decided to finish their qualification process with aplomb. Second placed Standard de Liège were hoping that Minsk would lose to Dragon in order for them to take control of the group as they also had a better goal difference that Minsk if they finished level on points. However the Belgian side could only draw one-all with ŽNK Osijek, ending their hopes of reaching the Round of 32 in the competition this year.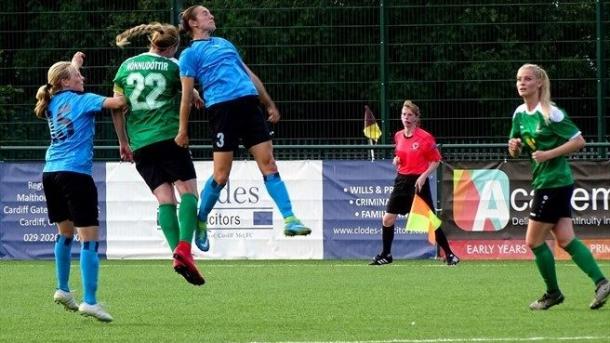 Breidablik prove victorious in Group 3
At the start of the day, both Breidablik and ZFK Spartak Subotica were level on points with four each but Breidablik were in pole position due to goal difference. Breidablik added to that goal difference by defeating fellow group members Cardiff Met Ladies FC by eights goals to nil and booked their place in the next round of the UWCL. Spartak also won their match, defeating FC NSA Sofia by two goals to nil. Unfortunately for the Serbian side, those goals were not enough to see them leapfrog Brediablik into first place.
Group 4 sees Olimpia come out on top
Group 4 was one of the more intriguing storylines going into Matchday 3 of the qualifying round. Both Olimpia Cluj Napoca and KKPK Medyk Konin were level on six points and due to face off in the last match of the group. Medyk knew that they had to not only beat Olimpia but also beat them by at least seven goals to move on to the next round. They managed to beat the Romanian side but could not score the required amount of goals and so, Olimpia booked their place in the Round of 32. The other two teams in the group, Pärnu Jalgpalliklubi and ŽFK Breznica earned their first points of the competition after drawing one-all with each other to round off Group 4.
FC Zürich win Group 5 on the last day
It was a day to remember for FC Zürich Frauen as they defeated ŽNK Pomurje by five goals to nil to book their place in the knock-out stage. Pomurje were the group leaders going into Matchday 3, tied on points with FC Zürich but ahead due to goal difference. FC Zürich knew what they needed to do and did so with style to overtake Pomurje and end the day in first, thus qualifying for the Round of 32. ŠK Slovan Bratislava also ended their qualifying tournament on a happy note by picking up their first points of the season against Vllaznia with a two-one win. Both teams will not progress to the next stage of the competition however.
Sarajevo advance from Group 6 despite dropping points
Despite drawing their last group match, WFC SFK 2000 Sarajevo advanced to the Round of 32 after a two-all draw with WFC Kharkiv. Sarajevo headed into this match knowing that no matter what second placed WFC Ramat Hasharon did, all they needed was at least a draw and they would end the qualifying stage as group winners. Ramat managed to defeat Rīgas Futbola skola by four goals to nil but it was not enough for them to finish in first place and advance to the next stage from Group 6.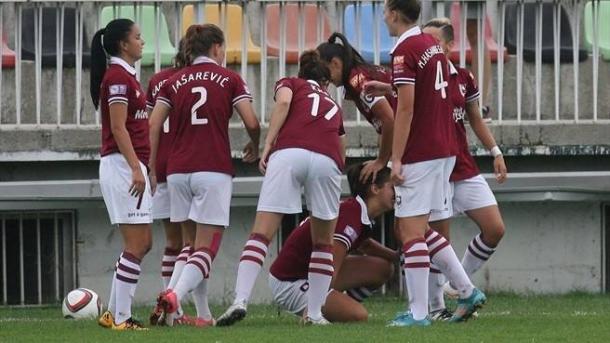 Group 7 provides drama on Matchday 3
Gintra Universitetas and FC BIIK-Kazygurt faced off on Matchday 3 to determine the winner of the group and who would advance to the Round of 32. Gintra led the group coming into the match due to goal difference but this was a winner take all matchup and Kazygurt came out victorious with an excellent three nil win over Gintra. Kazygurt will now move on to face Europe's elite teams and hope to continue their journey in the tournament. The other two teams in the group, Wexford Youths Women's AFC and ARF Criuleni ended their Champions League journey with a nil-nil draw and a point apiece in the group.
Avaldsnes continue their good season, win Group 8
Avaldsnes IL are currently pushing for another Toppserien title and have taken their strong league form into the qualifying tournament. They moved onto the Round of 32 with a two-nil win over PK-35 Vantaa and guaranteed their advancement to the next stage of the competition. The other group match saw CF Benfica end their Champions League journey with a five-nil win over Newry City Ladies FC, who finished the qualifying rounds with no points won.
FC Twente finish top in Group 9
FC Twente knew that a draw would be good enough to see them advance to the Round of 32 but they decided to finish the qualifying stage with some style as they overcame Konak Belediyespor by six goals to two. Second placed Ferencvárosi TC won their match against Hibernians FC by for goals to nil but it was not enough to send the Hungarians through to the knock out stage.