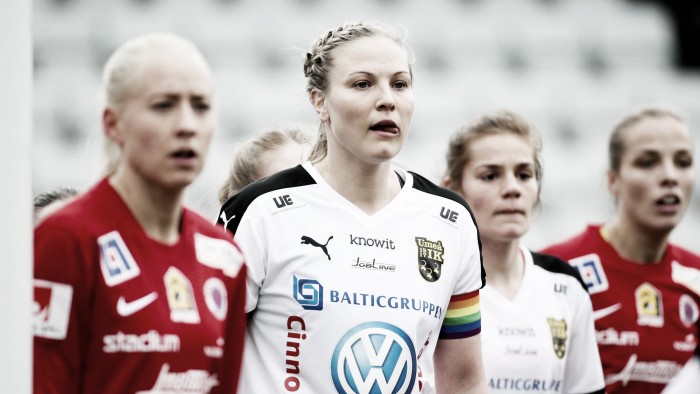 With the top two clubs in action in the Svenska Cupen Final, the main focus in the Damallsvenskan was towards the relegation battle. The bottom four clubs met each other, and it was Kvarnsvedens IK and Kristianstads DFF who picked up crucial wins.
Kvarnsvedens jump up to eighth
Kvarnsvedens IK moved up to eighth after beating Umeå IK FF 2-1. The two teams went into the game level on points and the result sees Umeå drop down to bottom-place.
Kvarnsvedens took the lead in the 33rd minute through Tiffany Weimer's penalty and she turned assister for Tabita Chawinga's goal late in the second half – giving them a 2-0 lead.
In second half stoppage time, Umeå pulled a goal back through Elin Bäckström, but they couldn't find the equaliser they needed to secure a point.
This result gives Kvarnsvedens a 100% record against Umeå this season in league games.
Kristianstads move off bottom
Kristianstads DFF moved off the bottom of the table with a narrow 1-0 win over Mallbackens IF Sunne that sees them move into the relegation zone.
The only goal of the game came mid-way through the first half through Mia Carlsson's header. That means Kristianstads have won both games against Mallbackens in the league.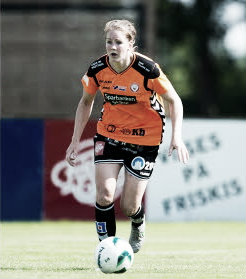 Piteå solidify fourth spot
A last gasp winner saw Piteå IF beat KIF Örebro DFF, a victory that sees them solidify fourth place, whilst Örebro remain in seventh. The victory sees them move four points clear of fifth.
It was Örebro who opened the scoring just after the half-hour mark when Anna Björk Kristjansdottir headed in Veronica Perez's cross.
Six minutes into the second-half, Piteå equalised through Nina Jakobsson's header, who had been assisted by June Pedersen.
It looked like the game was going to end in a draw as happened in the earlier game between these two sides, but in second-half stoppage time, Örebro were reduced to ten players when Veronica Perez was shown two quick yellow cards.
And then, in the 94th minute, Piteå found the winner with Pedersen once again the provider but, this time, it was Lena Blomkvist who found the back of the net.
Eskilstuna United hold onto third
Eskilstuna United DFF picked up the victory they needed to hold onto third place, beating Vittsjö GIK 2-1. The defeat sees Vittsjö drop down to ninth place.
It was actually Vittsjö who took the lead in the tenth minute through Rachel Mercik.
But six minutes later, Eskilstuna found the equaliser through Mimmi Larsson.
And just after the hour mark, they found the winner scored by Olivia Schough.