 Sunderland take on Crystal Palace this weekend, with the two sides struggling to gain any real momentum so far this season.
The Eagles travel to Wearside on the back of a 2-0 defeat, whilst Sunderland will be on a high after their win at Loftus Road.
Importance of a win
Any win in the top flight is crucial these days but both sides will see this tie as a huge chance to pick up three points. Crystal Palace have had an up and down start to the season, with two wins, one draw and two defeats in the league.
Last week's 4-1 thrashing of Stoke City was impressive and Alan Pardew will have been disappointed when a completely different performance was churned out against Southampton in midweek.
Sunderland's league form on the other hand has been poor. The Black Cats have failed to win a league game under David Moyes so far this term and the pressure could soon be on if this pattern continues.
Gaining momentum
After their 2-1 win at Queens Park Rangers on Wednesday, it's imperative that Sunderland use the result to gain much-needed momentum. Moyes has called on his players to use the EFL Cup win to bring the "winning feeling" back around the club.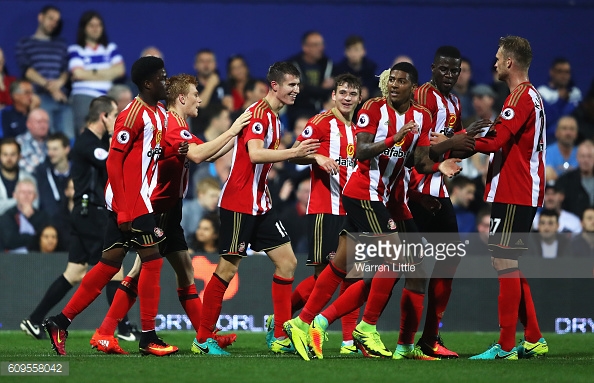 If Palace can get back to winning ways, it will be their third in a row on the spin in the league. The early doubts about whether Pardew had lost the dressing room seem to have been quashed and the fans who were questioning him on Twitter after the first couple of games, seem to be behind him once again.
Pardew himself has reason to be cheerful, as his Summer signings have hit the ground running. Andros Townsend has been in particularly good form since joining from Newcastle United.
The statistics
The last time Sunderland recorded back to back victories against their opponents this weekend was all the way back in 2005. The two fixtures before that were both won by Palace. The league positions also suggest it may be a close affair.
Sunderland have only beaten the Eagles twice in the past ten years but have only lost to the South London side once in the past five ties between the two. The last time Sunderland won at home in this fixture, Marcus Stewart was the scorer of the winning goal.
Crystal Palace have only won one game away from home since March of this year.