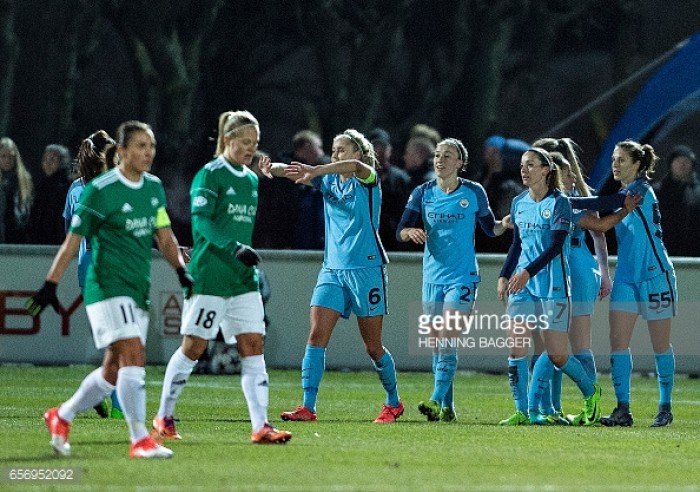 Reigning Danish champions from Fortuna Hjørring were defeated by Manchester City in the first leg of their UEFA Women's Champions League quarter-final tie, with Carli Lloyd scoring the only goal of the game, her first since joining City.
City favourites from the start
The game started off with some good initial pressure from Fortuna, but soon the match picked up the expected pattern, with City dominating possession and corners, of which City got five in 14 minutes.
However, the away side struggled to get any real shots on goal against a hard fighting and well organised Fortuna team. The first big chance of the game came courtesy of Carli Lloyd who was wide open from a Jane Ross cross, but Maria Christensen in Fortuna's goal showed her quality to parry it away. The resulting corner didn't come to anything.
Fortuna then struggled to put a sequence of passes together, with City players swarming them intensely. After 20 minutes or so of immense City pressure, Fortuna finally got some play in the City half.
Lloyd gives lift-off
Unfortunately for them, in what was perhaps Fortuna's best period of the first half, a loss of the ball in the middle of the pitch, resulted in a quick City counter where Jane Ross found a wide open Lloyd, who easily headed the ball past Christensen in Fortuna's goal.
The American international's first goal for the club made it 1-0 the visitors, and Fortunas manager Brian Sørensen, who had preached that it was important to keep City from scoring, now had to come up with a new game plan. Fortuna tried pushing a little further up the pitch, but City showed their class and kept the Danes from any significant chances in the first half.
Fortuna got more into the game in the second half, having a number of good opportunities, but far too often the final touch was missing. Brazilian international Tamires brightened up in the second half, and the introduction of the young Caroline Møller sparked the Danish side. City were not without their chances in the second half, and as the game approached it's end both Lucy Bronze and the City skipper Steph Houghton had good chances to score, but couldn't capitalise.
Neither team could, however, get that second goa of the gamel, and Manchester City take a 1-0 win home with them to England. That away goal could be crucial before the second leg in Manchester on the 30th of March.