 Aleksandar Mitrović will miss Newcastle United's next three games after picking up an FA misconduct charge for elbowing West Ham's Manuel Lanzini during the Magpies' 3-0 victory before the international break. But, despite accepting the charge, Mitrović insists he did nothing wrong and cannot understand why he has been punished.
The incident wasn't seen by any of the officials during the game but was investigated by the FA after being highlighted by pundits on BBC's Match of the Day.
Hard done by?
Speaking after helping Serbia to a 1-0 win over the Republic of Ireland, Mitrović admitted he felt hard done by and didn't speak to manager Rafael Benítez before accepting the charge.
Despite television replays looking like there was intent from the Serbian, Mitrović argued similar incidents occur in every game and that particular offence wasn't even worthy of a caution.
"It is very frustrating for me, but I can't change anything now," said the 22-year-old, who has struggled to gain the trust of Benítez because of his fiery personality.
Mitrović stressed that he "didn't mean to do this" and said that he believes that "it wasn't even a foul in the game" but admitted that he must "accept the rules and respect the decision that has been made."
The Serbian international revealed he hadn't heard what was said on Match of the Day but refused to speak too in depth over fear he would be punished further.
"I just have to take this on the chin and make sure I stay as fit as possible so that I can help the team when I return."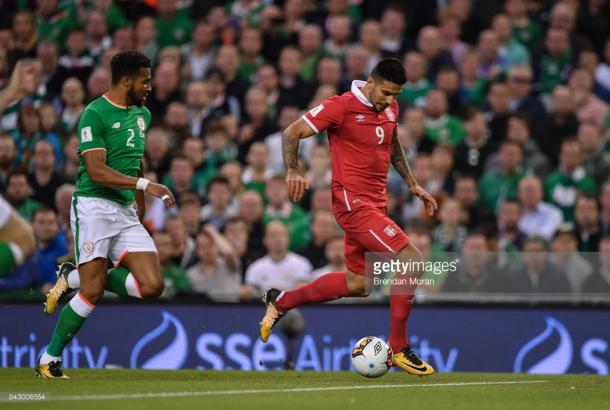 Serbian success
Meanwhile, Mitrović and his Serbia teammates took a huge step towards qualifying for next year's World Cup after beating the Irish in Dublin on Tuesday, and the striker hailed it as "an unbelievable night for Serbian football."
The striker said "we have to stay focused and make sure we finish it off in the next couple of games", adding that he believes "it is very important for the Serbian people to see us back at a World Cup."
He described it as "an unbelievable achievement", adding that "we have done it for the Serbian people, for the whole country, we want to make them proud and I hope we have done that."