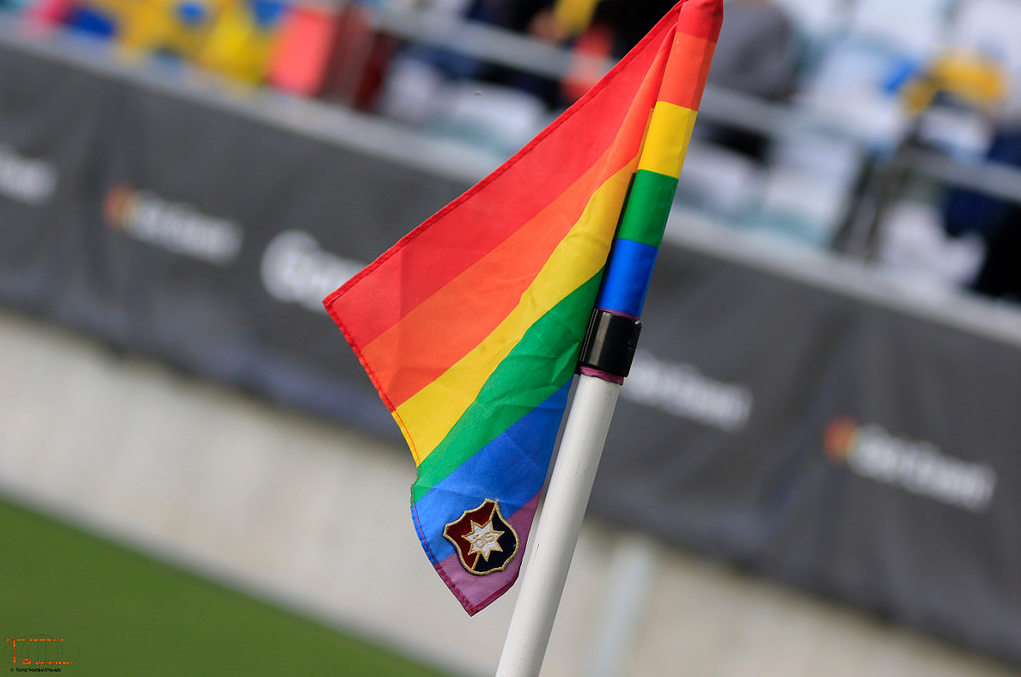 Queer USWNT fans might feel betrayed by Jaelene Hinkle's inclusion in the latest squad but the larger issue is what happens on the pitch.
"Personal reasons"
There can be no question that Jaelene Hinkle is one of the best full (or outside) back's in the current USWNT pool, her strong performances week in, week out with the North Carolina Courage (formerly the Western New York Flash) enough to earn her a smattering of call-ups until she declined last summer for "personal reasons."
With the team set to wear shirts with rainbow numbers in honour of pride, many called the defender out on her strong religious beliefs, suggesting she had declined a call-up because she refused to advocate for Pride/the LGBTQ+ community.
Whilst some were happy to give the 25-year-old the benefit of the doubt, there could be no question of Hinkle's reasons after she opted to go on The 700 Club – a long-running programme on the Christian Broadcasting Network – sharing her reasoning.
Her faith affirmed after defying the odds and recovering from a serious injury in her teens, her Christian conscious not allowing her to have love for her queer brothers and sisters.
The interview was met with immediate backlash with many fans assuming her bigoted views had spelt the end of her international career, yet, just two months after the interview was broadcast – and went viral in the WoSo community – Hinkle has been called back into the UWSNT.
Again, the backlash was swift.
A welcoming community
For those involved in women's football, especially in the western world, it's hard to – for want of a better explanation – avoid lesbians. Whether on the pitch, behind the scenes or in the stands, the queer community has a strong presence in women's football and in the USA, where gay conversion and still a very real thing, is no exception.
Whilst many queer female footballers across the world may not fell comfortable being out to the wider community, their sexuality is often well known to their teammates.
In a country that so easily shuns those from the LGBTQ+ community, many have found solace and a welcoming environment in women's football, and it's easy to understand why they feel Hinkle's inclusion is a slap in the face.
It's often said, that you have as much a say in your sexuality as your race, the distinction for many is whilst they didn't choose to be gay, Hinkle – who may very well feel that her faith isn't optional, rather a non-physical part of her – has freely chosen her bigotry.
With the religious backdrop in America, it's no surprise to see so many players who feel a strong spiritual connection to God, those who see themselves as a member of His flock.
Whilst you can argue for hours about the passages of the bible that seem to claim homosexuality as an abomination and how a man lying down with another man is as "wrong" as the consumption of pork or shellfish. Or how, loving your fellow man and loving a benevolent God are key tenets of Christianity, but the wider issue, is in fact, in this case, football.
It's June and we are #PROUD, it's July and we couldn't give a toss
With a move that started in Swedish handball, rainbow armbands have slowly made their way into football – notably when out defender, Nilla Fischer began to wear one whilst captaining VfL Wolfsburg in the Frauen Bundesliga. From rainbow corner flags in Sweden to rainbow numbers on US shirts last June, kits and pitch paraphernalia have reached out to include the LGBTQ+ community – as well as the influx of Pride Nights in NWSL.
Following on from the success of their kits (worn by both the men's and women's national teams) last summer, the US Soccer Federation has looked to lead the way with promoting equality and inclusion on the pitch. Partnering with the You Can Play Project, the USSF announced their senior teams would be donning rainbow numbers for their friendlies last month – along with other merchandise – with the proceeds going to the Project.
Equality and inclusivity has been the message from across the pond – despite their own strategy when it comes to harnessing young American talent – but now Pride Month is over it all but seems like the rainbows have been packed away with the Christmas decorations, a seasonal novelty left to gather dust until next year. The queer fans, shuffled back into their own box by the USSF, left to hold onto their pink currency until next summer with the decision to recall Hinkle.
It's no secret that Jill Ellis is fast running out of square pegs to force into the round holes she has in defence, from shoehorning attacking midfielder Allie Long into the heart of a back-three to pushing winger Crystal Dunn into a fullback role.
With injuries to Taylor Smith, Margaret Purce and Kelley O'Hara (who has so oft been used in the back line despite her regular role higher up the pitch), there is a logic to bringing Hinkle back into the fold.
As well as Dunn and O'Hara, Sofia Huerta found a temporary home at fullback when called in, so too centrebacks Becky Sauerbrunn and Emily Sonnett.
Although fans have long called for Ellis to just call up an out-and-out fullback and desist with her experimentation, they may not have been so receptive to seeing Hinkle recalled and would have rather seen utility woman, Huerta, in in-place.
A harmonious dressing room
An out lesbian herself, many could have expected something different from Ellis, a naturalised US citizen, who told Sports Illustrated that she was honoured when the USSF put out a tweet celebrating the Supreme Court's ruling in favour of gay marriage in 2015. A stark contrast to the message from Hinkle upon hearing the news the defender tweeted, "This world is falling farther and farther away from God... All that can be done by believers is to continue to pray."
Yet, it's Ellis who has called Hinkle back into the fold, it's Hinkle who has a lesbian to thank for her chance to play for her country once again.
It's Ellis who has taken a gamble on Hinkle, NWSL fans will be aware that she certainly a strong option based purely on football but it's the potential disruption behind the scenes that Ellis has flipped a coin on.
Although veteran attacker Megan Rapinoe is the only out member of the 25 called in by Ellis, there remains a handful of players in the squad in same-sex relationships.
Aside from ruffling queer fans and allies, Hinkle's inclusion could yet cause ructions behind the scenes and cause a fall-out in the dressing room.
To call upon a handful of examples from the World Cup just gone, there have been instances of players playing well and not called up for the tournament in Russia with a wider emphasis on the team paramount.
Whether it was Leroy Sané's controversial and tactical omission from Joachim Löw's disappointing Germany team or Jack Wilshere left at home by Gareth Southgate, coaches have backed the team over the individual.
So whilst Ellis would be wrong to leave Hinkle out purely because of her faith and ideologies, the 51-year-old would be well within her rights to leave Hinkle out if her inclusion divides the dressing room and impacts what happens on the pitch.
The goal always to create the best team that she can to win matches and silverware, morals left on the backburner.