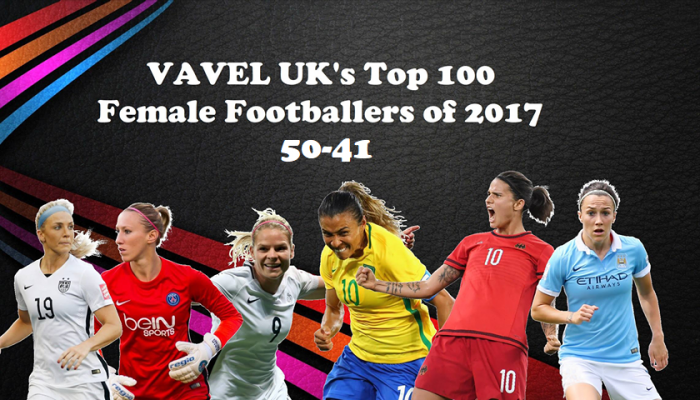 With 50 players already down, we're picking up steam and getting to the crème de la crème from this year, we resume with a 27-year-old from Hokkaido (100-91, 90-81, 80-71, 70-61, 60-51).
In Lyon's star-studded line-up, Saki Kumagai often goes a little under the radar, but nothing could be further from the truth out on the field. She finished the 2016-17 season as the winner of the French League, the French Cup and the Champions League and has gotten the 2017-18 season underway in superior fashion.
As a defensive midfielder, Kumagai is never likely to steal the headlines, but she does the work that allows everyone else to grab the spotlight. She protects the defence, recovers the ball and provides a security that gives the likes of Camille Abily and Dzsenifer Marozsán the freedom to create going forward. The work Kumagai has done this year has been absolutely crucial for Lyon, and when she has had an off day you can see it in the team.
Sara Björk Gunnarsdóttir may not have played as many games as she would've liked since joining Wolfsburg but her performances were notable enough to land her on our Top 100 list. The Icelandic midfielder made 18 appearances in the 2016-17 season, scoring one goal, and ended her first season in the Frauen-Bundesliga with a league title and DFB Pokal final win. Gunnarsdóttir's play was essential for her club as they lost key players in midfield for large portions of the season and the 27-year-old filled in well during those absences.
Iceland qualified for Euro 2017 and although they battled valiantly in each game, Gunnarsdóttir and company did not make it out of the group stages. Even though her international fortunes did not match up to her domestic ones, Gunnarsdóttir still had a solid season and has finished off the calendar year well.
24-year-old Magda Eriksson has had a busy 2017, starting the year as captain of the reigning Swedish champions, Linköping before moving to Chelsea over the summer. In between she featured for the Swedish national team at the European Championships. Linköping would go on the win the league even after she left, and while the defenders who took over from her performed well, Eriksson's absence was felt.
The defender settled into Chelsea's back-three system seamlessly, grabbing a goal on her debut and going on to start the first ten games of the season. In a star-studded line-up she has been one of Chelsea's best performers. An aggressive, hard tackling defender with good aerial presence who reads the game well, Eriksson's trademark is her dead-ball delivery, her left foot one of the best to have come out of Scandinavia in recent years.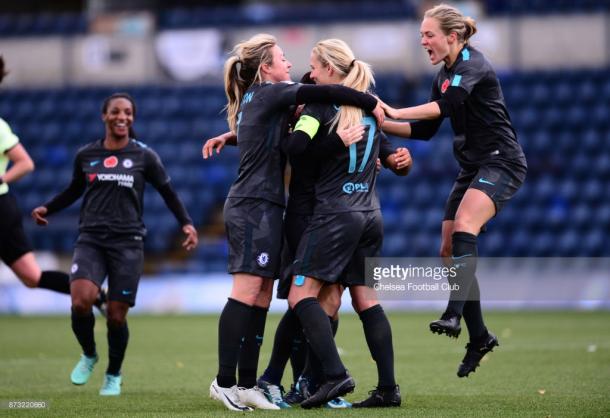 Sherida Spitse probably got her real international breakthrough to become more of a "household name" over the 2017 Euros, which she (as most know) won together with the rest of the Dutch team. However, anyone who has followed Norwegian and Dutch football in recent times will know that the 27-year-old midfielder is not a one hit wonder.
The highlight of the reliable midfielder's football year was undoubtedly the European Championship, where she scored an impressive three goals as she netted two penalties in the group stage wins over Denmark and Belgium before scoring in the final against Denmark. Having played every single minute for Dutch over the summer, she was integral to their eventual success, the work of her and Jackie Groenen in midfield allowing attacking aces Vivianne Miedema and Lieke Martens the space and freedom to create.
At 7, Marta Torrejón started playing football, at 17, she debuted for Spain (versus England) and at 27, she is the Spanish national team captain – and the most-capped female player with over 70 games played for La Absoluta Femenina.
A product of Espanyol, Marta crossed the city to Barcelona in 2013 where she played right-centreback alongside fellow Spanish international, Ruth García. While recognised for a long time as a formidable defender, Torrejón dazzled over the 2016-17 season as she developed her forward game, aided by playing matches as a right-back where she would overlap on the wing to send in crosses. For club and country, Torrejón is now a specialist in the box for attacking set pieces and corners where, if the ball can get to her, it's often headed successfully into the net.
45. Emily Sonnett – Portland Thorns/Sydney FC/USA
Along with her defensive partner, Emily Menges, Emily Sonnett was half of the famed Wall of Emilys and part of a miserly Portland Thorns defence that won their second NWSL Championship this year. Sonnett had fallen out of form and thus out of favour with the USWNT but her play this year not only brought her back into the national team picture but also pushed her to the forefront as one of the NWSL's best central defenders. Sonnett will want to keep the good form going with her Westfield W-League side Sydney FC but it was her play with the Thorns that put her in our list this year.
A player who grabbed headlines for her public plea to the Confederação Brasileira de Futebol for better conditions after making the tough decision to retire from international duty, Cristiane Rozeira de Souza Silva (or simply, Cristiane) will go down in history as one of the greatest Brazilian footballers of all time. In a Seleção team that has consistently contained Marta, Cristiane has always shone in her own light, the determined attacker a bright spark for PSG during her time in Paris.
A player who's already plied her trade all over the world from Germany and Sweden to Russia and South Korea, 2017 saw another move for the 32-year-old as she traded Europe for Asia to become the next big name to sign for a Chinese Super League team. Though still not seeing the silverware to match her talents, the unpredictable goal-getter remains a credit to any team she plays for.
More than familiar with Division 1 Féminine after four years with Paris FC (then Juvisy), Janice Cayman quickly fell into step with Montpellier when she joined La Paillade at the start of the year. Signed at the same time as Stina Blackstenius, it was the Belgian who had an instant impact on the team that fast had to recover after losing talismanic striker Sofia Jakobsson to an ACL injury. Though not one to step directly into Jakobsson's shoes, Cayman was consistent in her performances, tirelessly working match after to match to link the midfield and attack to carve our chances and tip matches in Montpellier's favour.
Striker, winger, full-back and captain, there's few roles Elise Thorsnes hasn't found herself in over the course of the year. The all-time leading goalscorer in Toppserien, 2017 has seen Thorsnes pushed back into defence for Norway, her athleticism making her the most viable option for the Football Girls.
For Avaldsnes, Thorsnes has stayed true to her attacking ways, usually the difference for the Rogaland team, her tireless work-ethic and persistence in front of goal enough to see the team finish second in the league this season. A captain who leads by example, Thorsnes was instrumental for Avaldsnes this year as they claimed their first ever piece of silverware.
One of the best England has to offer, 2017 was another solid year for Lucy Bronze, the WSL winner cementing a move to European powerhouse Lyon part-way through the year.
Though her summer came to an abrupt end with England, Bronze continued her reliable work at left-back throughout the tournament and Spring Series for Manchester City, the Northumberland native trading the well explored English north for the place few English women have tread, the Rhône-Alpes. A defender who likes to get forward, there are few better teams for Bronze than the all-conquering Lyon side though the 26-year-old will take more of a backseat to the world-known players in France the move will give her a chance to develop a new dimension to her game.