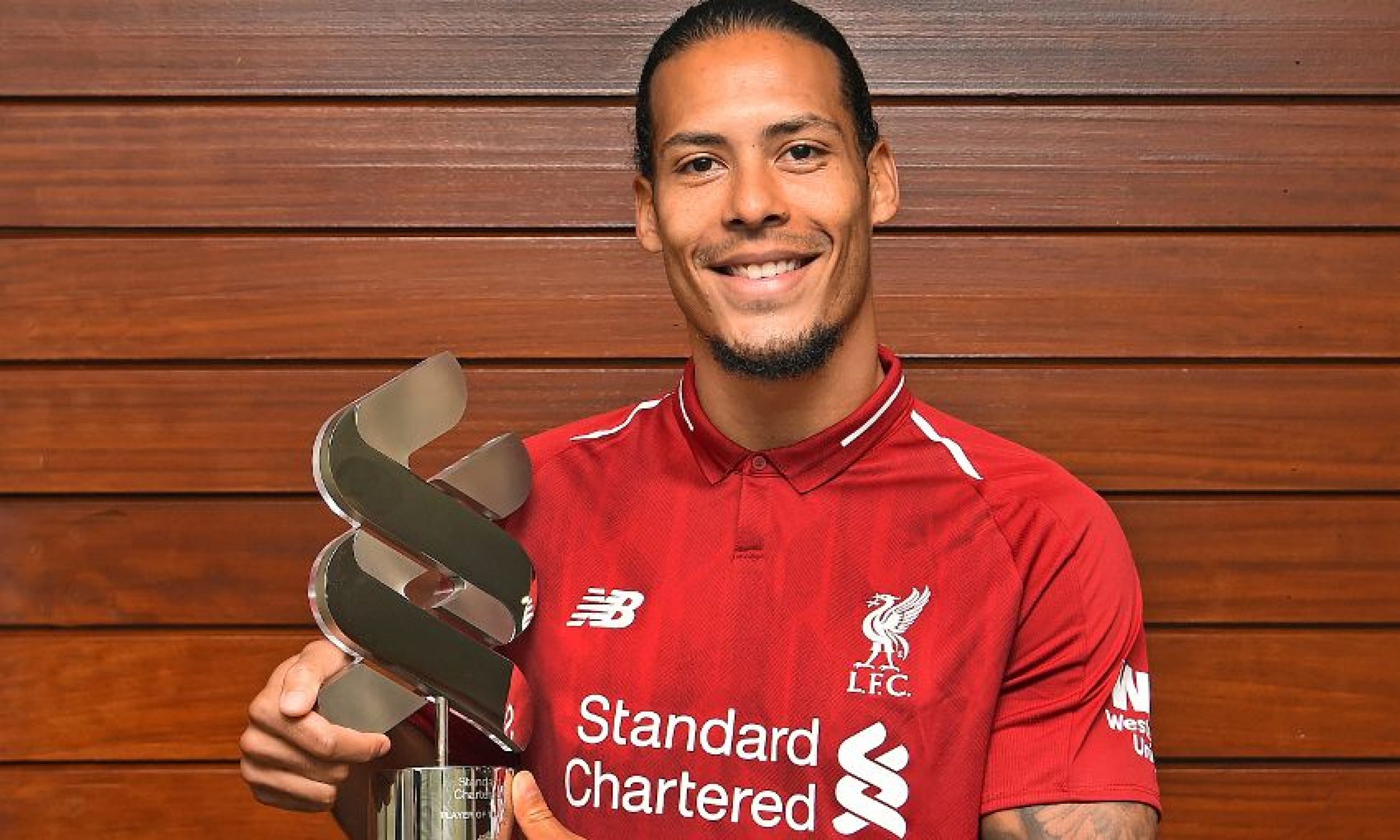 Netherlands international centre-back Virgil van Dijk has been named as Liverpool's Standard Chartered Player of the Month for August.
The defender was part of a backline that remained unchanged throughout the opening month of the season having not conceded a single goal in that time.
Mohamed Salah came second in the vote, with Sadio Mané third, but it was in defence that Liverpool really stood out.
Liverpool won all three of their Premier League matches in August, against West Ham United, Crystal Palace and Brighton and Hove Albion, and currently sit top of the table having beaten Leicester City in their first match of September.
Presented with his trophy on Wednesday morning at Melwood, Van Dijk said: "Firstly, I want to say thank you very much to everyone who voted. It was a great month for all of us, so a big thanks to everyone who voted for me.
"It's my first one and I am very pleased to have won it, but almost everyone in the team deserved it this month; everyone has been outstanding, giving their all, and you could see that in the results."
The Netherlands had mixed success during the international break, beating Peru in a friendly and losing 2-1 to world champions France, with Van Dijk playing the full 90 minutes in both matches.
Liverpool's 100% start to the new campaign, though, has been much more settled.
Van Dijk said: "I'm very happy we're doing so well at the moment and we need to keep going. I am enjoying every bit of it, but that's all credit to everyone in the team – all of the players involved.
"It's not only me and I would never take credit on my own. We do it all together and it starts on the training pitch."
A new-look Liverpool
One of the strengths that has been highlighted by many of this season's Liverpool side is their ability to win multiple kinds of matches against various tests, which has not necessarily been the case in previous years.
Van Dijk added: "We had games we needed to grind out and make sure we gave our everything, but we also showed our quality.
"Crystal Palace away, for example, was a very tough game on a Monday night when their fans were really going for it and making it hard for us. It was a tough one to go to, but we did it and we were very happy.
"We did very well overall and had our moments in games which we were very pleased with. There are things we need to improve as well, but it's always good to have things to work on."
Bigger tests lie ahead for Liverpool as they face a gruelling schedule with Champions League group matches, Carabao Cup ties and league games making for a packed calendar between now and the turn of the year.
Should the Reds go through in the Carabao Cup, where they play Chelsea at Anfield in round three, they would then face a round four tie and a potential quarter-final before Christmas, meaning they could have two matches each week until the end of January; Van Dijk will need to keep up his good form if that is to be the case.