 A quick glance at the team sheet and an inquisitive look came across the faces of many Liverpool fans. Jose Enrique centre-back, only Christian Benteke a first-team player.
This, of course, was the third round cup tie away at Exeter City last month as Jürgen Klopp backed his youth to do the job due to Liverpool's ever-growing injury problems, and the youngsters came away with a 2-2 draw.
One of the more under-the-radar changes to the side saw Kevin Stewart dragged from obscurity and placed in the holding midfield role. I remembered the name from us initially signing him from Tottenham Hotspur, but then I also remembered that this guy was a 22-year-old right-footed left-back. So what exactly was he doing in central midfield?
Stewart grasps first-team opportunity
For the first 15 minutes, it was hard to notice he was on the pitch. Liverpool started the better team and I'm not too sure if he even touched the ball. Fast forward to the end of the game and no-one was going to forget this lad quickly. Stewart applied himself extremely well on a pitch that was in no fit state to field a game.
Defensively, he provided good protection in front of a young, makeshift defence and whilst errant passes arose occasionally he was efficient and effective when in possession for the majority. A decent game which left me, and many others, wanting to see more of what this kids got.
His appearances since have done nothing but impress. Each time he has played, he has gotten better and better. His ability on the ball has improved with less passes going astray, whilst his physicality has impressed with him competing and winning battles against even more experienced central midfielders.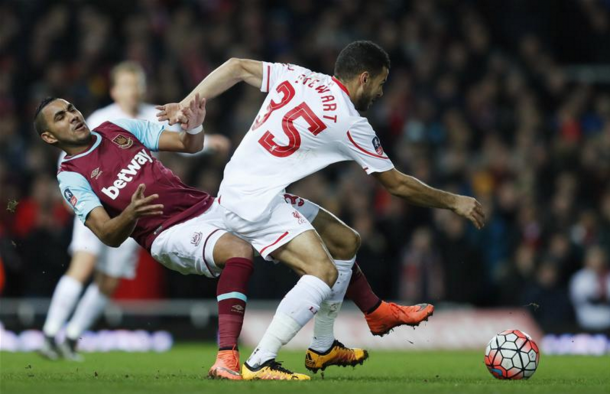 Employed as the holding midfielder, you wouldn't have been surprised to see him stay in the role and just keep things simple. Instead, Stewart has showed he has no issue in expressing himself when going forward. It's these occasional well-timed bursts forward that adds something to his game and he's not just a holding midfielder but one that can join attacks and provide another option going forward.
After his performance away at West Ham, in which he looked like a senior project playing against the top players for years, many were hoping that before the end of the season he would at least feature on the substitutes' bench in some Premier League games. The team was announced on Sunday and there he was. The next wish was that he would get some well deserved minutes on the pitch and get a chance to express himself, furthering his education at top-flight level.
It was a perfect game for him on Sunday with Liverpool sitting very comfortably at 5-0 up against a very poor Aston Villa side. Still he came on and didn't look out of place. He was confident when in possession, keen to get on the ball, tenacious in the tackle and played some superb passes to get Liverpool moving forward, the best when he played an inch-perfect pass into the path of Nathaniel Clyne as the full-back made a darting run down the wing.
Midfielder in the Coquelin mould
It is still very early days but Stewart's rise itself has the makings of a possible Francis Coquelin-type rise. The Arsenal player was on loan at Charlton Athletic at the beginning of last season before coming back and excelling as one of the Gunners' best players at the back end of last year. Stewart has had the similar path of being loaned out to Swindon Town at the beginning of the season before returning to Liverpool because of an injury and in his few performances so far, he has been excellent.
Coquelin has been excellent ever since he burst through to become one of the first names on the team sheet when he is fit for Arsenal. He has provided a solid base in front of their back-four and therefore allows the more attacking players to get forward with more freedom.
Stewart has the physical attributes to be a success with his strength and height meaning he is a match for the most central midfield players and he is also relatively quick, which gives him an edge over the likes of Lucas Leiva in the defensive midfield position. With more game-time at the top level, the hope would be that he could develop into that type of player and be a valuable asset to the squad.
Hopefully, the first Premier League appearance is just one of many for to come for Kevin Stewart in a Liverpool shirt. If he keeps improving then there is no reason why he shouldn't see more minutes during the rest of this campaign, but he is impressing and we all hope he can continue performing so that he can become one of the most unlikeliest ever success stories on Merseyside.