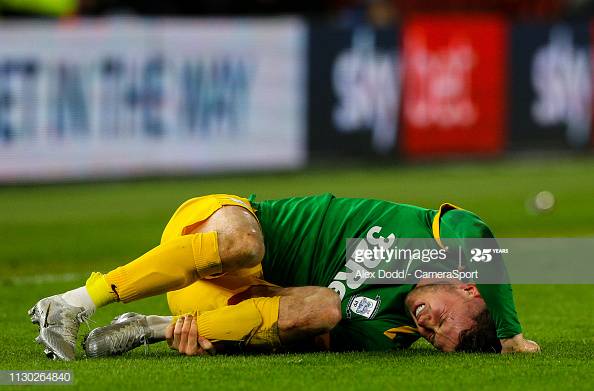 As the curtain rises on Saturday and the Sky Bet Championship ventures out of its strange hibernation, clubs up and down the country will be bracing themselves for a run-in of unprecedented congestion.
In an attempt to remain in step with the top flight, 108 games will be played in just 33 days, with teams set to play two matches a week for almost every week from now until the end of the season. As a result, heightened injury risk appears an unavoidable issue, and that's without factoring in the truncated preparation period of less than three weeks of contact training.
Few men are as well-versed in this department as Preston North End head of performance Thomas Little, who offered some exclusive insight to VAVEL earlier this week. He and his staff have been weighing up the obstacles for a number of weeks now.
"There are quite a few challenges. Number one we've got this shortened preparation period. Two we're limited on the type of training we can do with the players when it comes to observing social distancing so we haven't been able to plan for training as we see fit for the past four weeks," Little explained.
"And then in terms of how we can enable the players to recover from hard training matches, that's been a problem because players aren't allowed in the building so things like ice baths, massages, cryotherapy and optimum nutrition aren't available to them."
Preston + soft tissue worries
Nevertheless, Little was pleasantly surprised with the physical state of the Preston squad upon their return to training: "It's been really pleasing to see most of the lads coming back in incredible nick. From a weight perspective, most of them had actually lost quite a bit of weight," he revealed.
"Some of that is muscle mass because they weren't doing any leg strength, so that's not ideal as you'd want to preserve your leg muscle mass because it's important for power and injury prevention. But overall the lads looked after themselves really well."
And, from a Preston perspective, you would hope so, as - with only three points separating them in sixth from Swansea City in 11th - it's very much bumper-to-bumper in the pursuit of the playoffs.
Yet when it comes to Preston and injury troubles, there are alarming precedents. Alex Neil doesn't boast the strength in depth that the likes of Slaven Bilic and Scott Parker possess, which has led to major shortfalls when injuries have begun to accumulate this season. Little, though, gives short shrift to the notion that Preston are a side that suffers in that department more than others.
"In terms of injuries we've had this season, they've not been that bad overall we've just had little spells where it seems to be the same position that has got injured. We had a little spell with strikers, and then we had a little spell with defenders. But overall we're actually below the league average this season."
However, from a broader perspective, he subscribes to the view that any deficiencies could be exposed across a run-in that's bound to take its toll on hamstrings, calves, and quads.
"You see it consistently over Christmas, there's always an increase in injuries and you see it wherever there's three matches in a week," Little warned.
"We've already seen the Bundesliga, where they've had three times the amount of soft tissue injuries, and that's without the congested fixtures."
Tempo
Much of the speculation surrounding different clubs, their different systems and, to be more precise, which system best complements the various features of the restart is exactly that, speculation.
One thing we can be almost sure about, though, is that Leeds United will not change in their ways under Marcelo Bielsa.
Those well-acquainted with his career will understand that the Argentine has never been one to rush to compromises in the face of adversity, and a compressed fixture list that could lead to a bit of fatigue isn't about to change that.
However, managers that employ a style of football reminiscent of the full-throttle nature of 'Bielsaball' may well be considering adapting their systems, with sustainability at the forefront of their minds going into the hectic schedule.
This, allied to the heat of the summer months, could result in a marked change to the characteristic ferocity of the Championship, according to Little:
"If you're a mid-table team and you're clear of relegation and you can't get into the playoffs, I think those teams are really going to try and control the tempo."
"The Championship is notorious for being fast and furious, in particular Preston, we play a really high-pressing style so there might be periods where we need to adapt."
He continued: "The top teams who do use a high-press, teams like Liverpool and Man City, they might have to adapt a little bit. But they are full of players that can keep possession of the ball when they want to. So it's teams that deliberately deploy a high-press because they might be limited more technically that might just need to modify their style slightly."
Five substitutions + coach travel
The rule change enabling managers to make up to five substitutions (six in extra-time, which is relevant for the playoffs) aims to alleviate the physical burden on squads by facilitating regular in-game rotation.
The amendment, however, was not greeted with unanimous accord. Many clubs felt as though it favours the better sides who have stronger options to bring off the bench, while some - such as Leeds - see the opposition's ability to make drastic tactical alterations as a potential hindrance.
"I know Leeds were against it at first because they were of the opinion that a team could potentially make five defensive substitutions," Little recalled.
From a purely medical point of view, though, he sees clear benefits: "If someone is coming back from an injury, you're more likely to start them knowing they couldn't finish the 90 minutes. So I think on that front it will be very advantageous for teams, having someone returning who's not quite match fit, but you can still gamble on them."
Another roadblock clubs will have to navigate their way around is the complications surrounding travel. Where some teams might usually stay at a hotel the night before a long-distance away fixture, they will now be forced to travel on the day due to the logistical and financial issues of securing disinfected hotels close to the ground, and the guidelines restricting the duration of close contact.
It is something that could have adverse effects on pre-match preparations, according to Little:
"There could be a detrimental effect for teams travelling from up north to London on coaches on the day of the match because you're stuck in a position where your hip flexors are going to get a bit stiffer, your back as well. And then all the social distancing rules mean you can't be getting up and down on the coach, so that's a limiting factor.
"In terms of optimum nutrition to promote that quick recovery after matches, that's going to be far more difficult when it comes to long away travel. We're used to feeding players on the coach afterwards but that is just not allowed now so we have to find strategies around that."
After a brief hiatus, the Championship is back - and it's as chaotic as ever.