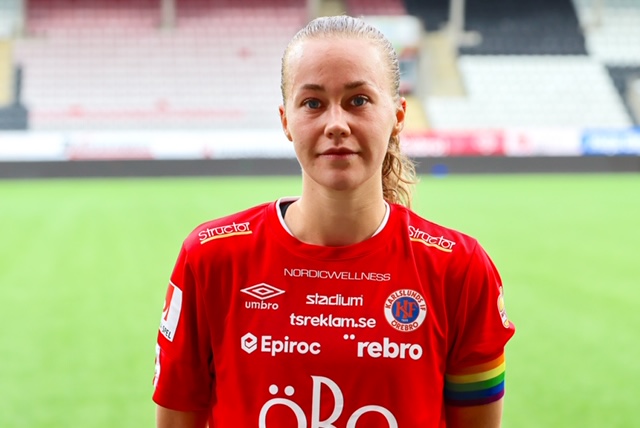 Frida Abrahamsson played four seasons in Piteå IF before she signed with KIF Örebro ahead of the 2018 season. She joined the Örebro team, hoping to get more playing time than the previous seasons in Piteå had given. Her typical northern will and energy not only resulted in a lot of playing time but also made her a key player in the team.
In the middle of her first season with her new team, she was asked to become the team captain when regular captain Hanne Gråhns became injured. Just starting her 3rd season in KIF Örebro, she enjoys her role as captain:
"It is always an honour to be asked to be a captain. But I don't see myself as a more important player or person within our group. My job is to make people comfortable and make us come together as a group. I like to look at being a captain in that way." Abrahamsson says.
"Before the game started, we had a plan on how to handle them. We know that Göteborg is a good team and we are very aware of that fact that we have to work hard playing against them. Unfortunately, we had a hard time to create something offensively, but I think we managed to handle them very good defensively."
"Of course, we had a little bit of luck there with the two missed penalties from their side. I think we fought them well all through the game and I am proud of my team."
​​​​​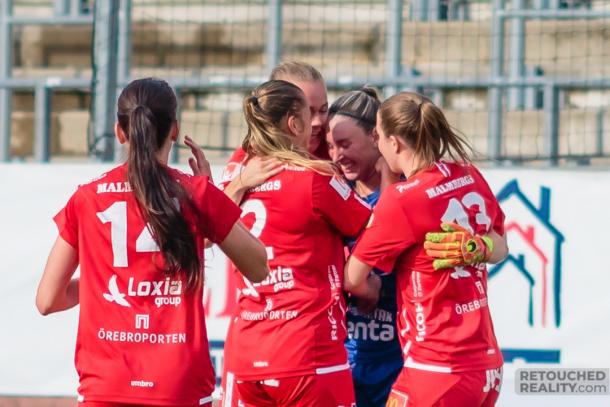 Örebro players hug their keeper after she saved one of the two penalties. Photo credit: Daniel Lubner
A busy game schedule to come

Due to the late start of the league, the game schedule is very tight. The teams in the Damallsvenskan are facing a tough period with having to play games twice a week during the rest of the season due to the league having to be completed by its normal November finishing date.
How do you handle that?
"It's going to be tough, that's for sure. We have to take care of ourselves and our bodies very carefully, and we have to do the right things between the games, so no one is getting injured. But we are prepared as we knew this would happen. Our group is in good shape, and our bodies are fit to manage the task."
What does captain Abrahamsson say to her team before a game?
"That we have to focus on ourselves and not too much on the team we are facing. I also remind my teammates how good we are. If we work hard and come together as a group I know, we can disturb the opponents we are facing, and if we fight them as much as I know we can, we can also win games."