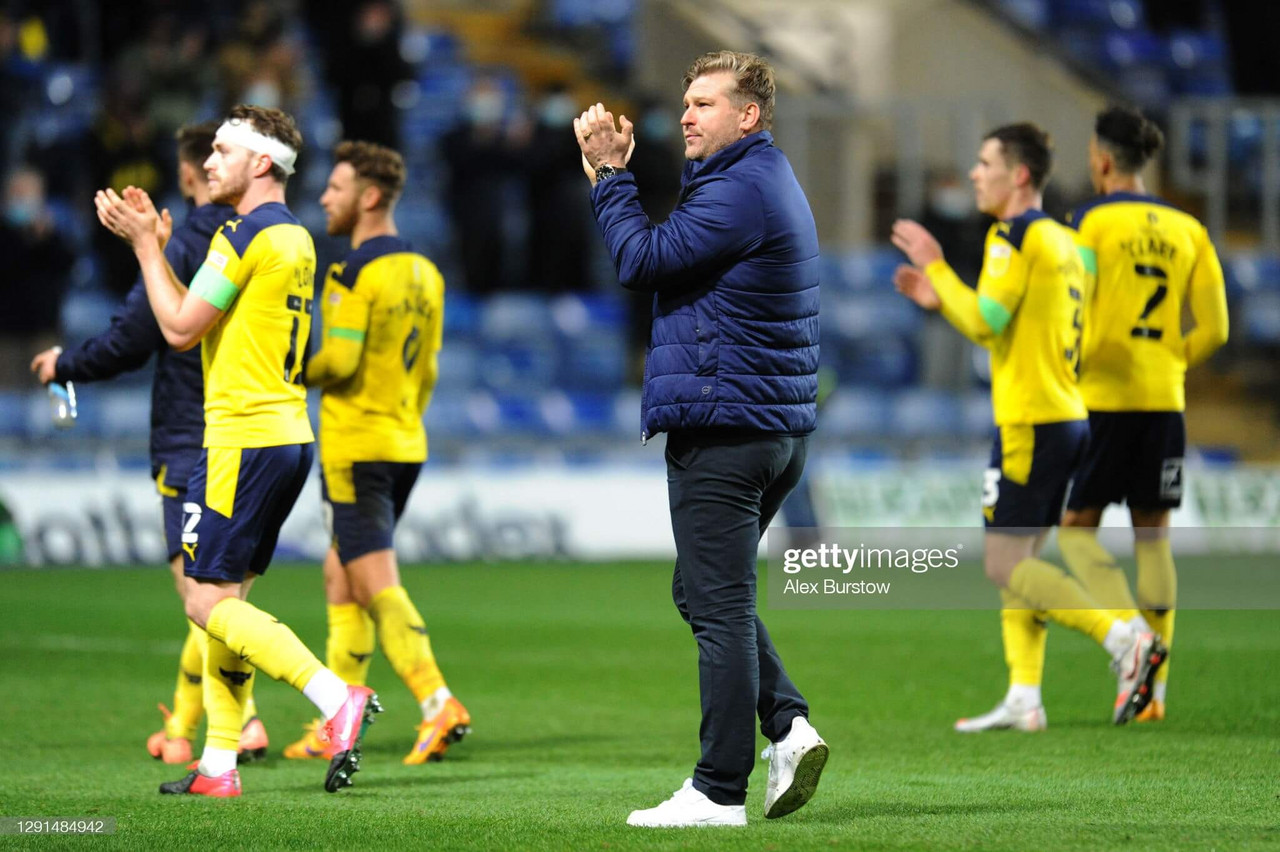 As Joe Jacobson of Wycombe Wanderers steered home a penalty at Wembley to seal promotion for his side, confirming Oxford United's sombre in 2020, fans of the Oxfordshire side were left to wallow another promotion failure.
Why did James Henry choose to pass rather than shoot? Is a question that often lingers in Oxford fans minds, never failing to bring frustration to the surface, as they yearn for Championship football once more.
It was a moment in the U's recent history that they will not want to remember. It was their third loss at Wembley in a row, despite having a 100% record at the national stadium before 2015, yet this one felt like a dagger to the chest more than any other.
Certainly, there are echoes of last season's late promotion push, however, the club will hope they can go one step further. Karl Robinson has reinstalled a winning mentality among his squad as of late, demonstrating his side's early-season woes were only temporary.
Robinson has rallied his troops since the turn of the new year, maintaining a 100% win record so far, but will the U's continue their fine form for the remainder of the season, or will history repeat itself?
As aforementioned, Oxford United are one of only seven clubs to have not yet lost a competitive fixture in 2021, owing much to Robinson's ability to get the most out of his squad.
Furthermore, this is Oxford's best winning streak since the 1982/83 season, when the late Jim Smith led them to eight victories on the bounce.
The latest positive result, a comfortable 2-0 victory over Bristol Rovers, is a testament to Robinson turning around their performances against supposed 'bogey-teams'.
It was the first time the U's overcame the Gas since October 2017, but they have another challenge this coming weekend when they face Fleetwood Town, a team they have never beaten.
Other impressive performances include their rampant display at Burton Albion's Pirelli Stadium when Olamide Shodipo and Josh Ruffels chastened Nick Fenton to a 5-1 defeat in his only game as interim manager.
While the management of Karl Robinson was under threat in the early stages of this season, 2021 has restored hope among the Oxford faithful, exacerbated by the manager's recent comments regarding transfers.
"It's important that we build on this squad," Robinson told the Oxford Mail.
"The key message you get from better managers than me is when things are going well that's the time when you improve.
"Those are things you learn over time, now's the time to turn the screw and try to find players who can make us better.
Robinson added: "When we weren't winning games we thought a big overhaul to patch things up could be a little bit of a rocket."
If Oxford are to continue their upturn in form, seen early in 2021, there is no reason they can't mount a play-off push.
Matty Taylor is invaluable to Oxford Utd's promotion bid
Notching 11 goals and registering one assist in 22 League One appearances this season, Matty Taylor is a cornerstone in the Oxford lineup.
The former Bristol City and Bristol Rovers striker has established himself as a Football League talisman across the years; his impressive record has continued through his time at Grenoble Road.
In recent seasons, Taylor has found synergy with the likes of James Henry and Cameron Brannagan. However, this season has seen the emergence of a new star alongside the Englishman; Olamide Shodipo has quickly become a fan favourite with his goal conversion rate of 41%.
It is the goalscoring exploits of these two that will further elevate Oxford into promotion contention. Recruitment for Robinson in the summer of 2020 was a cause for concern in the dawn of the new campaign but, as they so regularly do for the Yellows, signings have moulded into the squad and found their feet.
With so many proven performers on the pitch, U's fans will be quick to mention that they still have star-studded names such as Sam Winnall and Robert Hall on the bench.
Matty Taylor will be invaluable for the remainder of the season, but Oxford have proven that their quality goes far beyond that on the pitch. The hometown hero will hope to continue his goalscoring adventure to aid the U's bid for promotion success.
Robinson has mounted a late promotion push before
Karl Robinson is no stranger to being dealt with the task of conjuring a late-season rescue mission. The same group of players, minus a few additions, found themselves just one point worse off this time last season. Robinson's late rejuvenation kicked in; the U's ended the season in third place.
While the club still has valuable background characters keeping spirits high, namely through the fortified personalities of John Mousinho and Simon Eastwood; they have added depth to their squad that will help in the busy schedule.
Robinson has steadied a sinking ship and is sailing towards a promotion push, much like he achieved at the backend of last campaign. The potential is there, but can they continue to profit from the wind in their sails early in 2021?