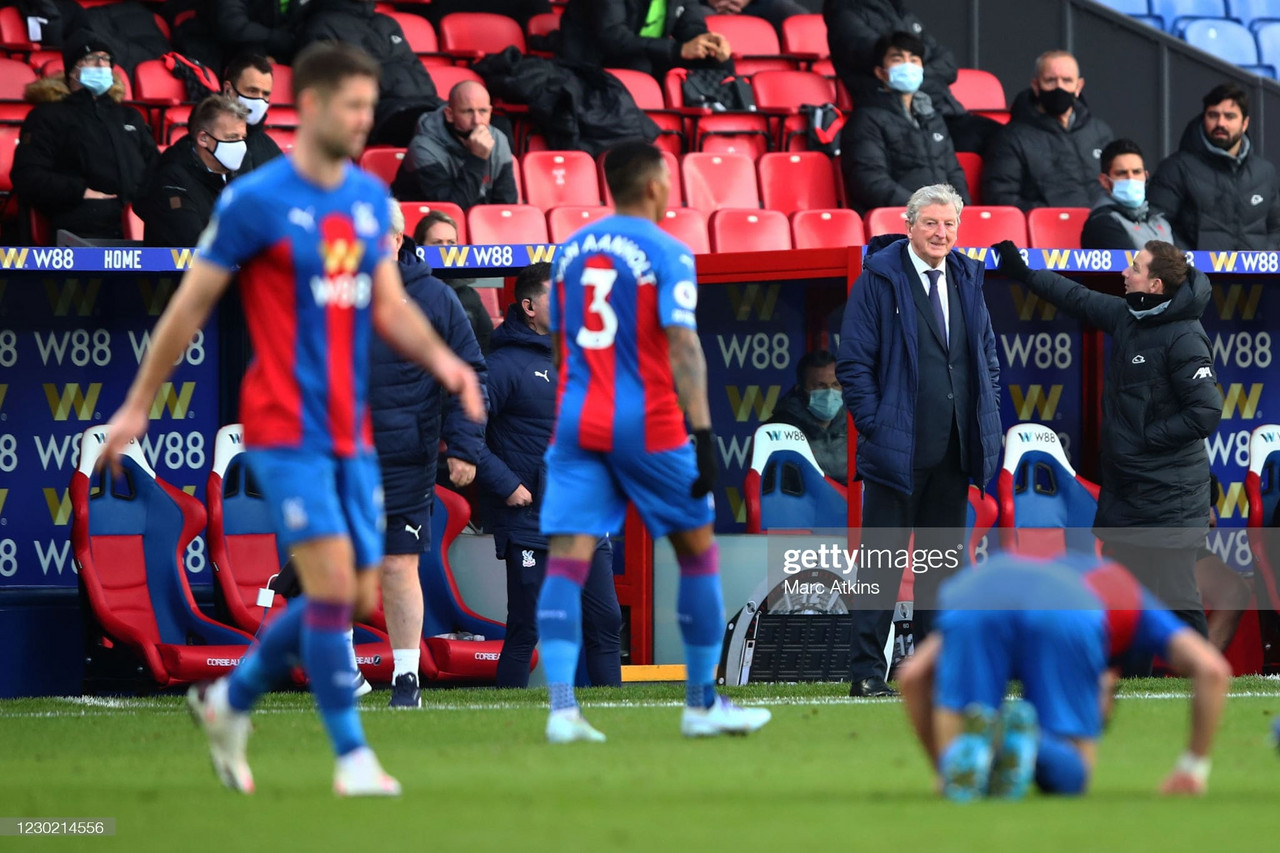 After Crystal Palace rode out an impressive back-to-back Premier League win against Newcastle United over a fortnight ago, the jubilant mood was somewhat dampened by the fact Wilfried Zaha hobbled off in the 60th minute, with what was later confirmed as a hamstring injury that would rule him out for several weeks.
Fast-forward two games, Roy Hodgson's side have failed to score in 180 minutes of football, falling to a 2-0 defeat away at Leeds United and to a 3-0 loss at home to Burnley.
In the absence of Zaha, the remainder of the squad appear shackled to their positions on the pitch, failing to break free and find a way past the opposition without their talisman alongside them to loosen the restraints.
When asked about the over reliance on Zaha, and whether the squad were frustrated about the label of a 'one man team,' Hodgson said, "They (the players) would be the first to tell you how much we appreciate Wilf. We appreciate how much he has done for the club over the years and how good it is to have him in the team, but I think all of them would say 'We can win without him; we are good enough.'
In Crystal Palace's last 20 games without Wilfried Zaha, the Eagles have only won twice; a stat that Hodgson was keen to address. "Unfortunately, the statistics work against us in that respect, and as a result, until such time as we do start winning games regularly, when Wilf is injured, we will have to live with the criticism and the observation, as it's not something we can react against.
"It's something we are going to have to learn to live with, maybe for another few matches to come, so it really is a question of the players, who get the chance to play, making certain they go out and get the result, so at least, for a period of time, they lay that criticism and observation to rest."
I see an extra motivation
When asked if there is a psychological aspect to their inability to perform, or if there was a change in the atmosphere around the squad without Zaha's involvement, Hodgson vehemently denied that thought, saying, "You have a clear statement of fact here, which no one can deny."
He continues, "But quite frankly, I don't' see people going into the game, thinking or feeling 'We are not going to win this one because Wilf's not here,' and I don't see the players thinking, 'Well, we have no chance now because Wilf's not here.'
He added, "In fact, quite the opposite. Sometimes I see an extra motivation for people to say, 'Look, we have to try and get rid of this (the record without Zaha); as much as we love Wilf and as much as we appreciate what he does, it's a bit of a negative on the rest of us to have to bear this criticism if we're not winning.' I would say it adds to the motivation rather than detracts from it."
"There is no doubt that the criticism with regards to the team not winning without Wilf is one that stings throughout the playing staff, and the sooner we can put it right, the better. Or, the sooner Wilf gets back again, it will also work in our favour, as we won't have the criticism anymore."