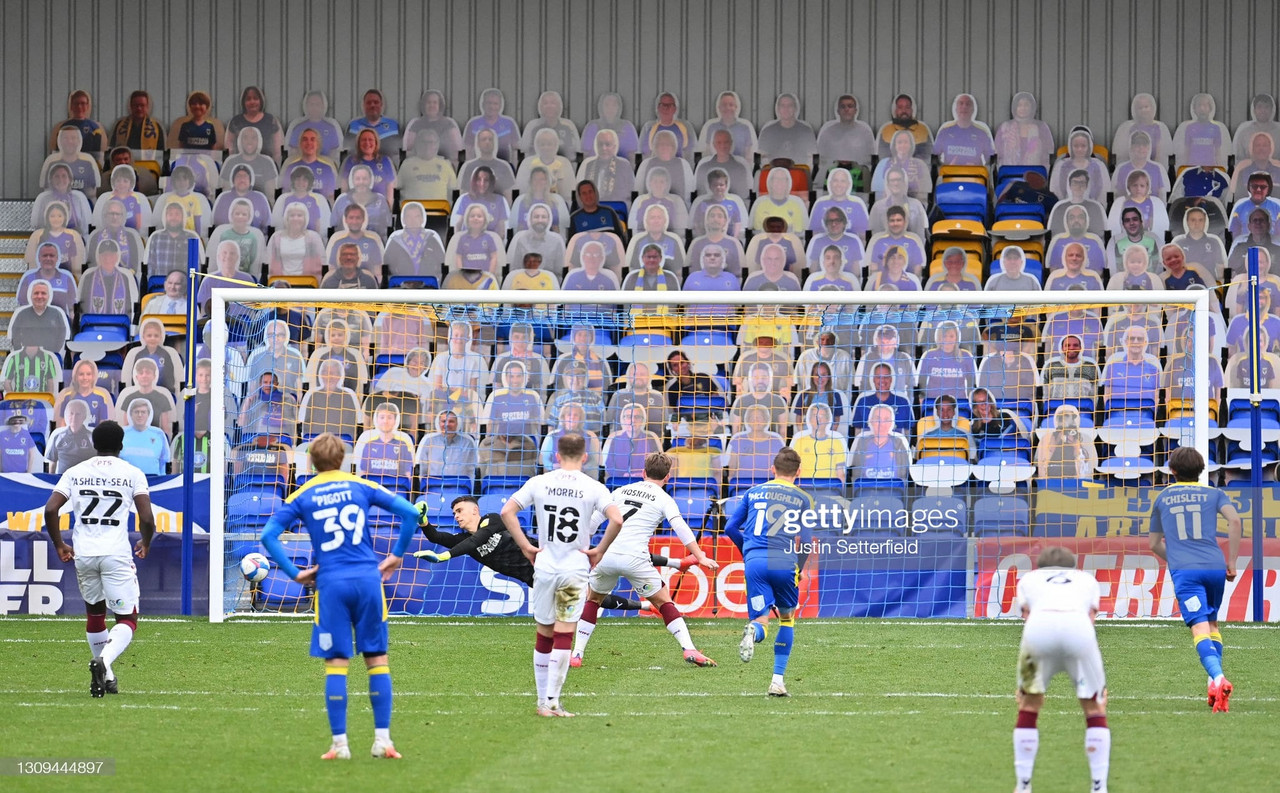 AFC Wimbledon squeaked a 1-0 win against Northampton Town at Plough Lane on Saturday afternoon in Sky Bet League One.
A scrappy game saw a scrappy winner in the 89th minute as a poorly dealt with corner saw the ball land at forward Joe Pigott's feet, and he smashed it home to send Wimbledon level on points with Northampton and on the cusp of safety.
Northampton did have a chance with the last kick of the game as they had a penalty, but Nik Tsanev brilliantly saved Sam Hoskin's spot-kick to give Wimbledon the vital three points.
Story of the Game
It was a real back, and forth kind of match in the opening stages as both sides enjoyed plenty of possession with no real chances created. The game was a literal midfield battle in the opening quarter of the game, with neither side finding a killer pass to create an opening.
The only real chance of the first half came after a poor back pass was latched onto by Ryan Longman, but Jonathan Mitchell easily saved his chipped shot.
The most exciting moment of the opening half was when the near touchline official had to be taken off with what seemed like a shin injury.
The best way to describe the first half was two well-organised defences marshalling two very blunt attacks.
The second half started in a similar manner to the first. Wimbledon enjoyed lots of early second-half possession but could only manage half chances and didn't test Mitchell in the Cobblers goal.
Almost felt like a game of FIFA at points, as both sides were creating space to take a shot, but every time a body was in the way to stop it, troubling either goalkeeper.
To say there was little going on in this game is an understatement. It was very much a case of getting into some great areas of the pitch for both sides, but neither side could find a killer pass or a moment of magic either.
It took until the 89th minute for a goal to come in this game, and it was for the Dons. Northampton poorly cleared a right hand side corner from Cheye Alexander and there was Joe Pigott to smash home.
All the excitement of this game was saved for the end as Northampton were awarded a last-second penalty, but Nik Tzanev brilliantly saved the spot-kick in the Dons goal. That was Tzanev's first shot to deal with all game and what moment at the end for the Dons.
Takeaways From The Game
Lack of Goals An Issue For Both Sides
You can really see why both of these teams are in the positions they are in the league is because they are the two lowest-scoring sides in League One this season. Wimbledon have scored 35, and Northampton have 32. It is little surprise then that there was only one shot on target in the game, and neither side can say they deserved victory here.
Pigott The Man Again
A game that looked destined for a 0-0 draw, but Wimbledon's hero Pigott was the fastest to react to give Wimbledon a vital win in their bid to beat the drop. Pigott will be key to the Dons survival bid this season as he is by far and away the Dons' main source of goals this season.
Defence The Best Form of Attack
This game saw very little in terms of goalmouth action, and it is easy to see why. Both defences were almost faultless throughout, and at least one of the defence's deserved to keep a clean sheet today. Both sides threw themselves at every shot that came their way and made sure their keepers had a rather leisurely afternoon.
Man of the Match
Nik Tzanev
Well a game that was dull as dish water sparked into life when Joe Piggott scored for Wimbledon but the Man of the Match has to go to Don's Keeper Nik Tzanev. Tzanev had nothing to do all game but when Northampton were awarded a last second penalty, it looked like a missed opportunity for Wimbledon, but what an amazing save from the keeper to give his side all three points and saw Tzanev get the Man of the Match award.