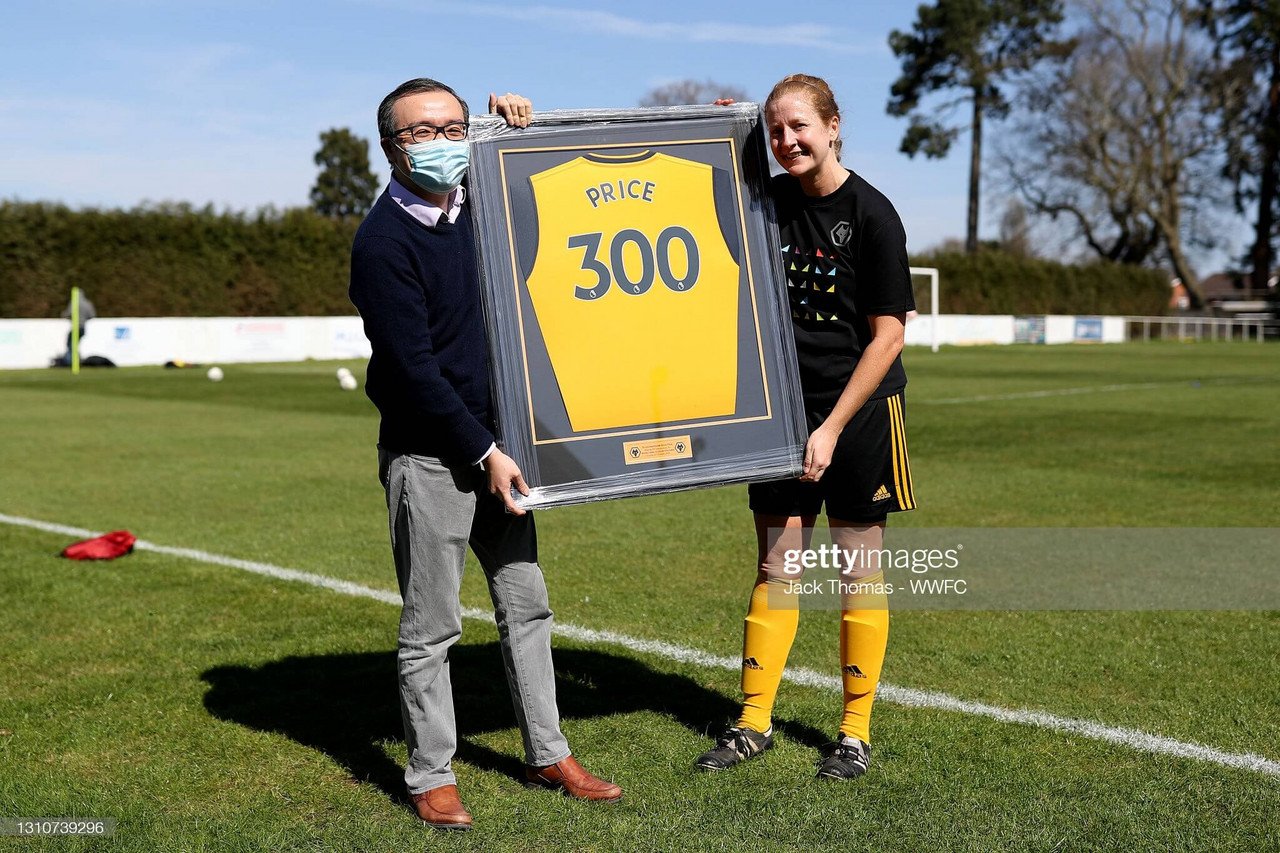 Wolves Women captain Anna Price has made over 300 appearances for the club since coming through the ranks and making her debut at 15 years of age.
In the previous two seasons, the club have had promotion to the third tier of Women's football denied due to the Covid-19 pandemic, but they have shown their quality in the previous two weeks with back-to-back victories over higher division teams.
Wolves have defeated Nottingham Forest and Watford in the FA Women's Cup to set up a fourth-round tie with Championship-side Blackburn Rovers this weekend.
Their tremendous efforts in the FA Cup have meant the girls have made memories as a team once more. But despite the raw emotion of being denied promotion, Price now understands why it was done now. She said: "The first one was difficult because we was so close to finishing the league. Then we got the news that we weren't going to get promoted, we were so close to finishing it so the news was tough to take.
"We started raising money, we used that time as a club to raise some money for Compton Care which is a charity for life-ending care, so we raised money and that really helped.
"I would say on both lockdowns I've just motivated myself as much as I can to keep as fit as I could. In the back of my mind in the last lockdown, it was all about if we do return and got to finish off the league, we need to be ready.
"The second curtailment was tougher because the circumstances of not knowing what was going to happen with the football being so early on. It was difficult to take the second time. I was heartbroken I'm not going to lie when I heard the news they were going to curtail the secon season.
"We was so close last season and unfortunately the pandemic came, it got curtailed and then we went again, six out of six and doing really well in the cup. Everything was going to plan then the lockdown came again. When the news came for this one, it was horrible to take, For the team, we've stuck together.
"It happened to us once so we stuck it out to go again, the same group of girls with a few additions. It was difficult but its football and it's what is happening in the world, the big picture.
"After the roar emotion of it being cancelled, you do understand why it had to be done and the bigger picture. We are over it and looking to go again like we have been doing in the FA Cup."
Debut against the Villa
Price came through the Wolves set-up at the age of nine, courtesy of a coaching academy named 'Champion Coaching' prioritising just girls. After being rejected from a boys football team due to the team not knowing who would take her to the toilet, she made it into the Wolves junior set-up and the rest is history.
Fast-forward six years and Anna made her first-team debut in the FA Cup against Midland rivals Aston Villa under former-Villa hero Dennis Mortimer.
Discussing the special moment, she said: "They wanted to input youth into the first team at the time just for the future of the first-team and reserves. We started training with the first team when I was 15 alongside three girls who were a similar age to me and the opportunity came.
"Dennis Mortimer was the manager at the time, ex-professional and captain of Villa who lifted the European Cup for them, so he was a big name to manage the team at the time.
"Wolves were currently in tier two, so the standard of players we had at the time were up there, we had England players who have gone onto. play in the Super League like Emily Westwood, Sally Lacey and Rachel Unitt.
"The standard was really high so it was very daunting. But yeah, I went on and it was early in the second half, I can remember him saying I was going on at the right-hand side of midfield. Really proud moment, but a scary one in all honesty. I loved every minute of it and it's where it all started really."
After Mortimer left and Dave Ball took over, Price's career took another huge step forward when she replaced Anne Johnson as captain of her hometown club.
After studying Sports Science at Sheffield University, Price returned to the club after not playing much in her final year of studying due to an injury and was handed the armband.
Since then, she has proudly worn the armband home and away, one of her proudest moments.
"I had finished my second year at Sheffield University, but my third year I didn't play for Wolves, I had an injury. I came back to Wolverhampton after studying and was back playing for Wolves, at the time, Anne Johnson, the most capped Wolves player, had retired.
"I had a season back playing with Anne, I might have been captain. So Dave Ball was the manager that made me captain and from then on I've just developed into the club captain and I've been there ever since then in terms of the captain role.
"I did play for Wolves whilst I was at university, I duelled signed and played. I was only young. I remember in my third year, I couldn't get back as much. When I came back I did my PGCE in Wolverhampton so I was able to commit and play here."
Her degree hasn't gone unused, with Price working as a full-time PE teacher in Thomas Telford School whilst playing for the Wanderers. However, the duties of her job do not get in the way of her responsibilities as captain.
"We train twice a week but we also do a gym session on Friday. Three times a week up to now. It can be difficult, juggling the two at times but work have always been really supportive of it.
"School is great, they've always given me so much support with my football. Whenever I've got to leave early for a fixture or if I've got to do something for Wolves, they're always really flexible. Being a PE teacher keeps me in the know. It hopefully helps the younger girls there who do play football.
"Work have been great since the moment I've worked there. It's difficult but you do it because you love it. You don't feel like it's a chore, obviously, really proud to play for Wolves and also be a PE Teacher. I'm really lucky that I can do both.
Dealing with lockdowns
With the standard of Wolves Women being listed as grassroots when the country was put in lockdown, their season was forced to be halted after only six games.
In the most recent lockdown, which lasted for the first months of 2021, Price and the Wolves players' ensured they kept in contact and fit with the restart of football in their minds.
"In the back of my mind in this lockdown, it was all about if we do return and got to finish off the league, we need to be ready. That was always in the back of my mind, so going out for runs, doing one-to-one sessions. Everything inside the guidelines, I made sure I did.
"Following the plans that Wolves sent us, the Zoom sessions that Nathan the fitness coach put on for us. That did keep me going and kept my routine, so really lucky with that. The second one was tougher because of the circumstances of not knowing what was going to happen with football being so early on and the darker nights, it was tougher. I did make sure I stayed on top of my fitness in case football did come back.
"When Boris announced that grassroots football was going to resume on the 29th March, the National League tweeted out very soon after that, saying they were working hard behind the scenes and hoping for a return of football. That gave everyone a boost like they are going to continue with the league.
"It was such a lift. But then we didn't hear anything for ages. It got to the return of football and the league weren't announcing anything until two weeks before that. Another tweet came out saying the decision will be announced from the FA in mid-March. Everyone was thinking then, that's very close to when football can return, it's not giving people that much opportunity to get ready if it was going to start two weeks after that announcement.
"That planted the seed a little bit, maybe it's not going to be good news. We found out this date that we were going to find out and on that date, it got announced. Our manager put it in our Whatsapp group. It was really hard to take, heart-breaking news. Not a nice day."
Presentation with Jeff Shi
Wolves return to action since October saw them face-off against Forest in the second round of the cup.
Sunday 4th April 2021 will forever live long in the memory of Price for the event that took place during the warm-up.
Manager Dan McNamara and owner Jeff Shi presented the midfielder with a special replica Wolves shirt with the number 300 on it after she surpassed 300 games prior to the curtail of the season.
Speaking about the surprise, she said: "I knew nothing about it. I knew my 300th game was at Lincoln back in October. I didn't know anything about it on the day and during the warm-up, Maca's pulled me to the side and said come over here, we've got a presentation for you.
"I was shocked, overwhelmed. Jeff Shi, the chairman and owner of Wolves was stood there with a Wolves shirt, presenting it to me at our home ground. It was surreal really.
"At the same time, I had it in the back of my head that we had a game to play, a massive game. My focus was on the game. I was overwhelmed with it but I didn't let affect me going into the game. I really appreciated what they had done for me and this amazing framed shirt presented by Jeff Shi, it was incredible.
"A moment I'd look back on and think I can't believe it happened. But at the time, you're that zoned in playing the game after so long off and wanting to win for the team. It was amazing looking back."
When asked if she has managed to hang it up anywhere, Price proudly said: "Yeah I have. My husbands got a sports bar in the garage and he's put it up in there. It's a great piece of memorabilia to look back on in years to come. I love it."