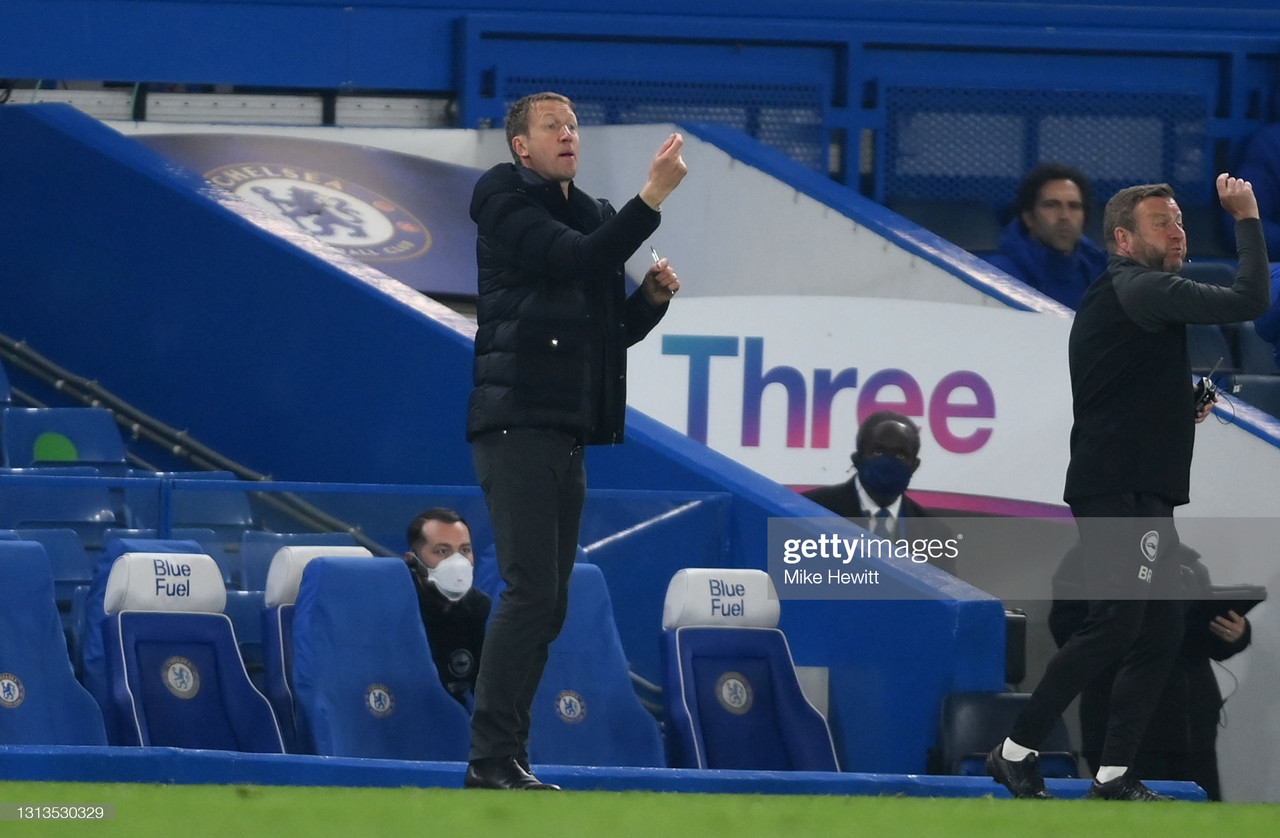 Graham Potter feels his Brighton & Hove Albion side deserved the point they picked up in a 0-0 draw with Chelsea at Stamford Bridge.
The Seagulls came closest to scoring late in the first half when Adam Lallana fired wide before Danny Welbeck struck the post from distance.
Defender Ben White was sent off in the second minute of stoppage time as Brighton move seven points clear of the relegation zone with just six games remaining.
These are the most important points the Seagulls manager made after his side picked up their first-ever point at Chelsea.
Potters reacts to White red card
The Brighton defender was booked after sticking a boot into Mason Mount and picked up a second yellow in stoppage time after hacking Reece James, who was trying to make progress down the left.
Potter said "I did not clearly see the first yellow. Then (the second yellow) we are caught up the pitch with a turnover. I think it was a one v one situation and he makes a challenge and I think it is a yellow card. So we will have to adapt with that."
White will miss out when the Seagulls take on Sheffield United, Leeds United and Wolverhampton Wanderers.
A "well-deserved" point at Stamford Bridge
In picking up their first-ever point against Chelsea away from the South Coast, Brighton are on 33 points, 15th in the Premier League table as they edge closer to safety.
Potter was delighted at the result, stating "it's a good point against a top side. Another clean sheet is a positive and in the second half we had a couple of chances where we might have scored.
"We survived the moments we had to and created some good chances ourselves. We are happy with the point, but we could have won it. We have taken some more steps, but we must keep working hard."
Thoughts on the European Super League collapsing
Before the game kicked off, it was announced that the six English clubs, including Chelsea, were pulling out of the European Super League and by the time the final whistle blew, the Super League had been disbanded.
The Brighton boss was asked to give his thoughts on the ill-fated experiment and flatly admitted "as soon as you go away from a competition that is not determined by what happens on the pitch we should all be really worried.
"Our game has been a little bit under attack which is not nice. The things that are really valuable to us, competition, integrity, consequences if you do or don't get the points, has been under attack recently and that is not nice."​​​​​​​