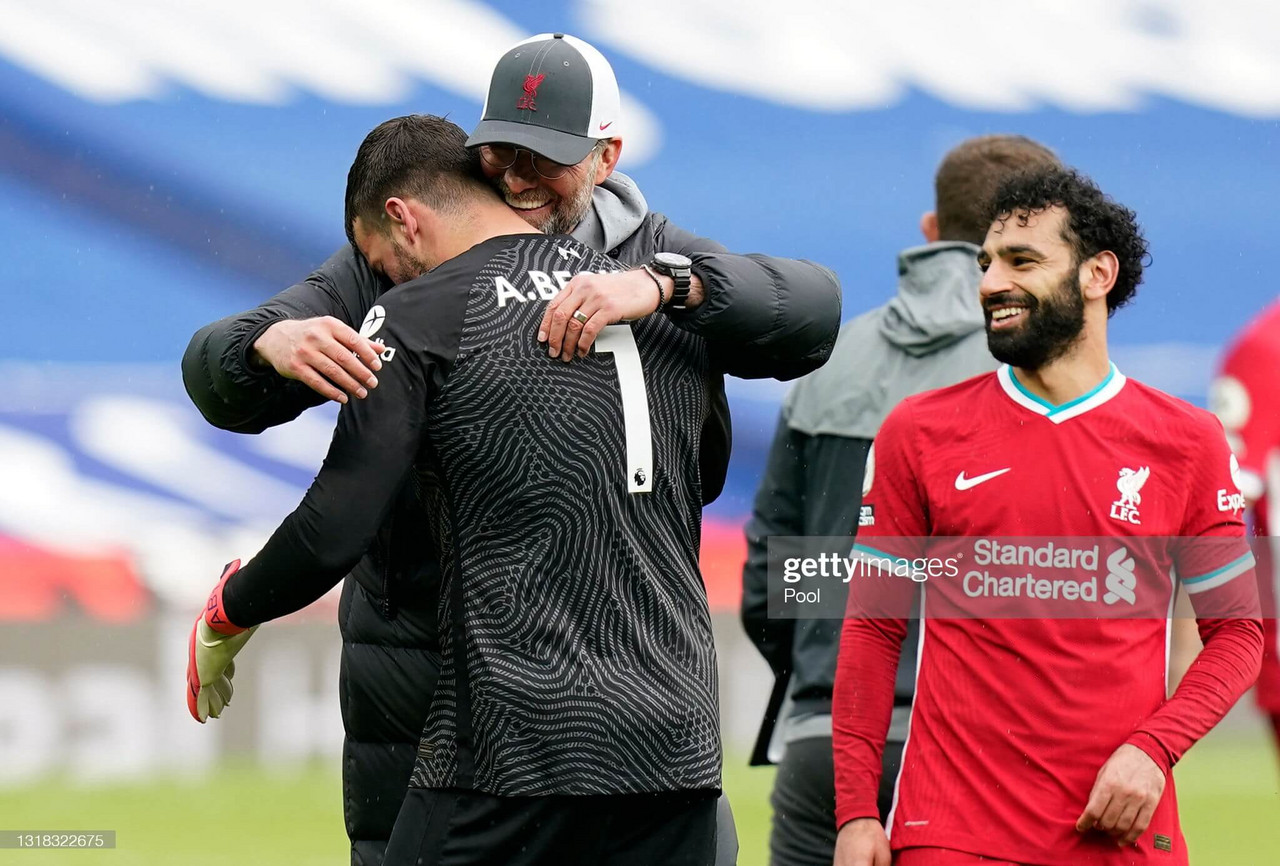 Liverpool were moments away from going back home with a point against a very stubborn West Brom side but a last gasp goalscoring heroics from goalkeeper Alisson Becker earned the Reds all the three points to take back to Merseyside.
Jurgen Klopp spoke to the media after another dramatic game.
Alisson goal reactions
Alisson is the first goalkeeper keeper ever to score a goal in 129 years of club history and it was crucial, Klopp felt the Brazilian was the ideal man in the ideal moment.
"I saw Ali starting [to go up]. My part of the goal is that I didn't shout, 'Stay back!' I just let him run. The last minute of the game, nobody has to ask usually a 'keeper for going in the opposite box when you have to win, which we obviously had to. He went there and what a goal! It was incredible.
"Wow. We saw it now already 10 times back in the dressing room. It's absolutely incredible. If Olivier Giroud scores a goal like this everybody says it's a world-class goal. When Alisson is doing it, we have to say the same."
The race for the top four continues
The Reds are now only a point behind fourth-placed Chelsea - who face Leicester on Tuesday night - and have two more games to secure the most unlikely of top-four finishes.
Jurgen Klopp mentioned he is looking ahead to the game against Burnley on Wednesday night and is not concerned about the teams around them.
"I am not sure, I'm not sure. I don't think we have to think too much about that. We knew today that it will be a tough one. We played against a team who went through a lot, a lot of pressure situations and in the end they couldn't make it.
"Today, free of pressure, but with a really good attitude, they gave us a proper fight. With then being 1-0 down, that obviously makes life not easier.
"In a game where you have constantly the ball pretty much and each time you don't have the ball it's kind of a set-piece, the next ball is a set-piece, how can you defend set-pieces 1,000 per cent against a team like West Brom? It's just tricky. So it was a tough job to do."
Injury update on Diogo Jota and Ozan Kabak
Jota also has another knock and is back in the medical room after a foot injury picked up against Man United.
The boss had an update after the game at Hawthorne's.
"Diogo, I don't know actually. As I said, it is not too serious but as always, you have to wait [to see] how it develops, how it heals. It is a little bone in the foot and we have to see.
"I think he will now be in a boot for two weeks or so and when he gets out of the boot then the doctors will check how it developed, how far the progress is, so I don't know that but of course, it is not a top moment."
The season is over for Ozan Kabak as he joins the long list of center-backs to be ruled out of action through injury, leaving questions marks over his future at Liverpool.
The boss added:
"Ozan, no. No for the long-term [injuries], Ozan isn't in the long-term [injuries] but nobody is coming back, I think."