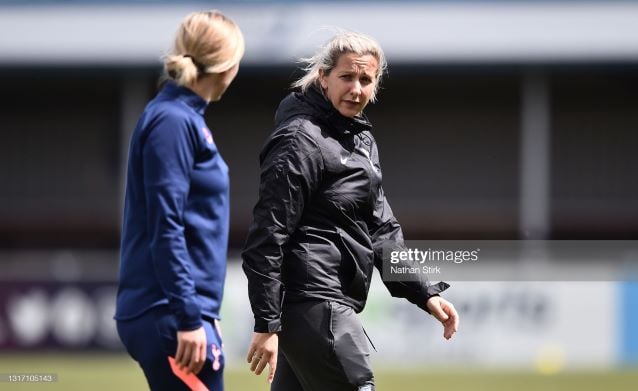 Aston Villa Women have announced former Birmingham City manager Carla Ward as their new manager.
Ward, who left Blues on Monday, replaces Gemma Davies in the Villa dugout. She had just a single season at Blues and guided them to a miraculous survival in the Women's Super League while also being nominated for the Manager of the Season award. She was heavily linked with the job at Arsenal earlier in the season due to her impressive performance, yet she has chosen to cross the Second City divide.
The Sheffield native will officially join up with Villa in June and won't be given a formal presentation until then. Her title as manager also implies that Villa will not be replacing outgoing Sporting Director Eni Aluko, who this week joined up with American side Angel City.
Shifting tides
Ward's appointment at Villa is the culmination of a chaotic two years for Birmingham City. Last season alone they had the squad complaining to the board over a lack of support, the board refusing to pay a small fee to have a derby match with Villa played, a forced temporary stadium move as well as seeing star after star leave the club.
Many of these players have ended up at Villa, with no less than four players making the trip across Birmingham. These included new Jamaican international Shania Hayles and Scottish World Cup star Chloe Arthur. Even Villa's current captain Marisa Ewers signed for Villa from their eternal rivals in 2019.
Villa is now seen to be a more attractive prospect for women due to the increased support from the board. The club recently incorporated the women's team into a newly redeveloped Bodymoor Heath training ground, giving them equal access to cutting-edge facilities with the men's team. Furthermore, men's manager Dean Smith has been spotted at women's games since being at the club while men's captain Jack Grealish has also been supportive of them.
Shock to many
Ward's arrival at Villa is a surprise to everyone. Not only was she heavily linked with the Arsenal job, but she was incredibly popular among Birmingham fans. She adopted Blues culture fully and showed remarkable passion for their two derbies with Villa. Yet, she has chosen to jump ship to join the Villans at the first opportunity.
Villa fans may be given flashbacks to the last manager who resigned at Birmingham to join Villa. This was Alex McLeish back in 2011, whose reign ultimately ended in failure and he was sacked after a season. However, there is plenty of optimism surrounding the appointment and the returning Villa can be assured that they have secured a top-class manager.