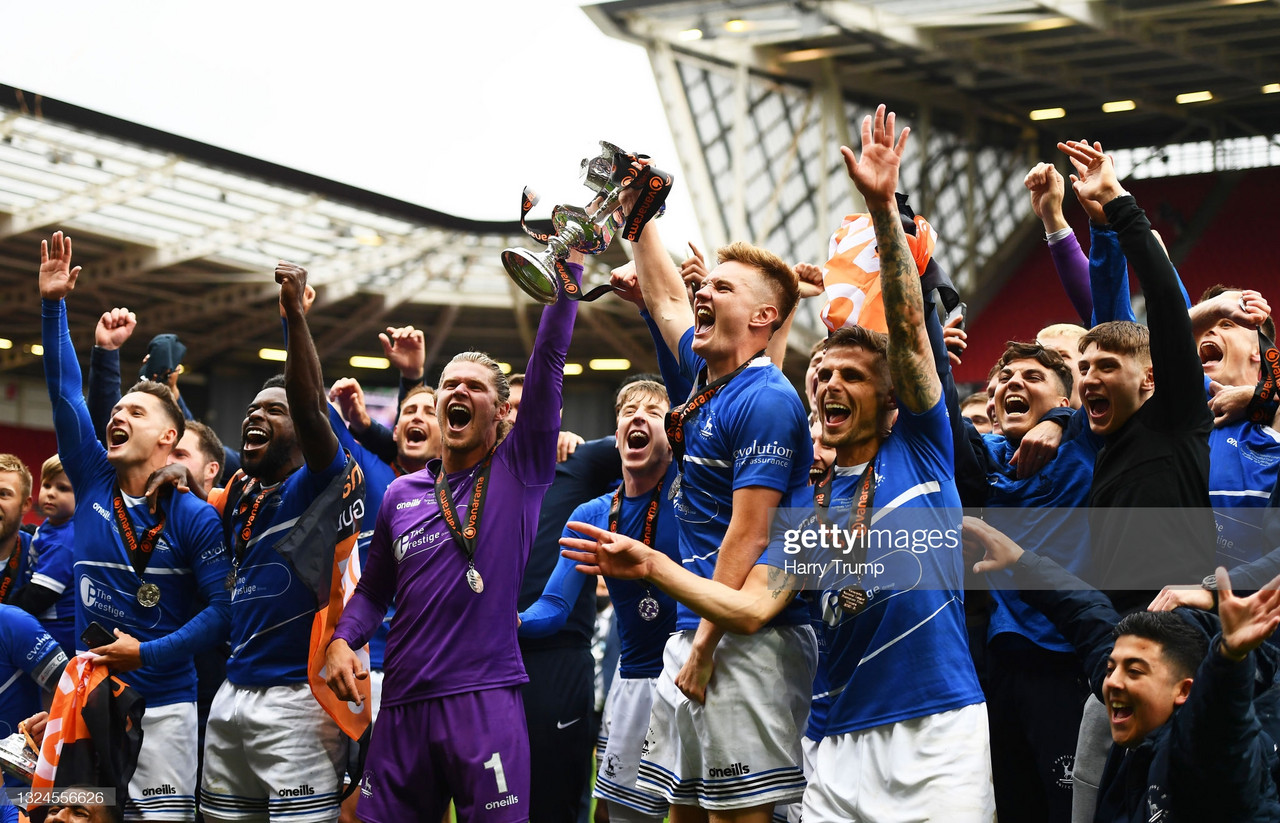 Hartlepool United have secured their return to the Football League after a 5-4 penalty shootout victory over Torquay United in the Vanarama National League play-off final at Ashton Gate, after the match ended 1-1 following 120 minutes of play.
Luke Armstrong scored in the 35th minute to give the Pools the lead and it seemed like that would be enough until Gulls goalkeeper Lucas Covolan scored from a throw-in in the 95th minute.
After Ryan Donaldson scored Hartlepool's fifth penalty of the shootout, goalkeeper Brad James saved from Matt Buse as the Durham-based outfit are back in EFL League Two after four years away while Torquay are condemned to an eighth successive season in the non-league.
Story of the match
Both teams had early goals disallowed. First, Covolan was pushed into his own net by Gary Liddle after Hartlepool had found the back of the net and that was followed by Kyle Cameron heading past James, but the goal was disallowed after a Gulls foul.
In the 17th minute, Gavin Holohan took the ball on the turn and played in Armstrong, who would have scored if not for Joe Lewis sticking a toe out to deflect it over.
Armstrong then saw his diving header from a Nicky Featherstone cross palmed away by Covolan. At the other end, James saved from Connor Lemonheigh-Evans. He then tipped over a shot from distance by Adam Randell.
The deadlock was broken when Oates saw his shot blocked by the Gulls wall, Armstrong gathered it in, turned and fired it past Covolan off the bar to make it 1-0 Hartlepool.
Oates then had a glorious chance to double the lead at the end of the half, but a brilliant save by Covolan tipping it over kept the deficit to one goal.
Disaster nearly struck Hartlepool four minutes into the second half as Dean Moxey sent in a cross that Hartlepool defender Timi Odusina nearly turned into his own net.
For a second time, Cameron thought he had scored only to see the goal ruled out for a foul. Asa Hall just saw his effort curl just over the crossbar from distance.
Covolan then played his part, saving brilliantly by diving to his left to keep out Holohan's long-range strike. At the other end, Wright flicked a header to Billy Wright, who somehow managed to poke the ball over from under the crossbar.
It seemed as though the Pools would see the game out until Torquay won a throw-in that Covolan headed past James to send the match into extra time.
Both teams had early chances in the first half of extra time. Walters saw his shot blocked by Liddle and Ryan Donaldson nearly poked in for Hartlepool. Wright then stung one that James easily saved.
Neither team had any chances of note in the second 15 minutes until an Armani Little delivery found Wright, who headed just over. The Pools then had a late chance deflected out and the match went to penalties.
In the shootout, Covolan saved the first two Hartlepool attempts while Walters slipped and Wright hit the bar for Torquay. Each team would convert on their next four attempts before Donaldson beat Covolan, leaving it to Buse, who saw his effort tipped onto the bar by James.
Man of the match: Bradley James
If Torquay had won, Covolan would have been the easy choice here and you could make a case for him despite Torquay losing. James gets the nod because he kept Hartlepool in the game while his side were under immense pressure and he saved Buse's penalty that brought the Pools back to the Football League. He made the decision by manager Dave Challinor to start him over Ben Killip pay off.
Takeaways
James makes up for his mistake
Speaking with the BBC following the match, the on-loan goalkeeper said he felt if he had stayed on his line for Covolan's equalizer, he would have saved it. While that's debatable, what isn't is that he shouldn't have come off his line to begin with. All of that is forgotten after his heroics in the penalty shootout.
Torquay rue missed penalties
It's hard to criticize a team that scores a 95th-minute goal by the goalkeeper just to force extra time and eventually a penalty shootout and had two goals disallowed that likely should have stood, but after Covolan saved the first two Hartlepool penalties, if either Walters or Wright converts, Torquay go up.
Challinor finally gets to manage in the EFL
After an outstanding playing career at Tranmere Rovers, Bury and Stockport County, the 45-year-old will at long last get his opportunity to call himself a Football League manager after missing out in this very game two years ago with AFC Fylde. That Hartlepool became the first team outside of the top three to be promoted in National League history speaks to the quality of Challinor as a manager.