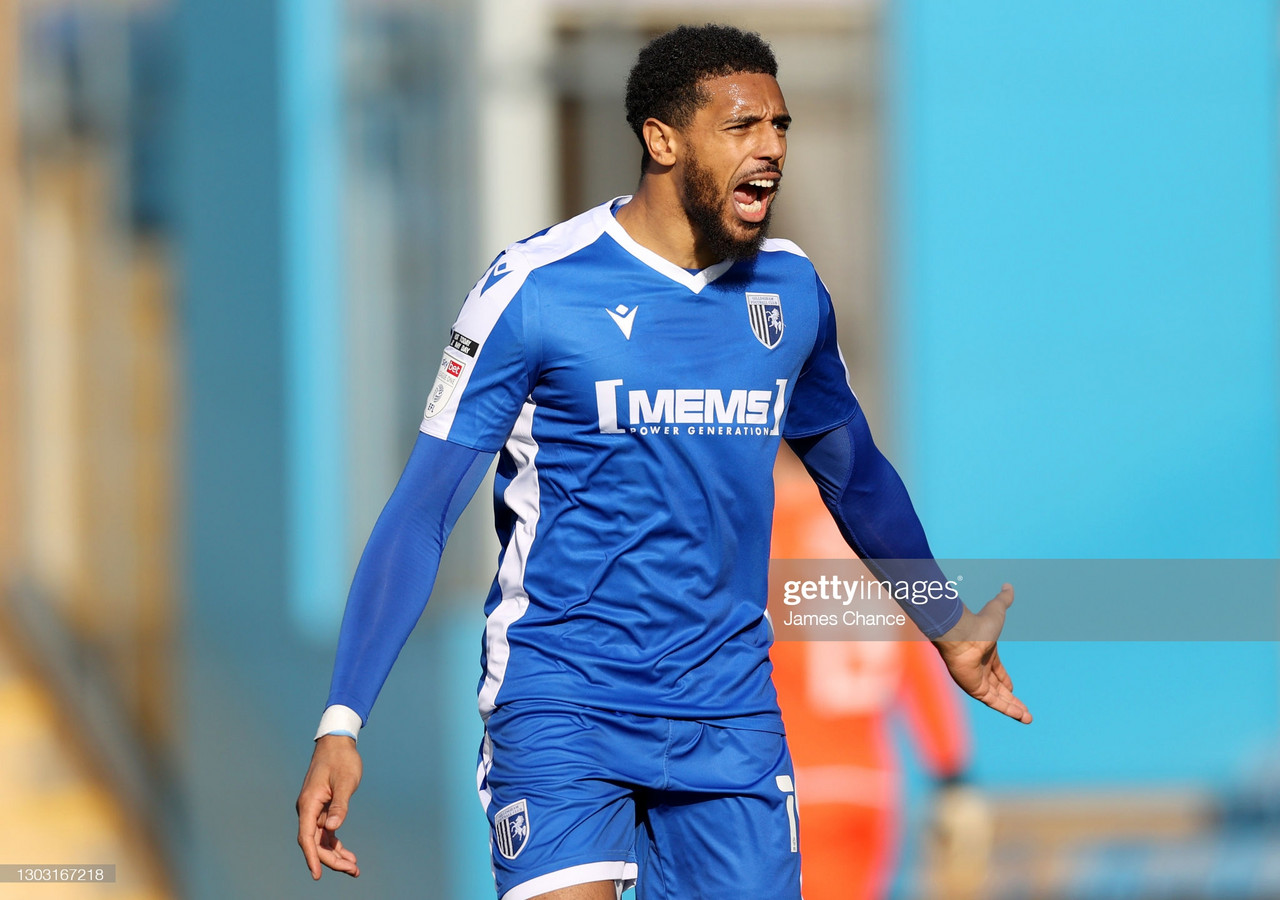 Gillingham will travel west to face Plymouth Argyle in their first away game of the 2021/22 League One season on Saturday with the aim of putting their maiden win on the board.
The Gills drew 1-1 against Lincoln City on the opening day after a Danny Lloyd debut goal but will be hoping to get on the board on Saturday when they take on Ryan Lowe's Pilgrims.
Ahead of the game, Gillingham forward Vadaine Oliver tackled the press. Here are five of his key quotes.
On the young players
"There are a few older heads, and we are trying to take them under our wings and help them as much as we can, and they have been terrific. That's all you can ask for – it is about experience, about leaning. They will make mistakes from time to time, but it is about helping them and encouraging them.
"When you come into a first team environment it can be quite daunting and nervy, but if they give everything the boys will be behind them – the first thing I did after Crawley was give them plaudits because I thought they were all terrific. I spoke to them all individually – we must make sure they feel welcome, they are part of us."
THAT'S THE SHOT!! 📸🙌🙌 pic.twitter.com/42BF9LFtId

— Gillingham FC (@TheGillsFC) August 10, 2021
Gillingham have limited numbers in terms of personnel at the moment so manager Steve Evans has been forced to delve deep into his squad and use a few of the younger players he may not have wanted to use at this point. But they haven't let him down.
Gerald Sithole, Harvey Lintott and Bailey Akehurst are all teenagers and have had minutes in the opening two games of the season, and the more experienced heads, such as Oliver himself, have taken those youngsters under their wings.
On the pressures of being a forward
"There is no pressure. I want to beat last year. I really enjoyed my time here last year and I have proved that if I get the chances, I will put them away. That for me is the biggest thing – I have had chats with Steve Evans and Paul Raynor about getting chances and they know, and I know, that I will score. If that doesn't happen, I will become a lone island, but I don't want that to happen and I don't think that will.
"You could see the opportunities we created against Lincoln. I want to hit 25 in total and 20 in the league."
As aforementioned, Gillingham are short of forwards and with John Akinde free to leave the club things are only going to get harder going forward. Sithole, Mustapha Carayol and Danny Lloyd have all featured up top this season, but Steve Evans will be hoping to bring in a forward or two before the transfer window closes to give Oliver some support.
Oliver is a confident player, though. He won't shy away from any responsibility and will back himself to perform.
On life without Jordan Graham
"Jacko [Ryan Jackson] delivered a lot of assists for me. A lot of teams started to double up on Jordan and what he brought to the team was getting crosses into the box and because we both thrived on it the whole team did that as a collective. This year, it is early doors, but we must find other ways of scoring goals. Others will have to chip in, but we will be fine – I will still get chances."
Winger Jordan Graham was a key player for Gillingham last season and formed quite the partnership with Oliver on the pitch. In the summer, however, Graham left to join Birmingham City, leaving the Gills with a big hole to fill.
Some wondered how they would fare going forward but in their season opener against Lincoln City, Evans' side created plenty of chances, finding a different route at times. Signs suggest creativity won't be a problem, despite the departure of Graham.
On staying at the club
"Truthfully, leaving crossed my mind just due to the fact it is tough being away from my partner and children. But it wasn't something I was going to force – if something came up at a higher level, given my age and that I have always wanted to prove myself at a higher level it would have been something I would have had to look at, but my head is geared on – as hard as it is being away from my family, my focus is here and I just want to score goals."
Oliver scored 20 goals in all competitions last season so naturally there will be clubs sniffing around for his services. It hasn't been easy for the big forward in Kent, away from his family with travel and contact restrictions in place for most of his stay so far.
Only some will know how far any interest got for Oliver, but there's little doubt now that he is fully focused on his challenge ahead.
On the importance of scoring an early goal
"I know my chances will come – it is nothing I am worried about. You always want an early goal. It becomes hard if you are six or seven in – you don't want that.
"You want to hit the back of the net, get it off your back and crack on, but as a striker it is important to have that confidence. I feel confident as hell based off what I did last year and knowing the gaffer plays to a lot of my strengths.
"I am confident, I enjoy it here, and that is the main thing. You will then always do well."
Oliver lost out to Danny Lloyd in the battle to be awarded the opening goal of the Gills' season against Lincoln and missed a good chance in the second half to open his tally. He will want to be on the board sooner rather than later, but he is confident that will happen.