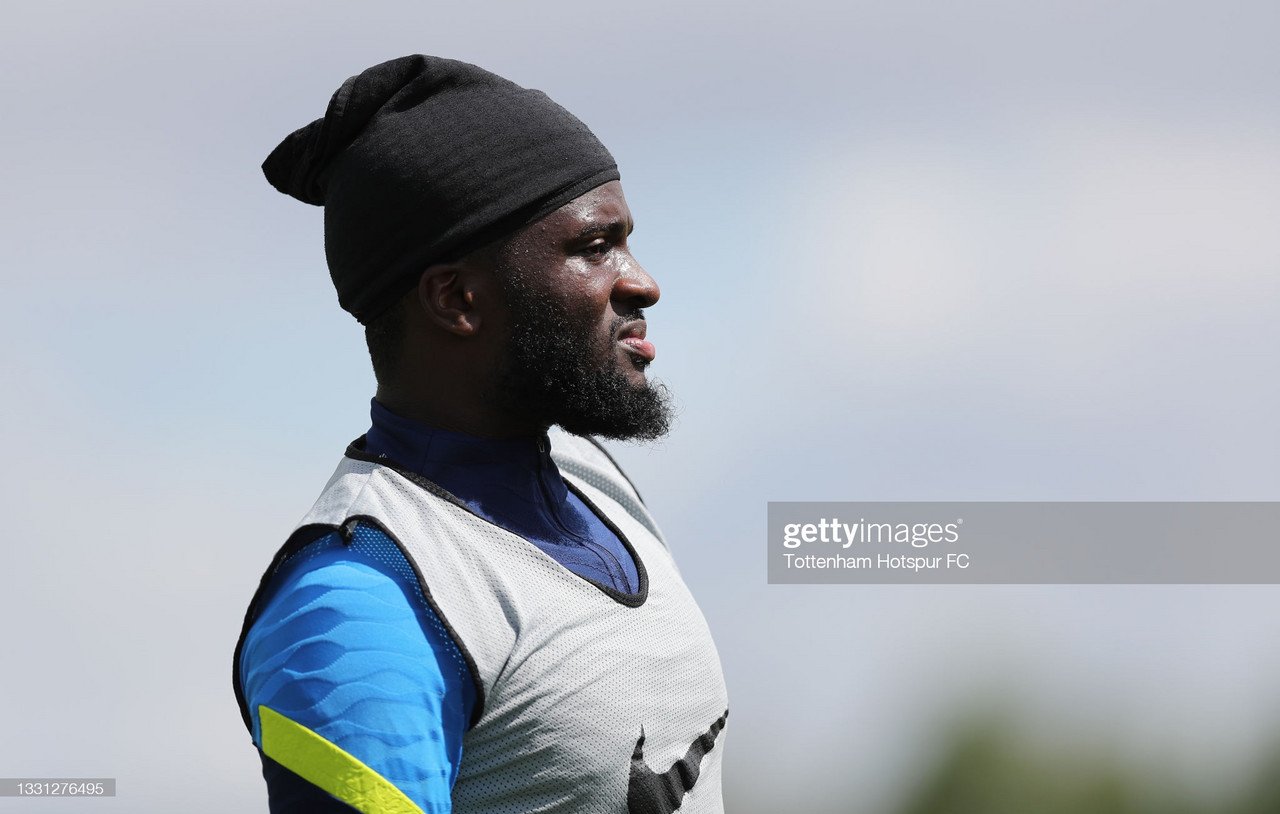 The news has once again emerged that Tanguy Ndombele is looking for a route out of North London, with Nuno Espirito Santo also confirming the Frenchman will not make the squad to face Wolves this weekend (Sun).
Ndombele struggling again at Spurs
After five pre-season friendlies, one Premier League match and a trip for the Europa Conference League, Ndombele has been seen a grand total of zero times. For a player who missed out on the France Euro 2020 squad and, therefore, had the entire summer to work on his fitness, this is disappointing, to say the least.
But really, Tottenham fans should not be surprised. This is a mere continuation of a trend Ndombele has shown since his first days in North London. While he clearly has a love for football and the flair he can bring to the game, he equally has no desire to knuckle down and work for the wins.
First season problems. Falling out with Jose Mourinho. Injury problems. There are certainly many contenders for Ndombele excuses. However, the simple fact is that he has been with Spurs for more than two seasons and has failed to earn favour with four managers in a row.
He didn't exactly hit the ground running under Mauricio Pochettino, struggled at times under Jose, rarely used by Ryan Mason, and is now seemingly nowhere to be seen under Nuno. That points towards a player problem, plain and simple.
The midfielder himself previously admitted he wanted to leave Tottenham almost as soon as he arrived at the club, struggling to adapt to Pochettino's infamous double pre-season training sessions.
What has Ndombele said on the matter?
Ndombele told Football London: "It was incredibly tough. I remember that I was even calling home to my friends in France saying I want to come back.
"It was so, so tough, but perhaps it was what I needed. I needed to get used to that sort of work, to that sort of training and over time to acclimatise to it."
Ndombele once again, rather more seriously this time, wanted an N17 exit at the end of his first full season at Tottenham, now under the management of Jose Mourinho. Of course, the Frenchman and the Special One had endured some rather difficult moments by this point, including when Mourinho hauled him off at half-time against Burnley and criticised him to the press (Independent).
On how close he was to leaving in the summer of 2020, Ndombele told Football London: "To be perfectly honest with you I don't know how close I was to leaving.
"What I know is that I did want to leave. I spoke about this with people at the club and particularly with the chairman.
"The chairman said he didn't want me to leave and definitely that's something that really helped."
Last season was certainly an improvement for Ndombele in a Spurs jersey, playing 33 Premier League games and, at one point, being one of the first names on the team sheet for Mourinho. Yet he tired towards the end of the campaign, was used sparingly by Mason, and ended up missing out on a call up to Euro 2020.
Now, in the current transfer window, it has emerged that Ndombele wants to leave again. The Athletic has reported that the Frenchman is open to an exit, albeit an unlikely one seeing how there are only two weeks left in the transfer window and Daniel Levy would probably charge a hefty sum.
In my opinion, Ndombele will be here for the next season, so it is once again a case of knuckling down, putting his grievances behind him, and fighting for a place. You just get the impression that the player lacks the necessary fight needed for the Premier League.
Ndombele has shown he isn't the type of player willing to run through brick walls, track back, and throw his body on the line for the team. But do Tottenham even need him to?
Under Nuno, there is now a new system, a system in which I believe Tanguy could thrive. A midfield three, providing he is alongside a hard-working duo (take your pick from Pierre-Emile Hojbjerg, Oliver Skipp and Dele Alli), could be the perfect system to see Ndombele thrive in England.
License to roam around the centre of the pitch. An ability to collect the ball from deep or push up and join the attack. Freedom to waltz around and make the pitch his.
Pochettino always said he wished he had been able to coach Mousa Dembele from a young age (Independent). Well, Ndombele is that player. He is the closest thing I have seen to the power-house twinkle-toes hybrid that was the Belgian midfielder.
If he can just unlock that spark in his mentality, he could become one of the Premier League's best. If not, he could finally get his wish of a transfer away.