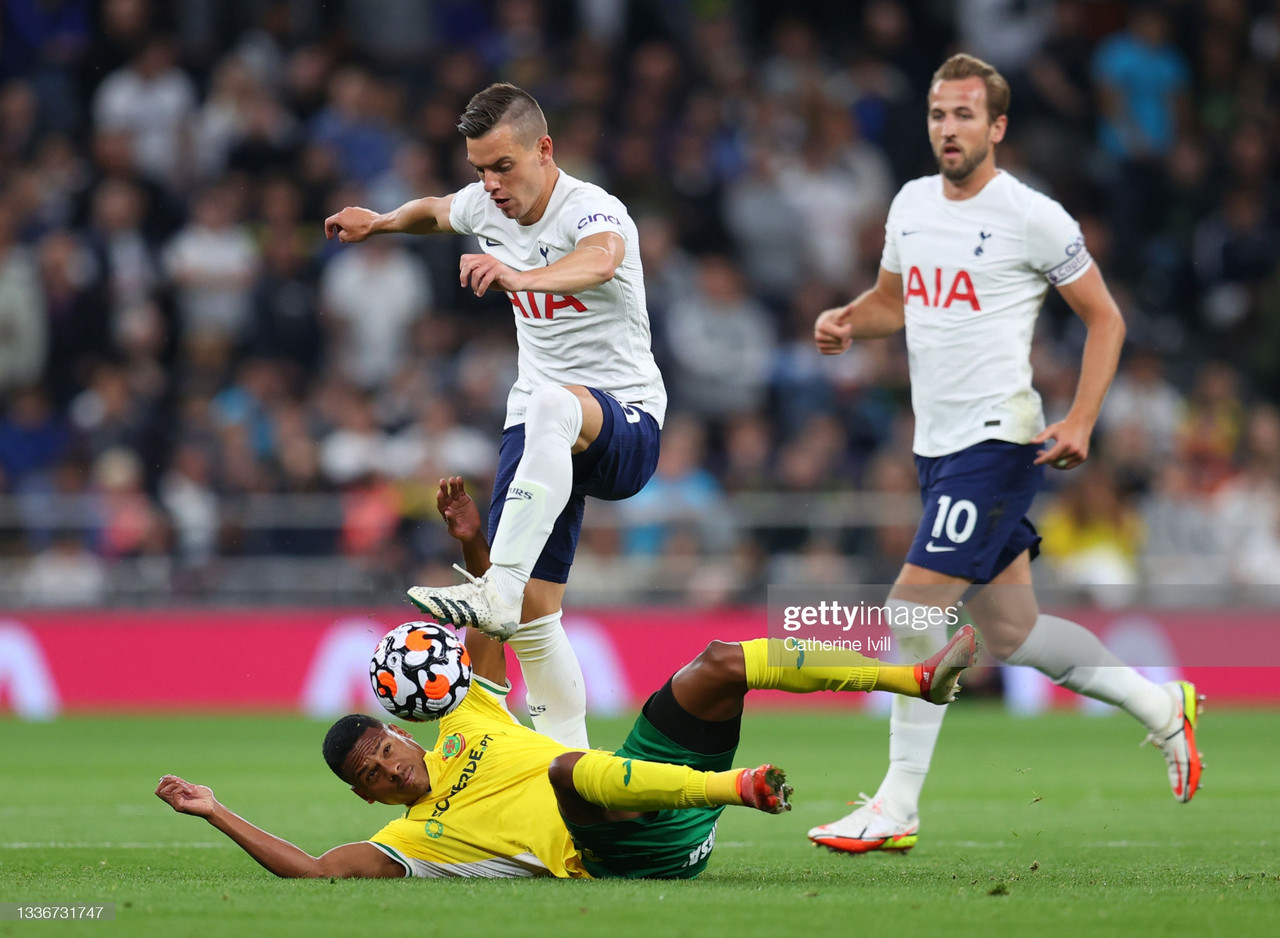 Tottenham Hotspur have started the new season like a house on fire, not only qualifying for the group stages of the Europa Conference League, but also recording three wins out of three in the Premier League.
In their three league victories, Tottenham have yet to concede a single goal, although they have only scored one per game themselves.
While Nuno Espirito Santo will surely be thrilled with the improvements in defence, something Spurs struggled with last season, he may want to see a more free-scoring side in future matches.
Having retained the services of Harry Kane for at least another six months, as well as signing Heung-min Son to a new contract, there are goals aplenty in this Spurs side.
The likes of Steven Bergwijn and Lucas Moura will also be looking to chip in with a healthy number of goals between them when occupying the third attacking role.
However, one problem Tottenham now face is consistent creativity. With the pinpoint accuracy of Christian Eriksen a thing of the past, who could step up into his mantle this season?
Giovani Lo Celso
My main contender for the playmaker role this season would be Giovani Lo Celso. Ever since the Argentine joined Spurs, we have been treated to little tastes of what he can do, but never quite the full meal.
Against Pacos de Ferreira in the Conference League qualifier second leg, Lo Celso ran the show and created countless chances for him and his teammates.
The midfielder's trademark is picking the ball up from deep, driving at the heart of the defence and looking to make something happen, whether that be from a shot or direct pass.
I feel that the midfield three system under Nuno could be perfect for Lo Celso's game once he gets up to speed this season, as it will give him the freedom to roam and create at will with a solid base behind him.
While he is not a player built in the mould of Christian Eriksen, he could actually be better suited to creating in a 4-3-3 than the Dane thanks to his speed, direct running, and close control.
I really want to see him step up this season and get a few consistent displays under his belt, as well as double-digit assists.
Dele Alli
The Dele Alli of old under Mauricio Pochettino was a goal and assist machine. However, it has to be said, during this time he was playing pretty much as a number 10 behind Harry Kane.
You cannot expect someone to score or assist as much from a deep-lying midfield role when compared to centre-forward. Having said that, we can expect and demand an increase from his last two seasons.
Dele raised the bar extremely high for himself during his initial seasons at Spurs and has struggled to maintain those standards ever since, culminating in being frozen out by Jose Mourinho last campaign.
However, in the opening few Premier League matches, we have seen Dele play as the more attacking and creative midfielder in a three, with Pierre-Emile Hojbjerg and Oliver Skipp sitting deep.
Even in this role, I would argue that Dele's main task has revolved around pressing, winning the ball and starting attacks, rather than chipping in with goals and assists.
Despite this, his late runs into the box have created goalscoring chances for him and he netted a penalty against Wolves.
Honestly, I wouldn't expect more than five assists and five goals from Dele in this role; I think that would represent a fantastic return while his other attributes would bring a lot to the team.
What I do want to see is Alli stepping up and becoming that creative force during games in which Spurs have the vast majority of the possession. That is where his goals and assists will come.
Tanguy Ndombele
With Tanguy Ndombele, I guess the first question is: will he get back into the team under Nuno?
The Frenchman reportedly wanted to leave Tottenham this summer and Nuno may not want to place his unwavering trust in a player who does not even want to be there.
Having said that, a three-man midfield suits Tanguy down to the ground. His whole game revolves around ghosting into pockets of space, rolling opposition players and driving at the goal.
In terms of talent and style, he reminds me of a more attacking Mousa Dembele, which is certainly a huge compliment.
It is frustrating because I wholeheartedly believe that a fit Ndombele willing to work hard and put in the graft would become a Premier League star. There are no question marks about his skill.
In this formation, I think he could be that linchpin between defence and attack, able to carry Spurs up the pitch and, most importantly, unlock the defence to create chances for Kane and Son.
I guess it comes down to whether Tanguy wants it or not.
Honourable mentions
While these three would be my top picks for players who could become consistent creative outlets for Spurs, that is not to say the list is exhaustive.
We have seen how creative Hojbjerg can be when he steps out of that three for Denmark and Tottenham. Moura and Bergwijn will also hope to put a few on a plate for Kane and Son across the season.
Sergio Reguilon's crossing from the left and Emerson Royal's driving from the right could also be an outlet for success in the coming months.
Of course, Kane and Son themselves are more than capable of creating chances for each other, as we often saw last season.
However, if we are looking for one man to step up and scream, 'I am Tottenham's creator-in-chief', I would look towards Lo Celso, Dele and Tanguy, begging one of them to make the role their own.