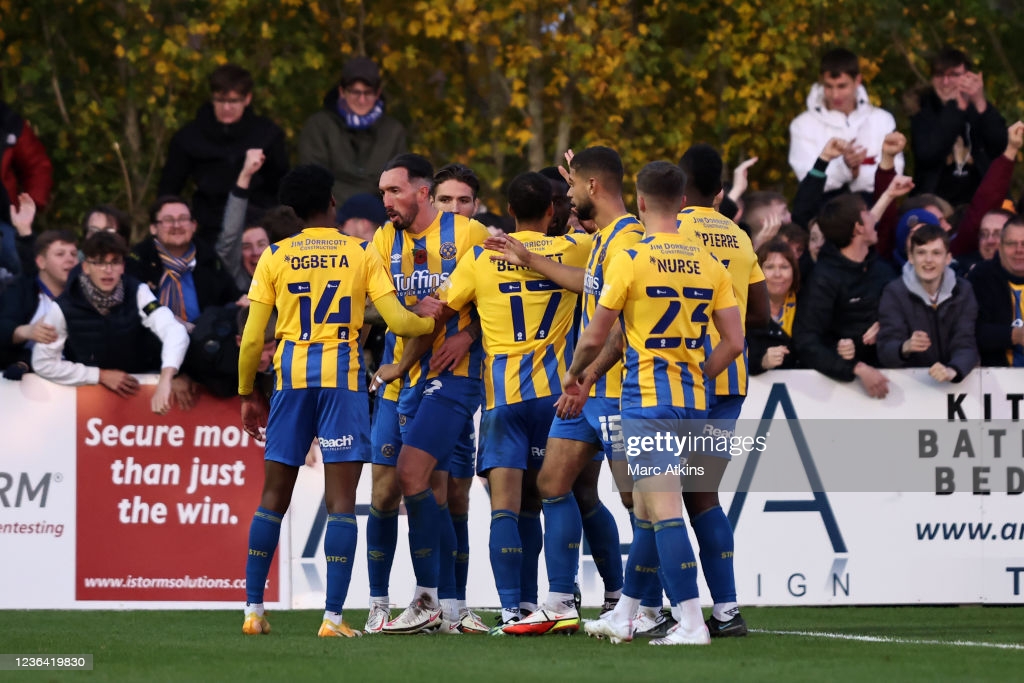 Shrewsbury Town have booked their spot in the second round of the FA Cup with a convincing 5-1 victory over Stratford Town at Knights Lane.
Will Grocott gave seventh-division Stratford a sixth-minute lead before Shrewsbury took control, a Ryan Bowman brace giving them a 2-1 advantage at halftime.
Second-half goals from Luke Leahy, Elliott Bennett and Tom Bloxham ensured the Shrews, battling relegation in EFL League One, will see their name in the hat for tomorrow's second-round draw.
Story of the match
It didn't take long for the non-league minnows to open the scoring as a corner found Grocott on the edge of the box and he shot under Shrewsbury goalkeeper Harry Burgoyne to make it 1-0.
Nathanael Ogbeta was the first Shrews man to have a meaningful shot as he dribbled past his man and let off a curling shot towards goal that was just off target.
Ogbeta was a continual threat on the left wing and in the 25th minute, he set up Bowman for the equalizer. The forward was in the right place at the right time and was able to tap home from close range.
Ten minutes into the second half of the fixture, Bowman netted his second as it was again Ogbeta who set him up, floating a ball towards the back post that Bowman tapped home from a yard out.
Four minutes later, Leahy doubled Shrewsbury's advantage as he picked up the ball on the edge of the box and guided his effort into the top corner of the net, leaving goalkeeper Liam O'Brien with no chance.
The added a fourth a short time later when Bennett stood over a free-kick from 20 yards out and fired his effort high into the top corner of the net.
A fifth came in second-half stoppage time as Bloxham ran through the Stratford's defense to slot a wonderful finish across goal and into the corner to top off a strong performance by the Shrews.
Man of the match: Nathanael Ogbeta
While Bowman will get all of the headlines for scoring twice, it was the 20-year old who provided his number nine with outstanding service onC both goals.