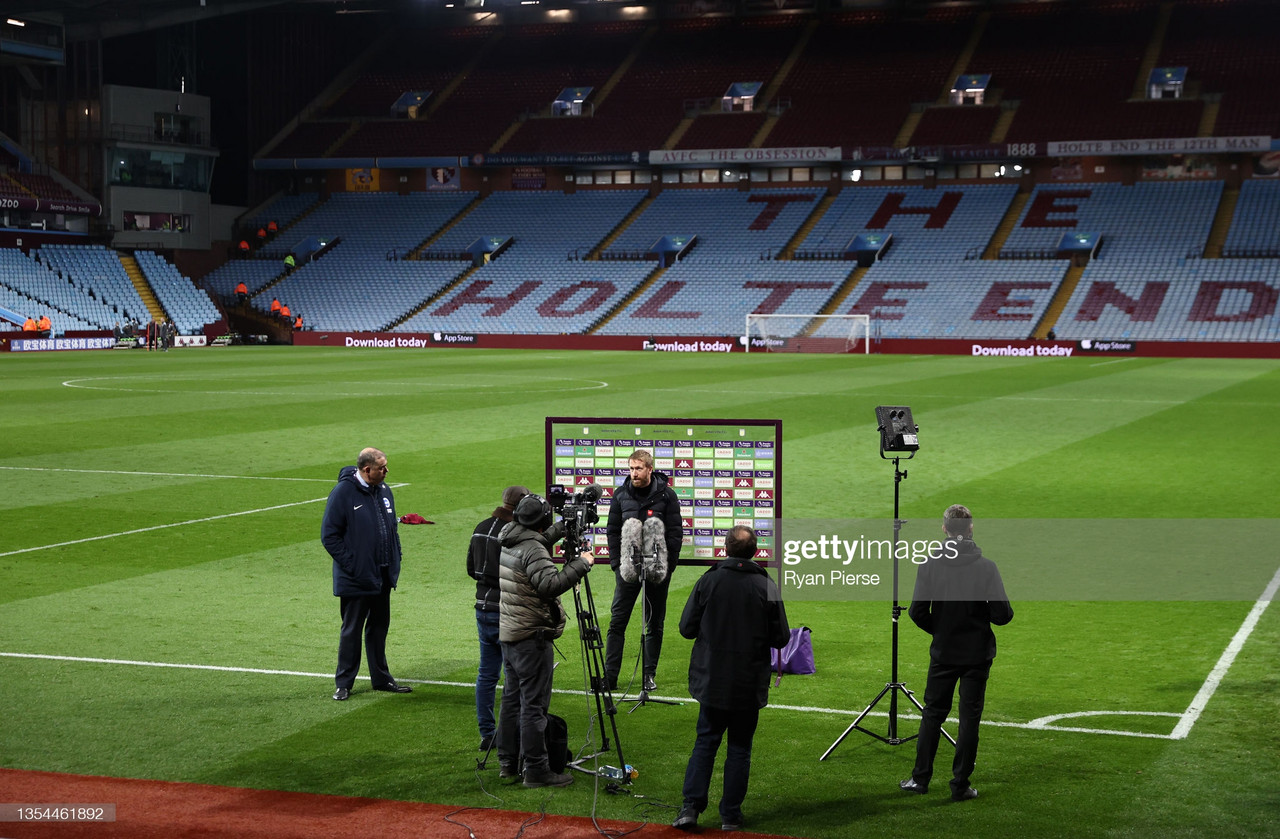 Graham Potter didn't beat around the bush in his assessment of fan reaction to a draw against Leeds United at the AMEX.
Brighton & Hove Albion are currently on an eight-match winless run in the Premier League after achieving victory in four of their opening five games.
Following Saturday's draw, Potter expressed discontent at the reaction from a "minority" of supporters who felt it was necessary to boo the Seagulls as another top-flight encounter passed by without that elusive victory to compliment another promising performance.
Speaking to Match of the Day after the clash, Potter said, "I really enjoyed the performance, really enjoyed the team, thought they were fantastic - I am a little bit perplexed to the reaction in the crowd at the end because the performance was fantastic against a team that like to dominate possession, like to out-run you, they didn't do that today."
Despite feeling compelled to voice his opinion on the matter, Potter thanked support from fans after his comments went public and mentioned the importance of clear and consistent communication between the club and its fanbase.
The Premier League returns for midweek football, and Brighton face high-flying West Ham United away from home, with an incentive on subduing the energetic offence that United have to offer and combatting it with a resilient and determined approach.
Promising signs despite recent issues
Granted, a prolonged spell without a win in the Premier League will result in frustrated figures; after Brighton's resounding start to the campaign it is only natural for fans to yearn for further points to continue the excellent period in the club's history.
But, as Potter rightly reminded certain individuals: "We are sitting eighth in the Premier League but maybe I need a history lesson on this football club."
His sarcasm-tinged comment stamped home the reminder that Albion remain in the top-half of the table going into December, and the club are in good stead to continue to remain as an established club top division outfit for the first time in their history.
When expressing his thoughts ahead of his sides next match, he said: "After a game sometimes when it's emotional, you don't think as clearly as you would do out of that situation. I'm sure there will be people who think it was a bad reaction and think it was over the top, and that's what it is."
"There will be times when the team will be deservedly booed because that's life and sometimes we don't perform as well as we would have liked and we don't win."
Refreshed forward presence needed?
Whichever way Brighton's issues are viewed, analysed, discussed, and debated; more often than not the solution will be concluded as a need for a new striker.
Despite sitting in eighth place in the league after 13 matches, the Seagulls have only scored 11 times, emphasising the need for more firepower to compliment the sustained positive play that has become a staple point of Potter's philosophy on the South Coast.
Despite this, Potter appeared content with the options available, with cries for additions easier said than done.
"It's too easy to look for an external solution but I understand when we're not scoring, that's the question and that's what people want.
"If we spot a player that can improve us, we'll do that but at the same time it's really important to understand the players we have and the journey they're on - they are still going to make mistakes and get better - so there's a lot to be happy and excited about."