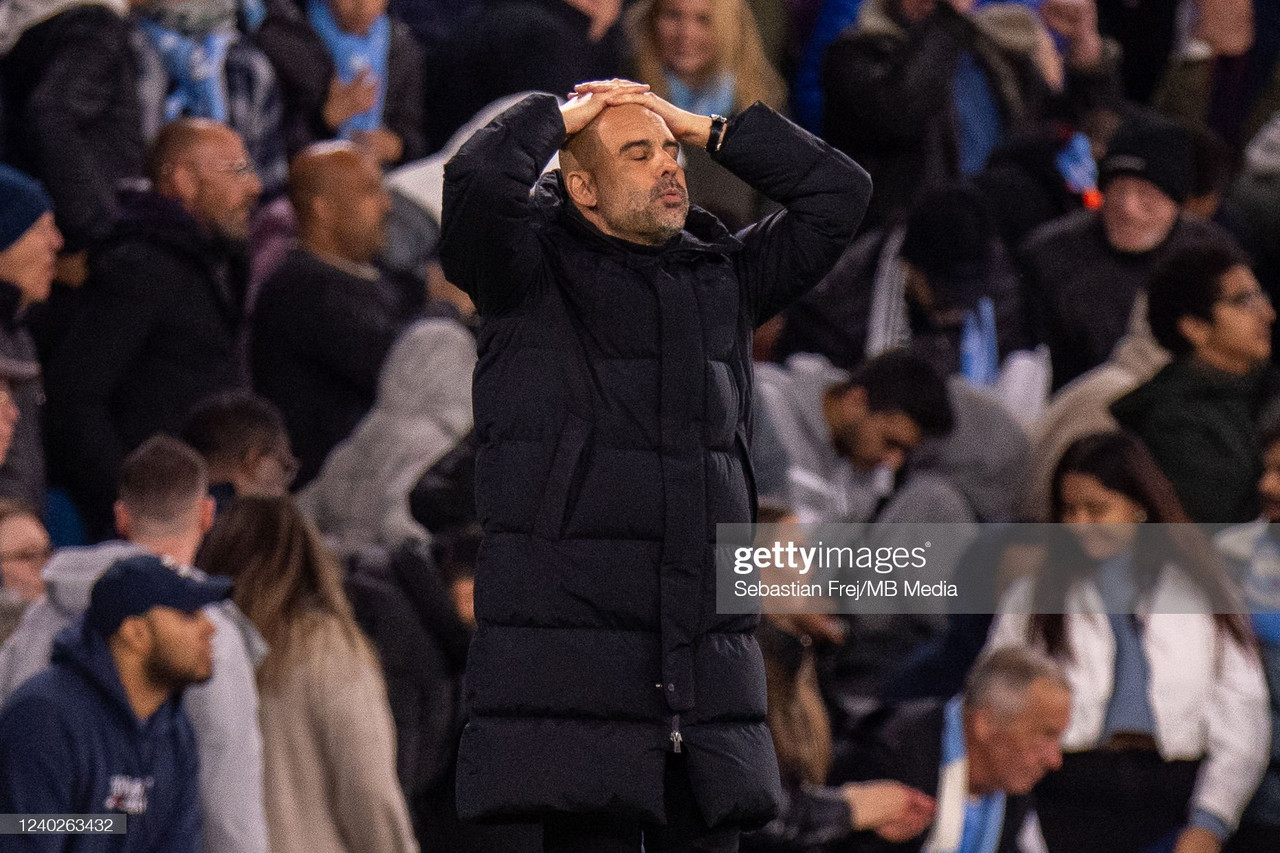 Manchester City ensured that they will have a lead to take to Madrid for the second time this season, as they edged past Real Madrid in a 4-3 UEFA Champions League thriller on Tuesday night.
Pep Guardiola addressed the press following the game. Here is what he had to say.
On Performance
"It was a good game of football. Both teams with an incredible amount of quality players on the pitch with an incredible personality to play. The result is what it is, we won and now we are going to rest and prepare for Leeds.
"We are going to travel to Spain next week. To win this competition from my experience you have to overcome situations that football puts in front of you. The result could have been better but it is Madrid. It doesn't matter with 1-0 up or two or three.
"You have to perform really well for two games and we performed really well for the first one and now we have to do it for the second one.
"It was a good test to show our personality as a team, and we are going to travel there to win the game."
On Missed Chances
"We missed but we created. We were there all the time. Maybe we have to defend well or maybe we have to put the chances [away]. But we were there so there is not one complaint about the result, not one complaint about the performance. Anything.
"I am so proud, I am so incredibly happy with the way we performed in front of the world. We did everything to win, we showed courage with the ball and without the ball.
"Now we recover and hopefully we can arrive quite well to the game in Leeds and in Madrid."
On Result
"I am not going to say in one word that we deserve more but football, as a result, is a result. How we performed was exceptional in our terms. Nobody can say that the football game was not good because both teams want to try to play and try to win and hopefully we can do a good performance [in Madrid] as well because we need it.
"Hopefully we can raise the level and play better to reach the final. But this competition demands that. In the end, the chances that we create we have to convert. We were really really clear but we didn't do it and it's okay.
"I want to convince my players that we won the game, that they don't have to have their heads down, heads up and know that we have to go to Madrid to win the game. Now we're one up but it doesn't matter if you are two or three or four. They are able to score three goals in ten minutes, they have this ability.
"We have to try and be ourselves and it will be a good test. We will prove for ourselves in an incredible scenario."
On Stones & Fernandinho
"I just say thank you both. John [Stones] for the effort to do it, and Fernandinho, he played once in the first season at right-back. It is not easy to control Vinicius, he is an outstanding player but he did everything. That is why Fernandinho is such an important player but I knew it. I knew that he would perform well."
On Whether He Enjoyed The Game
"Absolutely. Absolutely. We already have a lot of experience with Tottenham and the disallowed goal and the goal for [Fernando] Llorente with his hands. This competition gives you this emotion.
"I think no one can say they didn't enjoy it. I think it is a good advertisement for football so I think to congratulate Madrid and Man City for what we have done.
"But it is two games we knew it before the game, it doesn't matter what happened here we have to go there and with a better result than today we still have to go and do a new game and it is going to happen."