Tim Howard had big gloves to fill when he arrived at Everton as Nigel Martyn's long-term replacement, but as he prepares to end his 10-year association with the club this summer, the United States goalkeeper will leave a great legacy both on and off the pitch.
Having lost his place in the starting line-up earlier this year, the end of his Everton career has been suggested over the past few months, but news of Howard's imminent departure will be met with sadness as well as resignation that it is the best move for all parties.
A legacy highlighted with milestones
Goalkeeper is the most unforgiving position on the pitch, and Tim Howard has been widely criticised this season, but it is the highlights of his decade-long stint as the guardian of Goodison Park which deserve recalling.
Only League and Cup winning goalkeepers Neville Southall and Ted Sagar have made more appearances in the Everton goal than Howard's 412 in all competitions. No Toffees goalkeeper has recorded more Premier League appearances (352) and clean sheets (115) than the 37-year-old. There was even a goal to celebrate along the way, when Howard scored from inside his own area, albeit wind assisted, against Bolton Wanderers in January 2012.
Howard became the model of consistency; ever reliable and regularly producing excellent saves and impressive performances. His consistency was a key part of several successful seasons under the management of David Moyes and also played a vital role in Roberto Martinez's first season in charge when Everton recorded their highest points tally in the Premier League.
He produced his best form in the 2008-09 season, when the Blues finished fifth and reached a first FA Cup final in 14 years. An excellent campaign led to a new club record for most Premier League clean sheets in a season (17). Quick reflexes and a strong shot-stopping ability were the prominent attributes when Howard was on top form.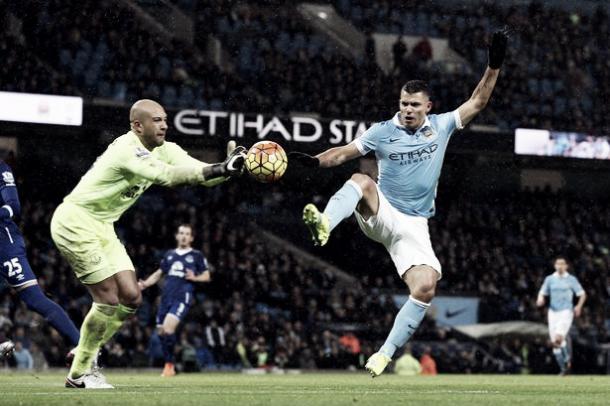 Appearance figures reflect the near ever-present status enjoyed throughout most of his 10-year association with the club. Starting with his Everton debut in August 2006, Howard missed only four of the next 255 league games en route to a club record 210 successive Premier League appearances. Howard ranks 13th on appearances in all competitions (412) and is the only Blues goalkeeper to post 100 or more Premier League clean sheets (115).
A further 17 in all competitions puts Howard (132) in third place behind club legends Gordon West (155) and Neville Southall (269) on the all-time list. The milestones do not stop there. In the summer of 2014, he showed his quality on the global stage, making a record-breaking 15 saves in a World Cup tie against Belgium. This proved to be the crescendo of his career as a growing reluctance to leave his goal line left him open to criticism, while other errors started to creep into his game.
Howard has still, however, highlighted his quality and has produced some stand-out performances this season. He kept out title-chasing Tottenham Hotspur almost single-handed in September, before he celebrated becoming the first Everton player to play 350 matches in the Premier with a clean sheet at Manchester City.
Although Howard has failed to demonstrate his exemplar consistency on a regular basis this season, the ability and loyalty he has shown for almost a decade will most certainly be remembered.
From an ambassador to a mentor, Howard's legacy will be long lasting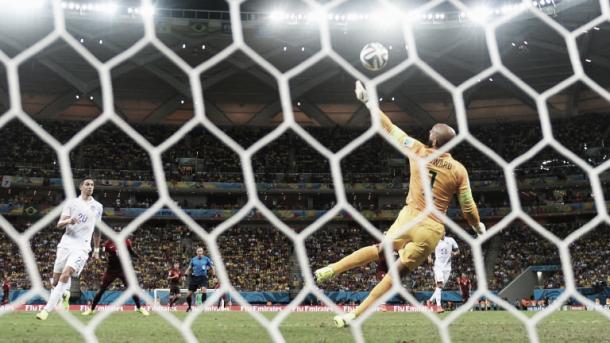 Roberto Martinez identified Howard's "incredible character" and "influence on young players" as defining features of his decade at Goodison and Howard's contribution goes further than just simply on the pitch, he has had a huge influence as an ambassador and mentor at the club.
His experience and love for the club has been vital when developing players and new players arriving at the club and will leave a long standing legacy. Chairman Bill Kenwright described Howard as the "perfect Blue", a player who seemed to cherish the club the same way supporters do. He understands what it takes to play for the club and ensures that young players and new players know and live up to what is expected.
Howard has not only been a mentor at the club, but also a great ambassador and he will assume an informal ambassadorial role for Everton when he embarks on the next chapter in his career. The club already has a large following and a big Everton community in the USA mainly because of the influence of Howard and with the 37-year-old heading back to his homeland this will only continue to grow.
He had big gloves to fill when he arrived at Goodison Park as Nigel Martyn's long-term replacement and he filled them impressively. Whoever replaces Howard as Everton's next number one, certainly has big gloves to fill too as his legacy will be long lasting.