Tottenham Hotspur's uncharacteristic defeat to West Ham, due to a Michail Antonio header in the seventh minute, denied them the chance to go to the top of the Premier League.
The game saw Tottenham's poorest performance of the season; they never properly looked in the game. Mauricio Pochettino's men pride themselves on the energy they bring to the pitch often through pressing their opponent. However this time they lacked rhythm, intensity and momentum through out the game. The Lilywhites barely threatened throughout, even though they dominated possession. Spurs saw only nine shots on target, which is terrible for a team who are used to that statistic being deep in the twenties.
Yet the result could have gone a lot worst for Tottenham. Luckily for them title rivals Arsenal and Manchester City both also lost, meaning that neither have gained ground on second place Spurs. Tottenham still have the chance to go top on Saturday if they beat Arsenal and Leicester City lose.
Full-backs
This season has seen wonders for Tottenham's full-backs. All four have thrived under Pochettino and so have been on top form and hardly at fault this season. However, did Mauricio Pochettino himself make a mistake to which set of full-backs should have played last night?
Tottenham lacked width and pace in their performance last night. While Ben Davies and Kieran Trippier can provide this, Danny Rose and Kyle Walker would have been the better option. Yet the two were played against Swansea, an opposition in which pace and width isn't as necessary. Had they been rested then and played last night it is possible that the result would have been better.
Trippier and Davies normally very composed in their positions and are very much aware of the space on the field. Yet yesterday they seemed to lack this, neither made the vital runs forward or crosses into the box they normally do so well.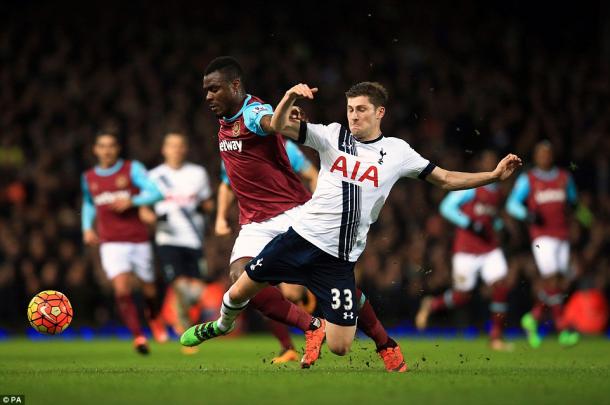 How much did Tottenham miss Dembele?
One of the main problems through out the game for Tottenham was taking control of the midfield. While Tottenham have coped well with the absence of Moussa Dembele the physicality of this West Ham team caught them out. Dembele's physical power and dominance over games makes him the player he is. On top of this Dembele helps Spurs dominate games through his ability to win back balls and so aid Mauricio Pochettino's pressing game. His ability in midfield would have helped Tottenham to gain rhythm in their play and so allowed them to have more shots at goal and even maybe win back the game.
It is likely that Tottenham will still be without Dembele on Saturday for the North London Derby.