Just as the title race looked to be blown wide open it was quickly snapped shut as Tottenham Hotspur drifted seven points wide from the top of the league with a 1-1 draw against Tony Pulis's West Brom.
Leicester City only need three points from the next three games to win the title, which means that a win on Sunday against Manchester United could see them as champions.
Tottenham opened the scoring in the 33rd minute after a well taken Christian Eriksen free kick messily found the back of the net after the ball hit the side of his body. The away side equalised 18 minutes from time as a blunder from Hugo Lloris meant that CraigDawson was able to climb above Eric Dier and header the ball into an effectively open goal.
Wasteful, unlucky or a tight West Bromwich defence?
The first half saw the home side radiate confidence as they repeatedly presses West Brom's defence, looking for a way through. However Mauricio Pochettino's men struggled to find a way through.
The Baggies crowded their half making it difficult for Tottenham to weave through their defence and get a clear shot at goal. While at times Tottenham did manage it often resulted the North London club passing the ball around the edge of the penalty area until space opened up. To make matters worst for Spurs, WBA were not caught out by the Lilywhite's rapid and skilful counters and by the time players caught up with the runner the chance had passed.
Tottenham had 18 shots at goal, two of which were on target and both were in the first twenty minutes of the game. Yet was this due to wastefulness or unluckiness? Tottenham hit the woodwork three times throughout the match, suggesting that luck did play a part but Tottenham were also wasteful in their attacks as they failed to kill of the game when they were dominant.
Lack of a Plan B
The result of the game brought up questions between fans on Pochettino's tactics if things were to go wrong. Pochettino has hardly swayed away from the 4-3-2-1 formation during his time at Spurs. While a manager who believes in their methods is assuring, there is a line in which they need to know when to change to get the best possible result. While the Argentine's pressing tactics and out working the opponent is normally successful it has also seen Tottenham be hold to draws by more defensive teams when they should be winning games. One reason for this however is a lack of options on the bench. Tottenham only have one out and out striker, and while Heung-Min Son and Nacer Chadli can play as a striker yet neither have quick impacts on the game as would be needed by Pochettino if his first plan doesn't work.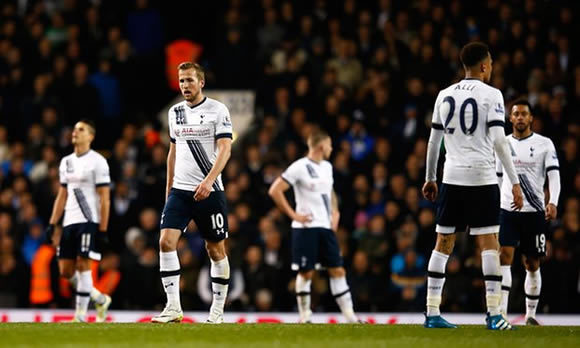 Dier Injured, Alli suspended
Not only did Tottenham's title chances take a knock with West Brom's equaliser but so did midfielder Eric Dier. Dawson climbed above the Englishmen to score the goal but while defending the corner Dier looked to land awkwardly and was down for a handful of minutes before being immediately substituted off for Ryan Mason and escorted down the tunnel. It is unclear how long Dier will be out for but with Tottenham aiming to record their highest finish in the Premier League era.
Spurs also look to be without Dele Alli after being charged with violent conducted by the FA earlier today for punching Claudio Yacob. Alli is known for having a fiery temperament so it would not come as a surprise that the youngster acted as such yet teams know to target him and this could have easily been a tactic from Pulis. If the newly crowned Young Player of the Year accepts the charges it is likely he will miss Tottenham's remaining games.
Both players have been influential in Tottenham's title campaign. Dier, who was converted to a defensive midfielder at the beginning of the season, has played an important role in Tottenham's defence as he sits in front of Tottenham's defenders. As well as the duty of stopping onrushing attacks early, Dier is also tasked with redistributing the ball out wide quickly so a counter attack can be launched. Tottenham lack a defensive midfielder who will replace Dier, meaning this could be a costly blow if out for longer for a game.
Alli however has had a stellar breakthrough season, netting 10 goals and nine assists. The 20-year-old's carefree style has allowed his link up play and vision to blossom helping the squad break down numerous teams. While Tottenham are not short of attacking players, Alli's consistency in the team in all areas of the pitch means that he has a great understanding with striker Harry Kane as well as defender Toby Alderweireld who's diagonal passes to Alli have threatened so many teams, including this West Brom team earlier in the season